You've made your decision and you're ready to move to Japan: awesome! Out of all the countries in the world, you have concluded that Japan is the place you want to be. But what about its cities? You've asked yourself this question, "What are the best cities to study Japanese in Japan?" and we are here to help you find your answer.
Without any further ado, let's get going!

Tokyo (東京)
If you love the big city life, Japan's capital city may be one of the best cities to study Japanese in Japan. The political, economic, and fashion capital of Japan, Tokyo is home to some of Japan's favourite attractions like Akihabara (秋葉原), Shibuya (渋谷) and Harajuku (原宿).
A life in Tokyo is exciting and may seem like living in the future. In a city where innovative technology fuses with tradition, it feels like anything can happen. The numerous stores and restaurants stay open until very late and people are out at all hours of the day and night. With an unlimited number of clubs, bars and nightlife options, you will never be without things to do and places to go.
Living in Tokyo can be extremely expensive, taking into consideration the higher rent and food costs. Tokyo has one of the highest costs of living in the world, but at the same time, the largest metropolis in the world offers more job opportunities for foreigners than other areas of Japan. Show business is also booming and talent agencies are always out scouting in the city for models and actors. Look at our article for tips and advice on saving money in the Big City – we've got you covered!
Read more about how much student life costs in Tokyo in our article.

Yokohama (横浜)
The second most populous city in Japan is close to Tokyo and houses around 3.7 million people. Though still in the greater Tokyo area, living in Yokohama has a more laid-back feel in its open spaces. Some famous spots include Japan's largest Chinatown and Minatomirai, or "future harbour," with a big lit-up ferris wheel and modern architecture.
Living costs may be down 30% compared with living in Tokyo and you won't feel as cramped. The buildings are spaced out more and streets are much wider in Yokohama. It's also close to the sea and walking through the city you can enjoy a nice sea breeze.
Yokohama is within commuting distance from Tokyo, around a 30 minute train ride away — 260 yen on the Toyoko line (東横線) from Yokohama to Shibuya (渋谷). Many Japanese families move out of Tokyo's crowded neighbourhoods and choose to live a more peaceful city life in Yokohama.
Kofu (甲府)
Kofu is a peaceful city with close proximity to a variety of nature, whether you like mountain climbing, hiking, or exploring the agriculture of the region. It's near the foot of Mt Fuji, so you'll get to enjoy stunning views of the mountain on clear days. Being a smaller place, it's much easier to get everywhere by bike and as there are fewer foreigners in the area, you can have more opportunities to practise your Japanese with locals.
It's also very convenient to travel to Tokyo, or other cities in Japan, so you won't be missing out on city experiences by living in Kofu.
Read more about life in Kofu here.

Osaka (大阪)
The third most populous city in the country is home to many of the country's comedians and is known for having Japan's friendliest and most outgoing people. If you're looking to make friends during your stay, one of the best cities to study Japanese in Japan is Osaka.
The Kansai (関西) region's economic centre is home to famous districts like Umeda (梅田), Namba (難波), Den Den Town (でんでんタウン) or Nipponbashi (日本橋), and Amemura (アメ村), or America Village.
Osaka is famous for lots of cheap and delicious food, perhaps known best for okonomiyaki (お好み焼き) and takoyaki (たこ焼き). The people love to eat and the "eating till you drop" mentality is a common one. The Dotonbori shopping area has hundreds of eateries loved by both locals and tourists.
Living close to areas of Kyoto (京都), Nara (奈良) and Kobe (神戸) will give you many opportunities to explore different aspects of Japanese culture. Experiences like visiting historical temples in Kyoto or eating world-famous Kobe beef are all a short train ride away.
Read more about Osaka here.

Kyoto (京都)

Another option in Kansai with a completely different feel is the beautiful city of Kyoto. Unlike any other city in Japan, Kyoto brings traditional Japan to life in a modern age. Famous sites include Kiyomizudera (清水寺), Kinkakuji (金閣寺) and other world heritage sites.
Kyoto attracts many tourists but there are also many universities in the city. Kyoto University, one of the world's most prestigious universities, attracts many students and educational institutions. The city is home to a large concentration of young college-aged people.
Read more about Kyoto and what it's like to live there here.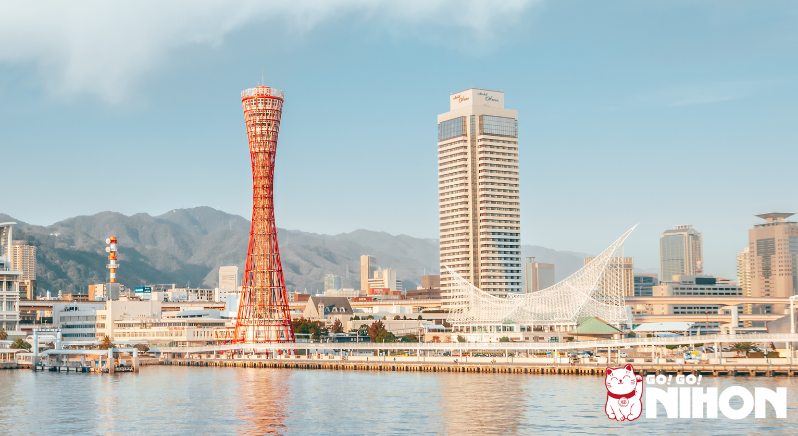 Kobe (神戸)
Located close to Kyoto and Osaka, Kobe sits between mountains and the sea, which gives it great appeal amongst tourists and Japanese people alike. Its smaller size is perfect for students wishing to avoid the noise and frenzy of busier cities like Osaka and Tokyo.
Kobe was one of the first ports of Japan, dealing extensively with China, and was one of the first points of contact when Japan reopened to the rest of the world in the 19th century. As such, it boasts a bustling Chinatown called Nankinmachi (南京町) and many Western style brick buildings can be found around the harbour.
In the end, the city where you end up studying will affect a big part of your experience in Japan. If you have any questions about which Japanese city is right for you, why not contact Go! Go! Nihon today and obtain free support in figuring out which option is best for you?
Learn more life in Kobe here.

Nagano (長野)
Known for hosting the 1998 Winter Olympics, Nagano is the capital of Nagano prefecture. It started as a small temple town and eventually grew into one of Japan's "core" cities. It's most popular over winter due to its exceptional powder snow and high quality ski resorts. Outside of winter, there's plenty of nature and hiking to enjoy. It's also got great transport links to other parts of Japan, which is handy for all the explorers out there!
Read more about Nagano here.
Sapporo (札幌)

Sapporo, in the northern-most island prefecture of Hokkaido (北海道), is much cooler than most regions of the country. With milder summers, you can avoid melting during the humid Japanese summer. In the winter, you can enjoy some of the best snow and ski resorts in the world – if you can bear the cold.
Though further away from the centre of the country, most of the population does not have strong regional accents compared to other areas of Japan. You'll be able to learn more neutral-sounding Japanese with the unique experiences of the region, making it a great place to study.
Sapporo is famous for Miso Ramen (味噌ラーメン) and an abundance of fresh seafood. You can easily travel to other cities in Hokkaido like Otaru (小樽), Hakodate (函館) and Asahikawa (旭川). Visiting Wakkanai (稚内), the northernmost and coldest part of Japan is an experience of its own, being able to see from there the Russian island of Sakhalin.
Read more about Sapporo here.
Fukuoka (福岡)
Fukuoka, in the region of Kyushu (九州), is the largest city in Southern Japan. Hakata (博多), one of the main districts, used to be a separate city that merged with Fukuoka. The city has great options for nightlife and shopping as well as accessibility to some of Japan's other western areas like Hiroshima (広島) and Beppu (別府).
The city is known for its famous tonkotsu (豚骨), or pork broth ramen, called Hakata ramen (博多 ラーメン). Fukuoka carries a variety of other foods in its many yatai (屋台), or outdoor food stands, lined along the river. Everything from yakitori (焼き鳥), or chicken skewers, oden (おでん) and ramen are served.
In addition to other areas in Japan, a ferry is available across the Sea of Japan to Busan, Korea for just under 3 hours for a quick weekend trip.
Learn more about living in Fukuoka here.
Find out which Japanese city you should study in
Take our fun quiz to see where you should study in Japan!
Choosing where you want to study Japanese is really important and will shape your Japan study experience. We work with many schools all over Japan, so if you're looking for the best cities to study Japanese in Japan, then make sure to contact us!
For further information about Japan, follow our Go! Go! Nihon blog.