Famous for its folklore history, delicious fruit and beautiful landscape garden, Okayama is an important city located on the western part of Japan's Honshu island. The smaller size and relaxed pace of the city makes it a delightful experience to learn Japanese in Okayama. 
Read more about the city, what it offers and why you might like to learn Japanese there.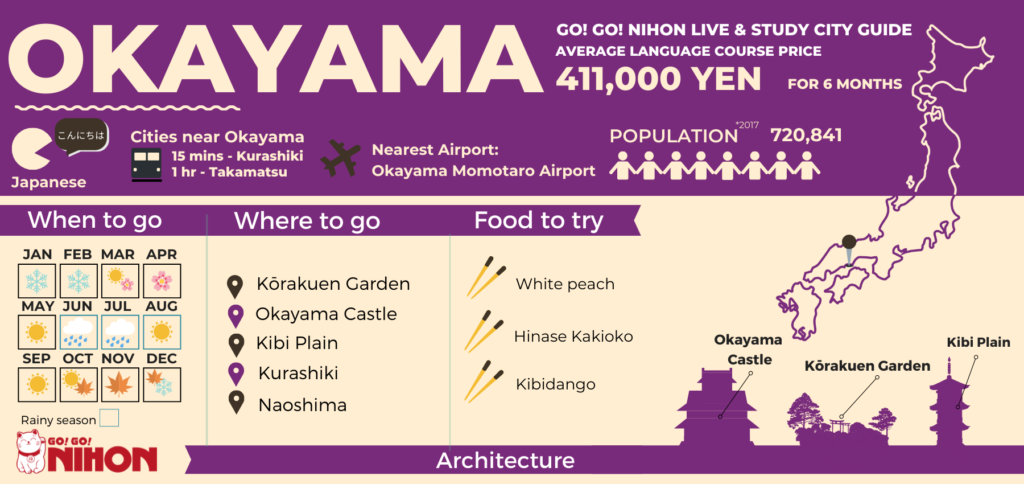 Brief history of Okayama
Okayama was part of the Kibi Kingdom (kibi no kuni 吉備国), which existed during the Fourth Century in what is currently the Okayama region. The kingdom held significant power over trade in the area. The region continued to grow over the centuries until Okayama city was bombed during World War II (WWII). Most of the city centre, including the castle which was completed in 1597, had to be rebuilt. 
Nowadays, Okayama city is the capital of Okayama Prefecture and an important transport hub in Western Japan. Its top industries include manufacture of machinery, textiles and rubber. It also has a respected denim industry.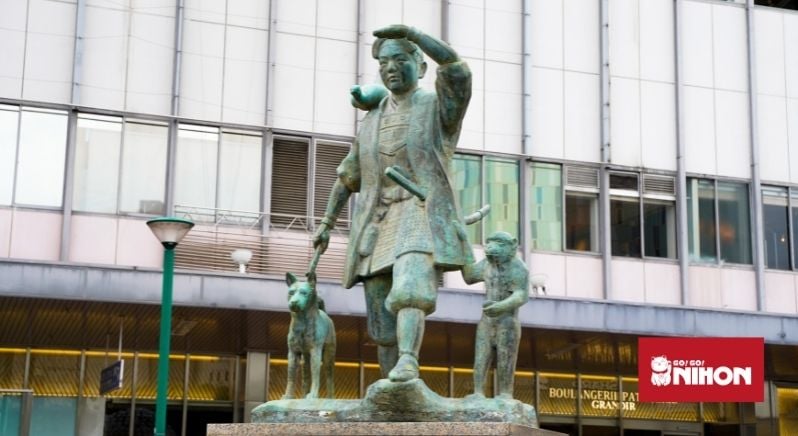 Okayama has a strong folklore history too, as residents claim the city is the original setting of the Japanese fairytale of Momotarō 桃太郎. According to this tale, an old childless couple found a baby boy inside a giant peach floating down a river. They named him Momotarō. When he grew up, he traveled to Onigashima, or Demon Island, to fight demons that were causing trouble in neighbouring villages. He defeated the demons, brought their treasures back home and gave them to the old couple as gratitude for everything they did for him.
You'll find references to this throughout Okayama city. The main street is called Momotarō Odōri and there are statues depicting the fairytale.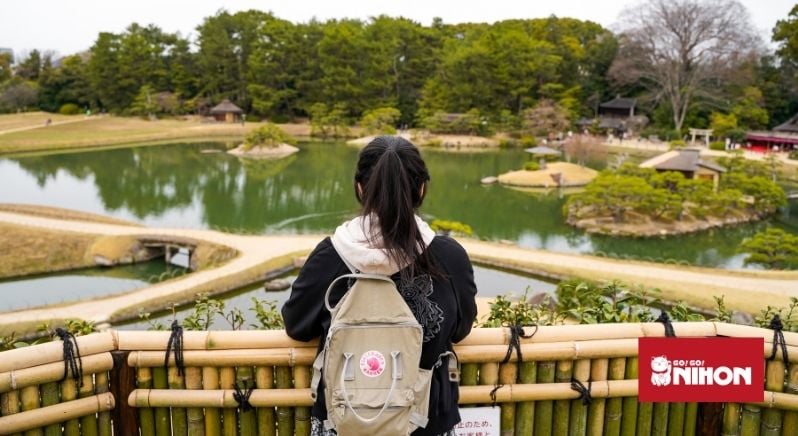 Things to see and do
Kōrakuen Garden (後楽園)
Ranked one of Japan's top three landscape gardens, Kōrakuen is easily Okayama's most famous attraction. The garden was constructed in 1687 for the ruling family at the time. It's a peaceful, beautifully maintained green space to go for a walk and enjoy some nature.
Okayama Castle (Okayamajō 岡山城)
This castle was built by the area's lord in the 16th century, taking eight years to complete. It was destroyed during the Second World War, but rebuilt in the 1960s to its current state. Unlike many other castles in Japan, Okayamajō is black rather than white and is situated by a river. 
The castle is located next to Kōrakuen. 
Kibi Plain (Kibiji 吉備路)
Grab your bike and explore this rural flatland located just outside of central Okayama city. Breathe in the fresh country air as you ride past farmland, temples, burial mounds and wildlife. 
If you don't own a bike, you can easily rent bikes from shops in front of Bizen-Ichinomiya Station, Soja Station and near Bitchū-Kokubunji Temple (備中国分寺).
Side trips
Naoshima 直島
Okayama is a springboard for exploring the small modern art island of Naoshima. The island is well-known for its art museums, installations and sculptures, especially its iconic pumpkin sculptures by contemporary artist Yayoi Kusama. 
Inujima 犬島
This island was once used for quarrying and smelting, but is now a peaceful art island. Its literal name is "dog island" because of its rock formation that looks like a sitting dog. Since it's so small, it's easy to explore the entire island by foot.
Kurashiki 倉敷
This picturesque old merchant town is located just 15 minutes away from Okayama city by train. Many of the historic warehouses survived WWII and have been repurposed into boutiques, restaurants and museums. Wander around the well-preserved streets and take a ride in a traditional Japanese boat along the canals lined with willow trees.
Shikoku 四国
Shikoku is one of Japan's five main islands and the second-smallest after Okinawa. Its mountainous interior terrain is popular amongst nature lovers and hikers. It's also home to the 88 Temple Pilgrimage, or Shikoku Henro 四国遍路. This journey takes pilgrims to all 88 of the island's temples in about 40 to 50 days if walking.
It's easy to explore Shikoku from Okayama, but you may have to make multiple trips to take in everything the island has to offer!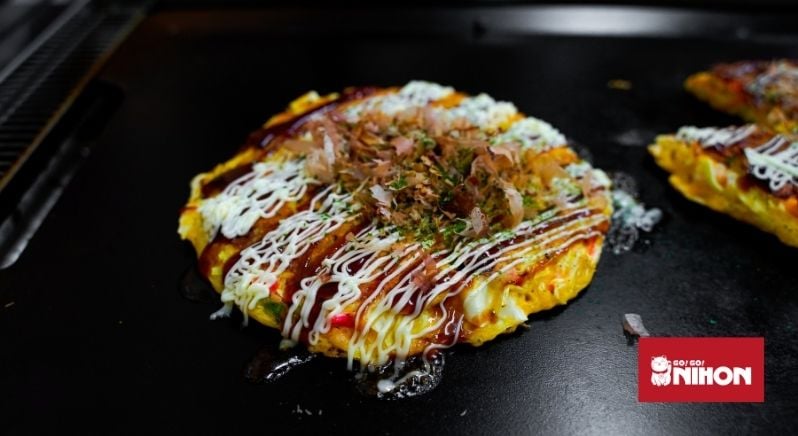 Local cuisine
Food-wise, Okayama is best known for producing high quality fruit thanks to being blessed with a lot of sunshine. You'll find plenty of regional variations on traditional Japanese food too. Here are just a few examples!
White peach (Hakutō白桃)
This is Okayama's most famous produce. The soft and sweet peach varieties produced in Okayama can be sold for as much as 1500 yen per fruit. It's fitting that this area is known for peaches, since the Momotarō folklore mentioned earlier is so prevalent here.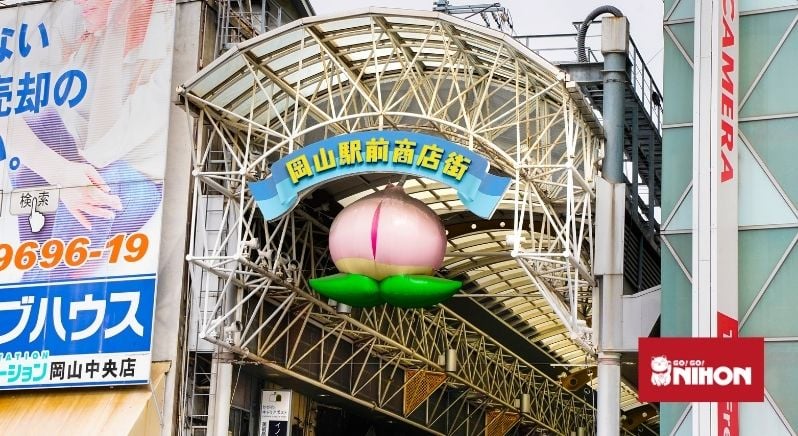 Grapes (Budō 葡萄)
Another fruit that Okayama is known for is grapes. The most famous types include green Muscat grapes and juicy Pione grapes, which are black. The "Shine Muscat" variety grapes are notoriously expensive, with 1 kilogram fetching up to 10,000 yen. 
Hinase Kakioko 
If you know something about Japanese cuisine, you might already know about okonomiyaki お好み焼き– a savoury pancake originating from Osaka. 
Okayama's variation on the traditional okonomiyaki is the Hinase Kakioko. "Hinase", or Hinase-chō 日生町, is a town in Okayama prefecture where the main industry is oyster farming. "Kaki" 牡蠣 means oyster and "oko" is short for okonomiyaki. 
While classic okonomiyaki usually includes pork or seafood in the batter, Hinase Kakioko is topped with fresh oysters instead.
Kibidango (吉備団子)
A sweet snack very similar to mochi 餅, made from glutinous rice starch, syrup and sugar. It was originally made with millet, or kibi 黍. You'll commonly find these in souvenir shops with different flavours.
In the tale of Momotarō, he exchanges a portion of his kibidango for help on his mission from a talking dog, monkey and pheasant.
Barazushi (ばら寿司)
A local type of sushi that is made up of a bowl of rice topped with different ingredients, including seafood from the local Seto Inland Sea and various vegetables. During the feudal era, Okayama's lord ordered each meal to only consist of one soup and one side dish. To get around this, barazushi was invented so that lots of different ingredients could be added on top of the rice but still count as "one dish". 
Why you should learn Japanese in Okayama
There are plenty of reasons to learn Japanese in Okayama, especially for those who want a quieter lifestyle without sacrificing the conveniences of living in a developed city. 
The area is nicknamed the "Land of Sunshine", which gives you an idea of the type of climate you'll experience here. It's why fruit grows so well in this region and why it's surrounded by lush nature. A major plus if you like the outdoors! 
By being in a smaller city, you'll find it more challenging to get by without Japanese language skills. This may sound scary at first, but it's actually a good thing because you'll be motivated to pick the language up faster. You'll be able to interact with more Japanese people in Japanese since it's less likely they'll be able to speak your language. Read more in our article about why learning Japanese by full-immersion is the best way to go.
Additionally, the cost of living will be cheaper than in the major cities like Tokyo and Osaka. For example, you might expect to pay between 20,000-40,000 yen for a room before utilities in a share house in Okayama city. Whereas in Osaka you might pay around 50,000-70,000 yen before utilities for a share house room. Read more here about accommodation options in Japan.
Due to its location and great transport links, Okayama is also a fantastic place to explore the rest of Japan from. Western Japan boasts some incredible places to explore, including the island of Shikoku, nearby Kansai region (including Osaka and Kyoto) and the Chūgoku region (home to Hiroshima). 
Learn Japanese in Okayama with the Okayama Institute of Language. Find out more about the school here or contact us to apply.