After a long day spent pounding pavement and taking in the sights, you find a secluded spot to sit – stone steps along a canal that weaves in and out of the city proper. You replay the day in your mind as you crack open a crisp beer to wrap up the night in style. 
The aroma of traditional Japanese cuisine, the allure of high-class shopping centres stocked with glimmering souvenirs for the fam back home, and (most of all) the invigorating buzz of the streets and crowded bars lingers in your memory. But now, you're taken with the quiet midnight scene before you. An above-ground train passes in the distance, reflecting lights that shine in the serene water below.
Welcome to Yokohama 横浜, Japan.
Stick around to discover all this incredible, underrated destination has to offer including a brief history, a list of things to do, and some tips to make your visit one to remember.
Why you might like to visit Yokohama
Looking for a big city that lives at a slightly slower pace than Tokyo? How about a city that seamlessly blends old-Japan grit with modern luxuries? Or a place with an iconic skyline visible from nearly anywhere along its scenic harbour? 
Yokohama is a city of delicious cuisine, historic sites, fun museums, gorgeous scenery, and a criminally underrated reputation because of its proximity to Tokyo. Where Japan's capital steals the show with tourist-friendly mega attractions, Yokohama charms visitors with its more subtle graces.
If a marriage of low-key luxuries, big city amenities, and idyllic views of the sea are your thing, go see Yokohama!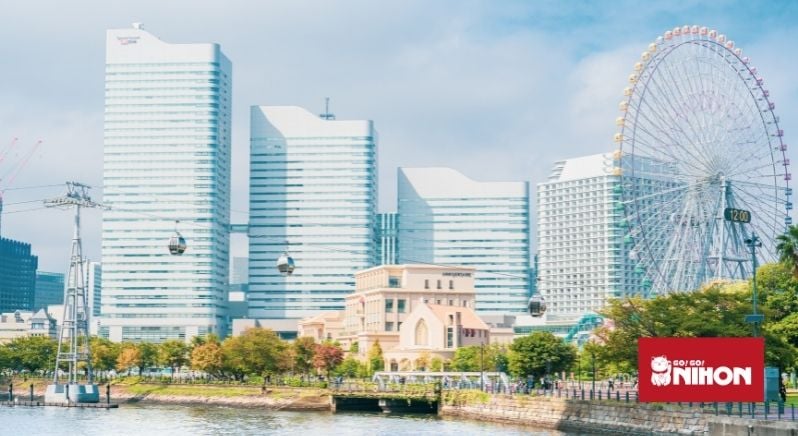 A brief history of Yokohama 
Yokohama is a major port and the second biggest city in all of Japan. Japanese officials wanted to keep its first port, Kanagawa 神奈川, closed to foreigners. So because of its distance from Kanagawa and its superior deepwater harbour, Yokohama became Japan's centre for foreign trade. 
After an economic boom fueled by trade around the Meiji Restoration period, Japan combined the Kanagawa 神奈川 and Yokohama wards into Yokohama City in 1889. The combining of the two areas brought great prosperity for a time. But unfortunately, Yokohama was rocked by military conflict and natural disasters in the years following. 
The 1923 Yokohama-Tokyo earthquake killed about 20,000 people and devastated the city until about 1927. Then, allied forces bombed Yokohama in 1945 and occupied the city until 1952. 
In spite of these tragedies, Yokohama bounced back during Japan's population boom of the 1960s-80s making it Japan's second largest city. Today, it continues its legacy as one of Japan's most important ports and international centres of culture. In 2013, it received nearly 11 million yen in cargo.
Best Places to Visit in Yokohama 
Yokohama is a massive, exciting city with plenty of variety in things to do, and beautiful spots to see. Let our list below be your starting point for one amazing visit.
Explore Yokohama Station and Minato Mirai
There's no better way to get to know a city than a stroll around its streets. Depending on the atmosphere you're looking for, there are two main points you might want to start wandering about in. 
Yokohama Station gives you the hustle and bustle of Tokyo and plants you at the heart of the city. Go here first if you want to be filled with the city's kinetic energy as you walk busy, narrow streets around the plethora of shops, bars, and restaurants. 
If you'd like something a little more downtempo, check out Minato Mirai みなとみらい. That's Yokohama's port district. It's got a slightly more elegant and high-class feeling to the shops and restaurants. The main draw here is the beautiful views of the sea and the relaxed, lowkey feeling that flows through the area.
Ōsanbashi Pier 
Ōsanbashi Pier, or Ōsanbashi International Passenger Terminal (Ōsanbashi Kokusai Kyakusen Tāminaru 大さん橋国際客船ターミナル), is Yokohama's main international passenger port and the best place to see the city at night. In 2002, the pier was one focus of an international design competition. Now, it functions as a beautiful park open to the public on the top level, a multi-purpose expo hall in the middle, and a functional port on the lower levels. 
Wait until about sundown and look out over the sea to spot one of Yokohama's most iconic scenes – the three towers of Yokohama (King, Queen, and Jack) and the multi-coloured ferris wheel of Minato-Marai's amusement park.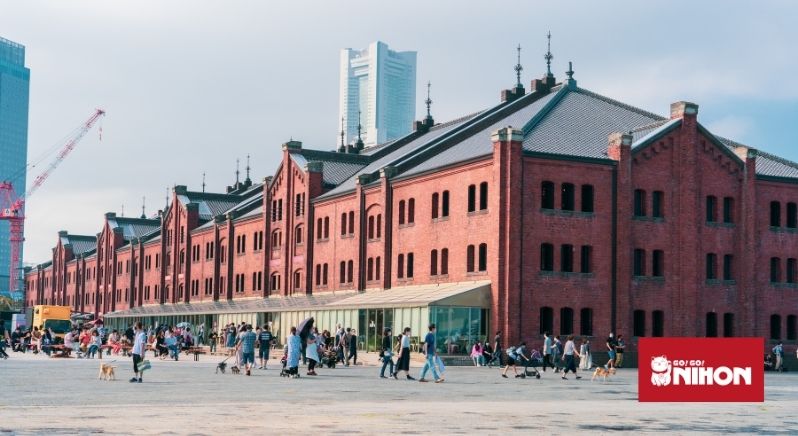 Yokohama Red Brick Warehouse 
Want to shop the day away or pick up a few souvenirs? Head to Yokohama Red Brick Warehouse (Yokohama Akarenga Sōko 横浜赤レンガ倉庫), a boutique shopping and dining space held in historic buildings dating back to the 19th century. Two buildings comprise the current day warehouse. They were once used as government customs buildings. Today, the two red brick buildings here are a popular spot for tourists to shop, see an interesting remnant of Yokohama's past, and admire the open scenery of the surrounding port. 
Yamashita Park
Once you need to give your feet a rest, take a seat at Yamashita Park (Yamashita Kōen 山下公園). Located just beside the port, Yamashita is the perfect spot to people-watch or take in the peaceful sights and sounds of the water. And don't forget to do a loop through the lush flower garden near the park's entrance if you're visiting in spring.
Pikachu Festival
Every August you can witness one of Yokohama's most adorable special events of all – the Pikachu Festival! To celebrate everybody's favorite electric mouse, costume-donning revelers parade the streets in various iterations of Pikachu. To enjoy the festivities, head to Minato Mirai, Akarenga, or Grand Mall Park. Make sure to finish the evening at Rinkai Park's dance party featuring 50 syncopated Pikachu.
Local cuisine 
Thanks to Yokohama's role as an international trade hub, you've got so many great options when it comes to local specialities. 
Beer lovers will want to head to the World Beer Museum to try craft brews from all over the world. If you're visiting in late April, check out the Yokohama Frühlingsfest, an Oktoberfest-style beer festival near Akarenga.
Eating meat wasn't always a common occurrence in Japan. This was especially so after the introduction of Buddhism, which prohibited people from eating meat. However, people still ate some animals and especially beef started becoming more popular towards the end of the 1800s. In 1868, a quaint restaurant named Ōta Nawanoren (太田なわのれん) opened in Yokohama to serve a dish called gyūnabe 牛鍋, or "beef pot". In other parts of the country such as Kansai, this dish was called sukiyaki すき焼き. You can still visit the original Ōta Nawanoren to enjoy this hearty and filling treat.
And no Yokohama guide is complete without mentioning its Chinatown, Japan's largest centre of Chinese cuisine. Head to Motomachi-Chukagai Station (元町・中華街駅) and look for the iconic red, Chinese-style arches marking the entrance. Most of the food here is authentic and delicious. But make sure you don't go without trying some shōronpō (小籠包), steamed, soupy dumplings that originate from Shanghai.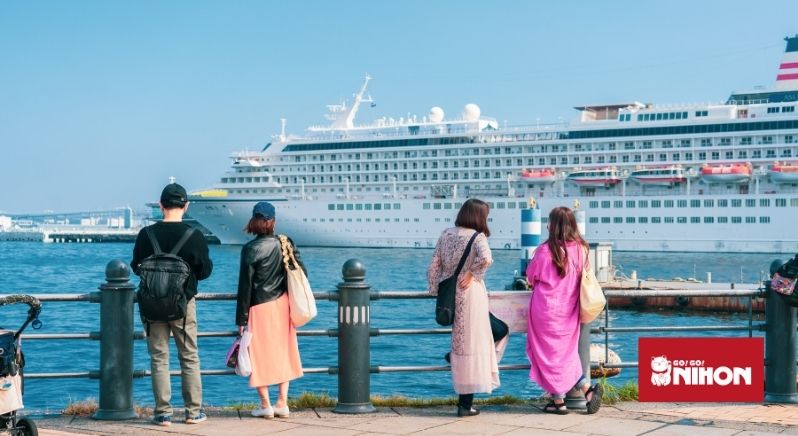 Live and study in Yokohama, Japan 
Yokohama is one amazing place to experience life in Japan. It offers all the best perks of living in Tokyo without some of its more difficult challenges. This includes infamously cramped apartments and a ceaseless bustle that could be overwhelming for some. And a quick trip to the bay from nearly anywhere in the city makes for an amazing place to renew your spirits.
If you're looking to stay an extended time in Japan, check out our language school program at Yokohama Design College. Here, you'll learn Japanese language and culture at a vocational school for local Japanese students. You'll have so many chances to interact with and learn authentic Japanese from the natives. 
Best of all, you'll be situated just a minute away from Tobe Station (戸部駅) and a short ride away from Minato Mirai. It's just one of Yokohama's many beautiful locales to make memories that last a lifetime. 
Yokohama is situated so conveniently to Tokyo that you could also apply to study at one of our partner schools there while living in Yokohama. Check out your options on our website.
Make your dreams of a life in Japan a reality with Go! Go! Nihon and contact us to apply.