Living in Japan isn't all Tokyo centric. There are some amazing places outside of the capital. One of our favourites is Sapporo in Hokkaido. You may be familiar with it from the Snow festival but it's much more than that and there are some amazing places to explore on this northern island. It's also the perfect place for you if you want to avoid the super hot summers in the south and love nature.
We thought we'd put together a guide of our favourite places and things to do when living in Sapporo and explore some of the great reasons to live there.

Best places to explore
Tanukikoji shopping street
This covered shopping arcade is the place to go on a rainy day. The area as a centre for shopping has been known as Tanukikoji since around the 1890's. With old and new shops, restaurants and karaoke bars there's plenty to keep you busy.
Maruyama Park and Zoo
With 991 living creatures on display, the park and zoo is good for a day out with a chance to see the wildlife of Hokkaido but in a slightly safer context. It's also one of the few places you can see polar bears.
Susukino
This is the place to go at night. Whether you're looking for fun or food Susukino is the place to go. It's also considered one of the largest entertainment districts outside of Tokyo.
Odori Park
A giant long park in the centre of Sapporo, this is a wonderful spot of green in the city. It's also the place where most of the festivals are held and you'll find something different depending on what time of year you go there. Ranging from the amazing lilac festival in the spring to the famous snow festival in the winter, there's always something on.
Noboribetsu and Otaru
Just a day trip away from Sapporo, both are great days out. If you want to relax and soak up the health benefits of the onsen, Noboribetsu is the place to go. Otaru offers glassworks and sake distilleries in this beautiful port town.

Best places for food and coffee
Ritaru Coffee
Everyone needs their coffee fix and Starbucks can get just a bit boring. Ritaru is all about the bean. It's beautifully simplistic design and delicious coffee provides the perfect combination for you to relax (or study).
Brooklyn Parlor
Brooklyn Parlor is a slightly larger shop and part of a chain but it's a great place to get your coffee, read a book and grab a bite to eat if you need a little extra. They also have events at night ranging from DJs to speakers.
Ramen Alley (Ganso Ramen Yokocho)
Sometimes known as the original Ramen Alley, this is the place to try Sapporo's original miso ramen. It's the ideal antidote to a cold winter's day and there's plenty of choice at reasonable prices.
Veggy Way
Something that's often hard to find in Japan, a vegetarian and vegan restaurant. This place has a great range of choice and the menu comes in English too so you can double-check what's in your food. The staff are also lovely and friendly.
Sapporo Beer Museum
One of the main reasons you might be familiar with Sapporo is the beer, so of course you can expect a Beer Museum! Starting in 1876, you'll be guided through the history of this wonderful beer and yes, you can expect to try a range of delicious Sapporo beers.

Why you'll love living there
That's plenty to keep you occupied when you're living in Sapporo but why do we think you'll love living in Sapporo compared to other places?
Unlike Tokyo or even Osaka, most people won't speak to you in English as much. This means that you have plenty more opportunities to practice your language lessons in real life and improve your Japanese as you go. Despite the reduction in English conversations, people are also much more open to foreigners. We think this is because they get fewer tourists up in the north so they're not annoyed by them just yet.
These two reasons lead us to the third. You won't be treated as a tourist as much. As we mentioned, people aren't frustrated by the tourists as much because they're not used to them being everywhere as they are in the bigger cities.
Japan as a whole is reputed for its friendliness but in Sapporo, in particular, you'll find that people are extremely kind and hospitable. That means you don't have to worry about things as you'll always have people to support you even if you don't know them yet.
The weather is our next reason to love living in Sapporo. As a country, Japan is known for its seasonality and Hokkaido as a region still has that, it's just moderated a bit more. The summer is dry and around 30°C on average. There's also no rainy season and almost no typhoons which we have to admit are the worst parts of the weather in Tokyo.
Best of all there's plenty of snow in the winter so it's an excellent location for skiing and other winter sports.
The region as a whole is known for its nature. With mountains, woodlands, seascapes, nature reserves and lakes, you'll have plenty to explore, watch out for the bears though! The nature of the region is perfectly complemented by the cities, while they're not as big as others in Japan they still give you everything you want from the city lifestyle.
What's even better is that the average rent is much cheaper as are many other things. Ranging from 50-60,000 yen per month for a one-room place, you'll have more choice compared to other cities.
Then there's the food. Now it's hard to compare in Japan as everywhere has excellent food. Living in Sapporo and Hokkaido you'll have access to some of the most delicious seafood, soup curry, miso ramen, and cheese and milk.
With this many reasons as to why it's so good living in Sapporo, you have no excuse not to move there now!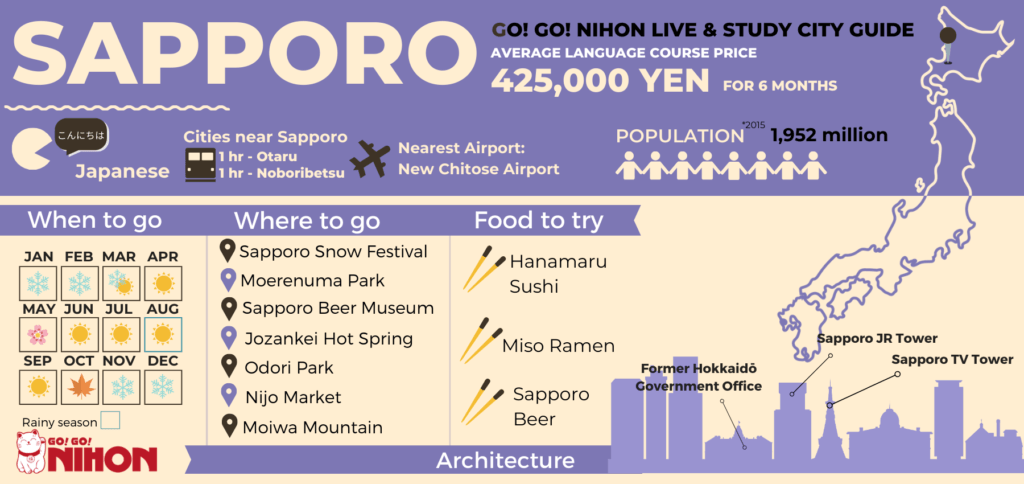 If you like to read more about Japanese culture, make sure to follow our blog where we cover everything you need to know about Japan!