When looking at options for schools in Japan, you may automatically be looking at Tokyo – but it's not for everyone. It's busy and heavily populated, a sensory overload for some. With the rest of the country to explore, why not take a look at places to study in Japan other than Tokyo?
We've put together an overview of some of our favourite cities and why they're worth exploring.

Sapporo 札幌
Sapporo is relatively well known for its annual Snow Festival. But there's a lot more to the city and the island of Hokkaido than this. With amazing flower festivals in the spring and plenty of exceptional food, Sapporo offers a friendly and welcoming environment to foreign students. It's also a great hub for the rest of the island, which has some of the more wild parts of Japan. We love it so much that we've put together an article on some of our favourite things about the city.
Climate: Cold and snowy in the winter, warm and wet in the summer (tends to miss hurricane season).
Highlights: Sapporo Snow Festival, proximity to nature, spring flower festivals, beer.
Local Food: Miso ramen 味噌らめん (visit Ramen Alley), Soup Curry.
Partner schools: Hokkaido Japanese Language Academy, Yu Language Academy

Fukuoka 福岡
As you travel further south in Japan, people become more and more relaxed. Fukuoka is a great demonstration of that and offers itself as the perfect hub for exploring the rest of Kyūshū 九州, an island full of farms, volcanoes and hidden nature. It's also great for onsen 温泉 because of all the active volcanoes on the island. Fukuoka itself has a very laid back atmosphere and with a beautiful beach and hot summers, it's ideal if you're looking for a relaxed, slower pace of life without sacrificing all the conveniences of living in a larger city.
Climate: Warm and humid, subtropical.
Highlights: Sunshine, Proximity to Busan, Fuji Hachimangu Shrine River Crossing Festival, Dazaifu Tenmangu Shrine.
Local Food: Motsunabe もつ鍋 (beef/pork offal stew), Hakata tonkotsu ramen 博多ラーメン (ramen made with a creamy pork broth).
Partner schools: Fukuoka Foreign Language College

Osaka 大阪
Osaka is often cited as one of the more relaxed cities out of the larger ones in Japan and rightly so. You'll find the people friendly and helpful and the food is exceptional. With bustling streets, busy entertainment districts and a river running alongside the famous Dotonburi, Osaka gives you the hustle and bustle of Tokyo but with a bit less formality.
Climate: Subtropical, mild winters and humid summers.
Highlights: Dotonburi, Osaka Castle, Aquarium.
Local Food: Okonomiyaki お好み焼き (savoury pancake), Takoyaki たこ焼き (grilled balls with octopus).
Partner schools: Daiwa Academy, ECC Kokusai College of Foreign Languages

Kyoto 京都
The traditions of Japan are at the forefront of everything in Kyoto. This makes it the best place to study in Japan other than Tokyo, if you are looking to immerse yourself in the history of this amazing country. With numerous, well-known temples and shrines, it's a great place if you're looking for a bit of zen. It's also close to Osaka and is surrounded by plenty of places to visit on day trips. Arashiyama, in particular, gives you an easy getaway with monkeys, bamboo groves and glorious red and orange foliage in the autumn months.
Climate: Subtropical, mild winters and humid summers.
Highlights: Fushimi Inari Shrine (Fushimi Inari Taisha 伏見稲荷大社), Arashiyama (嵐山), Gion district
Local Food: Yudōfu 湯豆腐 (tofu cooked in a hot broth), shōjin ryōri 精進料理 (vegan Buddhist cuisine).
Partner schools: ISI Language School, ARC Academy

Kofu 甲府
While Kofu is a pretty big urban area by a lot of standards, it's a much smaller city by Japanese standards. So if you like things a little quieter and you want to make the most of the countryside in Japan then it's the perfect place for you. It's surrounded by mountains that are easy to get out too and of course, there's Fuji and the Fuji 5 lakes to the south. It's definitely one that should be on the top of your list if you're looking for a slightly different experience when studying in Japan.
Climate: Warm and temperate. While it gets hot in the summer, it's less humid than the major cities.
Highlights: Views of Fuji, nature on your doorstep, Kofu Castle.
Local Food: Hōtō ほうとう noodles (Extra-thick udon noodles in a miso soup served in an iron pot) and boiled chicken giblets.
Partner schools: Unitas

Kobe 神戸
Kobe has a lot to offer, but is also a great hub for visiting other places. With Osaka, Kyoto, Himeji, and Awaji island are all day trips, you can see a lot of different sides of Japan. Of course, there's the amazing food, but Kobe has a great international feel to it with its port, plus its coastline on the south side and a mountain range to the north. There's plenty of options for getting outdoors. It's also one of the best places to visit sake distilleries. In fact, we love Kobe so much we've put together a whole article on the best bits of it.
Climate: Subtropical, mild winters, and humid summers.
Highlights: Harborland, Mt Rokko.
Local Food: Kobe beef (of course) and ramen.
Partner schools: Communica Institute

Nagoya 名古屋
Nagoya is Japan's fourth most-populated city and is an important transport and industrial hub. It's in close proximity to several places of interest including Osaka, Kyoto, and old post towns of the Nakasendō 中山道, a major route that connected Edo (present-day Tokyo) with Kyoto during the Edo Period (1603-1867).
With all the conveniences of a major city – extensive public transport, lots of things to do, easy access to food and entertainment – without the big city price tag, Nagoya is easily one of the best cities in Japan to learn Japanese in. Learn more in our article.
Climate: Similar to the rest of Japan with a mild climate. Summers are hot and humid with a short typhoon season, and winters are cold and frosty.
Highlights: Nagoya castle (Nagoyajō 名古屋城), Kōrankei Valley 香嵐渓, SCMAGLEV and Railway Park
Local Food: Tebasaki 手羽先 (marinated chicken wings), miso katsu 味噌カツ (deep fried pork cutlet with a rich red miso sauce)
Partner schools: Nagoya International Academy

Oita 大分
Located on the island of Kyūshū, Oita prefecture is famous for its many natural hot springs.  There is a diverse mix of bigger cities and beautiful, untouched nature. Mountains, coastlines and ravines are never that far away. Oita City itself was once considered the gateway to the west, with influence from Europe and a strong Christian history shaping the city into what it is today.
Climate: Hot and humid in summer. Mild but chilly in winter.
Highlights: Beppu 別府 (nearby onsen town), Beppu Hatto Onsen Festival, Mt Takasaki.
Local Food: Toriten とり天 (tempura chicken), reimen 冷麺 (cold ramen dish).
Partner schools: Asuka Japanese Language School

Okayama 岡山
Okayama is located right between the popular cities of Osaka and Hiroshima, famous for its folklore history, delicious fruit and beautiful landscape garden. The smaller size and relaxed pace of the city makes it a delightful experience to live and learn more about the Japanese language, culture, and way of life.
Read more about Okayama in our article.
Climate: Hot and humid summers, cold winters with clear skies, low rainfall compared with other parts of Japan
Highlights: Kōrakuen (後楽園), Okayama Castle, the Kibi Plain
Local Food: White peach (hakutō 白桃), oyster okonomiyaki, barazushi ばら寿司 (rice topped with seafood and other ingredients)
Partner schools: Okayama Institute of Languages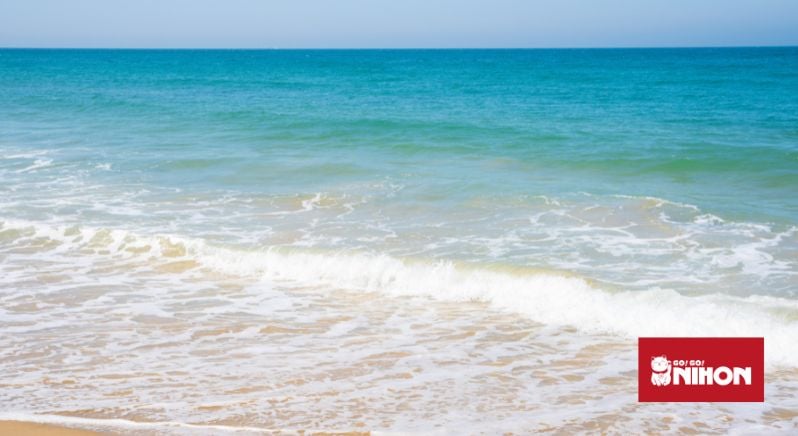 Okinawa Island (Okinawa Hontō 沖縄本島)
With its turquoise waters and warm climate, Okinawa Island is paradise for those who want a slice of island life while studying Japanese. The entire prefecture itself has 160 islands, each with its own beautiful beaches and nature to explore. There's also a rich cultural history in Okinawa Prefecture thanks to its centuries of international trade and being part of the Ryūkyū Kingdom (ryūkyū ōkoku 琉球王国) before becoming a part of Japan.
Learn more about Okinawa Island in our article.
Climate: Subtropical climate with hot and humid summers, mild winters
Highlights: Beaches and islands, historic castle ruins
Local Food: Bitter melon stir fry, Okinawa soba, rafutē (Okinawa braised pork)
Partner schools: ICLC Okinawa Japanese Language School
Having covered some of the highlights of our favourite cities there's no reason not to think about where to study in Japan other than Tokyo.
If you like to read more about Japanese culture, make sure to follow our blog where we cover everything you need to know about Japan!