Clear, turquoise waters and white sandy beaches aren't typically the first images that come to mind when you think of Japan. But located south-west of the biggest of Japan's islands lies the tropical and picturesque, Okinawa Island (Okinawa Hontō) 沖縄本島. With its natural beauty and rich heritage, this island offers the very best of sun, sand, sea, and culture in Japan.
In this article, we'll learn more about the history of Okinawa Island, which is the main island of Okinawa Prefecture (Okinawa-ken 沖縄県), the top things to see and do there, famous local cuisine, and why you might like to learn Japanese in Okinawa.
Brief history of Okinawa
Okinawa Island is the smallest and least populated of Japan's five main islands, but it has a history that dates back to prehistoric times. Early Okinawans were fishers, hunters, and gatherers, eventually becoming farmers too as land was developed.
From the 15th century, Okinawa was part of the Ryūkyū Kingdom (ryūkyū ōkoku 琉球王国), which was separate to Japan, for over 400 years. During this time, international trade flourished in the region, leading to an interesting mix of cultural influences from other Asian countries. The kingdom joined Japan in 1609 and was abolished in 1879. 
Okinawa was devastated during World War II and was under the control of the United States from 1945 to 1972. However, the US military presence never truly left – today, there are still over 30 US military bases in Okinawa Prefecture. 
In the 21st century, Okinawa is recognized for its natural beauty and ecological value, attracting visitors and researchers from near and far to its subtropical shores. 
Things to see and do
As mentioned, some of the main attractions in Okinawa are its beautiful beaches – the prefecture itself has 160 islands! But that's not all that the region offers – let's take a look at some of the top things to see and do on Okinawa Island.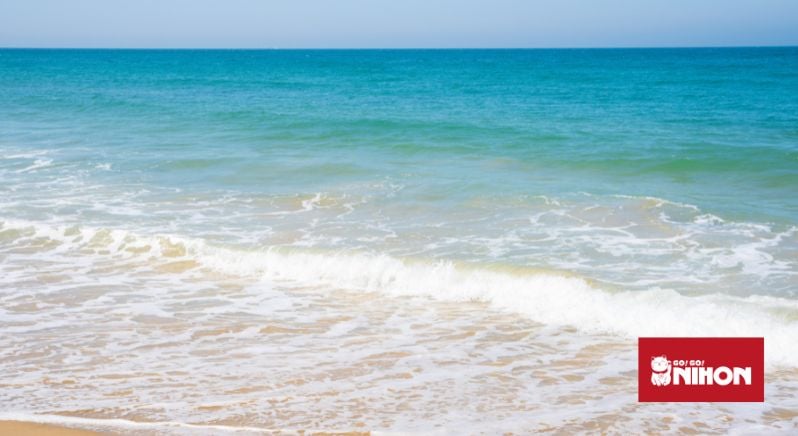 Beach and island hopping
Even though Okinawa Island isn't thought to have the very best beaches in the prefecture, you will nonetheless find beautiful beaches to relax at and go swimming in. Add in some snorkelling or stand up paddle boarding, and you'll absolutely fall in love with the warm crystal clear waters and stunning marine environment. It's the perfect way to unwind after a hard week learning Japanese in Okinawa!
Some highly rated beaches on the main island include Manza Beach 万座ビーチ, Araha Beach アラハビーチ, and Emerald Beach エメラルドビーチ.
From the main island you can go on a boat and visit the smaller islands nearby, such as Zamami Island (Zamami jima 座間味島), the secluded Aka Island (Aka jima 阿嘉島), and Sesoko Island (Sesoko jima 瀬底島, which is connected to the main island by a bridge.
Castle ruins
There are a number of castle ruins in Okinawa, reminders of the unique culture that developed in this area thanks to it being a separate country from Japan until the 19th century. 
Some notable locations include:
Shurijō

首里城 – Shuri was the former capital of the Ryūkyū Kingdom and the castle was the administrative center and residence of the kingdom's kings.

Nakajinjōato

今帰仁城跡 – located on the north end of the island and a UNESCO World Heritage site. It was built in the 1200s and is a popular cherry blossom backdrop in spring.

Nakagusuku

中城城跡 –

well-preserved castle remains with a nice view over the surrounding area. 
Okinawa Prefectural Museum and Art Museum 
The museum (Okinawa kenritsu hakubutsukan 沖縄県立博物館) focuses on Okinawan history, culture, traditions, and art. It's a great place to start for anyone wanting to learn more about the region.
Kokusaidōri 国際通り
This is the main shopping street in Naha (Naha-shi 那覇市), the capital city of Okinawa Prefecture. It's a colorful shopping experience where you'll find many places open late, live music in restaurants, and lots of different shops, bars, and restaurants.
Okinawa Prefectural Peace Memorial Park
In 1945, over 100,000 Japanese and 12,000 American soldiers were killed in the Battle of Okinawa. Today, a peace memorial park (Okinawa heiwa kinen kōen 沖縄平和祈念公園) exists where this battle ended, encompassing a museum, a 12-meter high Buddha representing peace, and monuments remembering the lives of those who died. 
Local cuisine
Thanks to influences from other countries nearby, Okinawan cuisine has its own unique tastes that make it highly distinctive from other types of Japanese food. Here is just a selection of some of the most well-known dishes you have to try when you learn Japanese in Okinawa.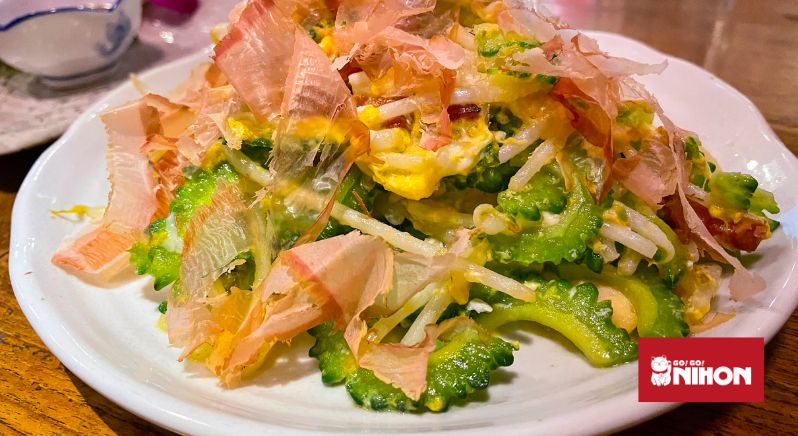 Gōya champuru ゴーヤチャンプル
If you have never tried bitter melon before, it's possible you might hate this dish initially since bitter melon (gōya ゴーヤ) is the main component. But, give it a chance to grow on you! It is, after all, the representative dish of Okinawa. The bitter melon is stir fried with pork belly, egg and tofu, and a soy and dashi (soup stock usually made out of fish and seaweed) sauce. 
There are other types of champuru, or Okinawan stir fry dishes, if you really can't stand the bitter melon. Some other ingredients include bean sprouts, fish, meat, and Spam.
Okinawa soba 沖縄そば
Despite the name, Okinawa soba doesn't have any buckwheat noodles in it. Rather, the noodle resembles udon in that it is a chewy noodle made out of flour, wheat and egg. The dish combines the noodles with a pork broth, dashi, pork belly, and some other toppings. So in many ways it's like a combination of udon and ramen dishes!
Beni imo 紅芋
Sweet potato is found everywhere in Japan, but this type of sweet potato is local to Okinawa. What's so special about it? It is decadently sweet and is a striking purple color. You can find it used in sweets, ice cream, cakes, or simply just steamed whole. Full of vitamins, fiber and antioxidants, beni imo is considered a superfood. 
Taco rice
Taco rice, or tako raisu タコライス, was created in 1984 by a Japanese restaurant owner who wanted to create a meal that was both filling and enjoyed by the American military personnel stationed in Okinawa. He combined the fillings of a taco with steamed rice and it quickly became a popular dish.
Although perhaps not what some people might call "authentic" Japanese food, taco rice represents a huge part of Okinawan culture in the mixing of different cultures and influences. 
Rafutē ラフテー
Pork is a big deal in Okinawa and this dish is a must-try for those who eat pork. Derived from Chinese braised pork, this Okinawan take features pork belly that has been braised in black sugar, soy sauce and distilled liquor. This liquor is called awamori 泡盛 and it's unique to Okinawa.
Why learn Japanese in Okinawa
With its many different cultural influences and its natural beauty, Okinawa Island is one of the most stunning and unique places you can learn Japanese in Japan. 
It's perfect if you love the outdoors and warm weather, and it's an ideal place for students since rent and the cost of living is generally lower than other areas of Japan. 
Our partner school ICLC Okinawa Japanese Language School is the oldest Japanese language school in Okinawa. Located near Naha Airport and just a 5-minute walk from the nearest train station, this school welcomes students from all over the world, helping them to learn Japanese while also gaining unforgettable cultural experiences.
Contact us to learn more about this school or for more information about living and studying in Japan.