Nagoya 名古屋 is the capital city of Aichi Prefecture (Aichi-ken 愛知県) and is Japan's fourth most-populated city with more than two million people who call it home. Today, it's known as Japan's transport and industrial hub.
A major station on one of the country's most heavily used shinkansen (bullet train) routes, Nagoya is often bypassed by people eager to explore nearby Kyoto or Osaka. But with all the conveniences of a major city – extensive public transport, lots of things to do, easy access to food and entertainment – without the big city price tag, Nagoya is easily one of the best cities in Japan to learn Japanese in. 
Read our article to learn more about why you should learn Japanese in Nagoya.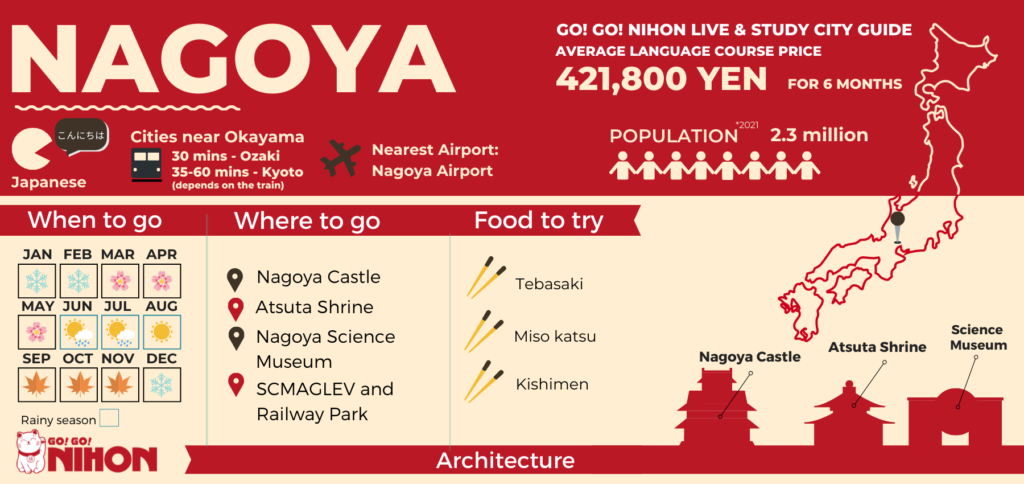 Brief history of Nagoya
Nagoya as we know it today has a history dating back to the 1600s with the three samurai warlord unifiers of Japan – Oda Nobunaga, Toyotomi Hideyoshi and Tokugawa Ieyasu – all being born in or around the Nagoya area.
The city became a major industrial hub during the 20th Century and was a target of air raids from the United States during World War II. Following the war, the city continued to cement itself as the industrial heart of the country, primarily in automotives and aviation, but also in industrial ceramics.
Things to do 
Don't let the city's reputation as the industrial centre of Japan fool you – there is plenty to see and do! Here are some of the things you can experience if you learn Japanese in Nagoya.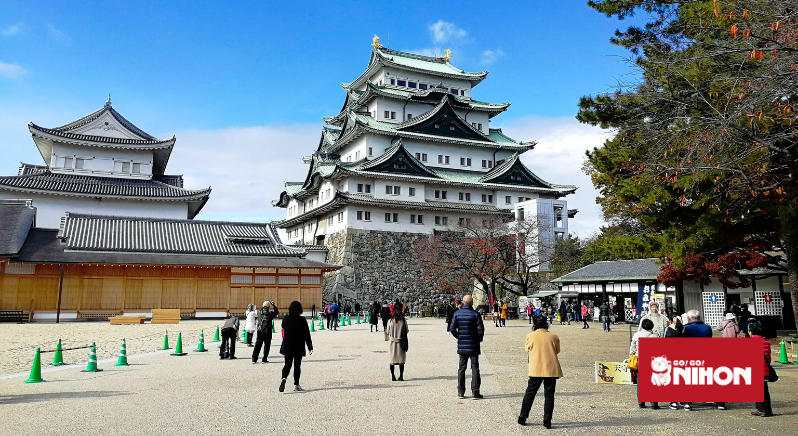 Nagoya Castle (Nagoyajō 名古屋城)
This castle was originally built in the 1600s by Tokugawa Ieyasu. it was restored after it was burned down during World War II. It's the centrepiece of a large palace area, where you can go for nice walks or simply relax amongst the trees. 
Atsuta Shrine (Atsuta Jingu 熱田神宮)
This is the oldest landmark in the city and is said to be more than 1900 years old. This Shinto shrine is located on about 49 acres of peaceful forest. It is said to house one of three imperial regalia, the Kusanagi sword (Kusanagi no Tsurugi 草薙の剣). The shrine also enshrines the sun goddess Amaterasu, the highest deity in Japanese mythology.
Kōrankei 香嵐渓
This valley is located near Nagoya and is one of the best places in the region to view autumn colours. It's recommended that visitors make their trip early in the day due to how popular a location it is for kōyō 紅葉 (autumn leaves) lovers.
There is an old village with preserved houses where you can learn how to make things like bamboo baskets, straw sandals and washi paper postcards in workshops.
SCMAGLEV and Railway Park
If you want to learn more about trains in Japan, then this museum by Central Japan Railways is a must-do. Wander the collection of retired trains, try out the train simulator and learn about Japan's early railway days.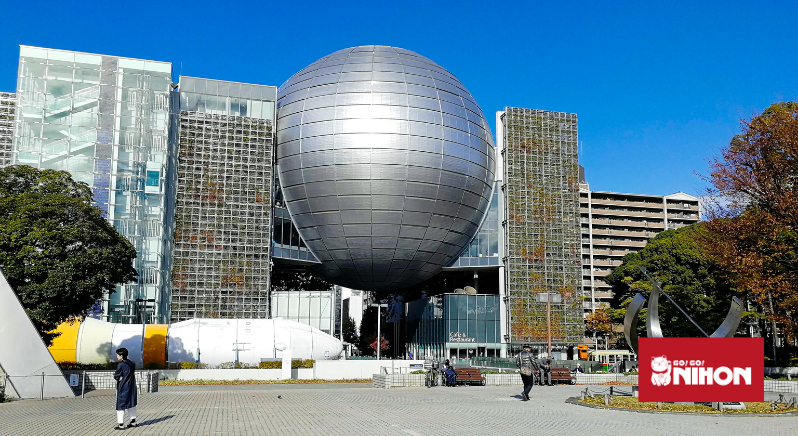 Science museum (Nagoya-shi Kagakukan 名古屋市科学館)
This museum houses one of the world's largest planetariums and features seven floors of exhibits in total. Five of those floors are permanent exhibitions and offer visitors the chance to learn more about the world around them. Replicate a tornado or experience an aurora in a -30 degree celsius room. 
Note that the shows are in Japanese only (all the more reason to learn Japanese in Nagoya!). 
Side trips
Being a major transport hub, Nagoya is well-placed as a base for you to do some exploring farther afield. You can reach Osaka and Kyoto in under an hour on the shinkansen, or travel to Tokyo in under two hours (if taking the Nozomi or Hikari trains). 
Here are some other places you can visit from Nagoya: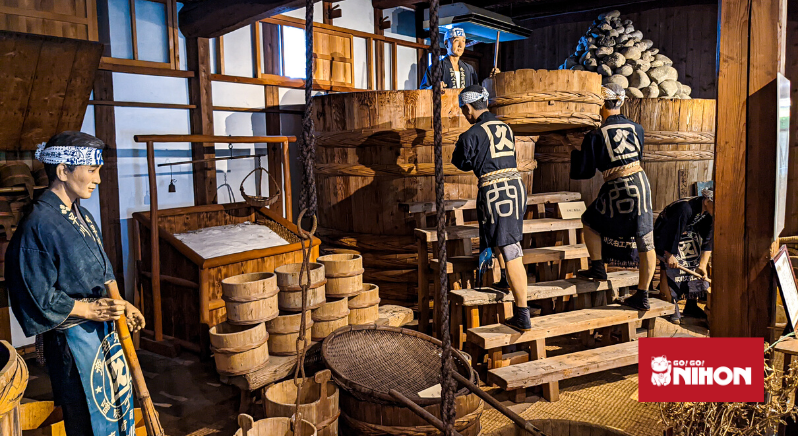 Okazaki 岡崎市
This old castle town is the birthplace of Tokugawa Ieyasu. It is a pleasant way to spend some time outside of Nagoya city for a day. You can take a stroll around the castle grounds, learn more about Ieyasu's history at the Ieyasu and Mikawa Bushi Museum (Mikawa bushi no yakata ieyasu kan 三河武士のやかた家康館), and try fresh miso at Maruya Hatcho Miso まるや八丁味噌.
Magome-juku 馬籠宿
This town was one of several stations along the Nakasendō 中山道, a major route that connected Edo (present-day Tokyo) with Kyoto during the Edo Period (1603-1867). These stations were towns where travellers could stop and rest on their journey. Nowadays Magome-juku is a very well-preserved town that transports you back to the 17th Century and is a popular place to stay for those walking the Nakasendō trail. 
Magome-juku and some other similar post towns are located in the Kiso Valley (kisoji 木曽路). This 70 kilometre ancient trade route ran through Japan's Central Alps and formed part of the Nakasendō during the Edo period. Other post towns of note include Tsumago-juku 妻籠宿 and Narai-juku 奈良井宿. 
Shirakawagō 白川郷
Shirakawagō is a UNESCO World Heritage site famous for its traditional thatched farmhouses that date back to more than 250 years. These are called gasshō zukuri 合掌造, which means "constructed like hands in prayer", since the roofs of the houses resemble the hands of Buddhist monks pressed together in prayer.
Shima Hantō 志摩半島
The Shima Peninsula is located in Mie Prefecture (Mie-ken 三重県) and includes, amongst others, the cities of Ise 伊勢市 and Shima 志摩市. Most of the peninsula is covered by the Ise-Shima National park and the area is abundant in fish, shellfish and wildlife. It's also home to some of the country's most ancient and revered shrines. 
Local cuisine
Nagoya's local cuisine is unique to the area and features both its own twists on traditional Japanese food, as well as influences from outside of Japan.
Tebasaki 手羽先
You'll probably see this dish sold outside of Nagoya too because it's simply that good. They're basically chicken wings marinated in a sweet soy sauce-based sauce. They're served with different spices and deep fried.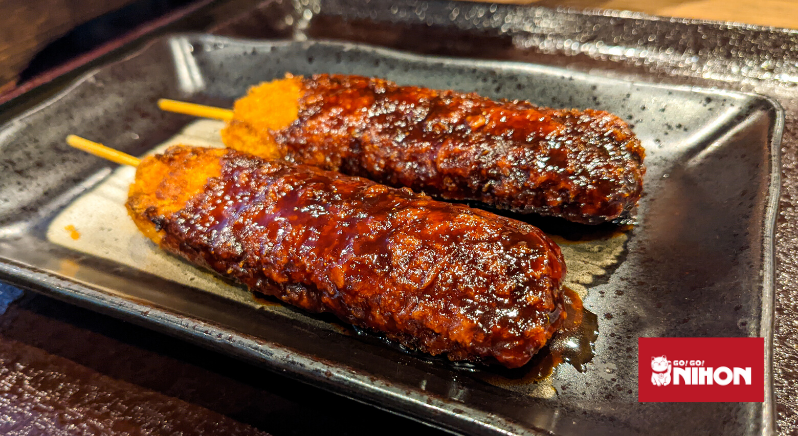 Miso Katsu 味噌カツ
Katsu, or deep-fried pork cutlet, is usually served with a tangy tonkatsu sauce. It's not normally made from miso, but in Nagoya you'll find Miso Katsu, a dish where the pork is served with a rich red miso sauce. 
There is a unique red miso, or aka miso 赤味噌, that you can only find in the Nagoya region. Remember the miso factory we mentioned earlier in Okazaki? It produces Hatcho Miso and it's famous because it only contains soybeans. The soybeans are fermented for much longer – up to three years.
Kishimen 棊子麺
A traditional udon dish featuring flat noodles served in a soy sauce broth. Other variations include dry noodles served with curry sauce, or cold noodles that you dip into a sauce. 
Hitsumabushi ひつまぶし
Japanese eel dish, typically served in cut pieces over rice. Everything in the dish is divided into four portions and each portion is eaten with different garnishes and condiments. 
Tenmusu 天むす
You might be familiar with Japanese rice balls, or onigiri お握り. They're easily found all over Japan in convenience stores and supermarkets, often filled with different ingredients and wrapped in seaweed. 
The Nagoya onigiri is called tenmusu and features the usual rice ball, but it's filled with tempura shrimp. 
Ogura Toast 小倉トースト
Yes, you read correctly: toast. But not just any old toast – this dish features golden toast topped with butter and sweet red bean paste (called azuki 小豆). You'll find it everywhere in cafes all over Nagoya.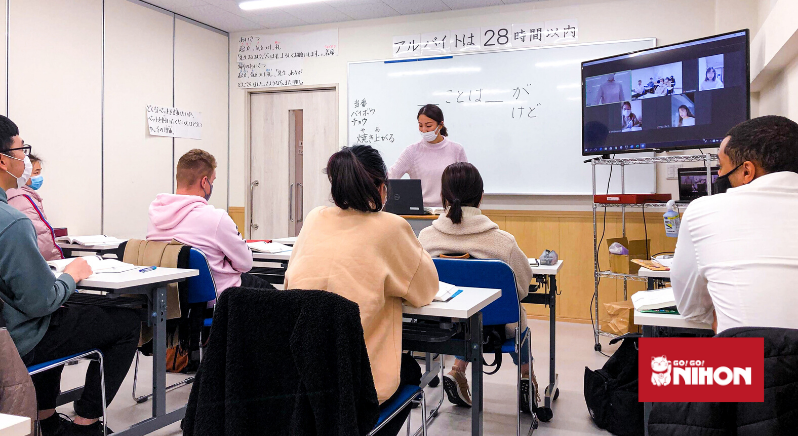 Why you will love learning Japanese in Nagoya
Nagoya offers students all the benefits of big city living, without the big price tag. According to the cost of living database Numbeo, restaurant, consumer and grocery prices are all cheaper in Nagoya compared with Tokyo – Japan's most expensive city. 
Rent for a one-bedroom apartment in Nagoya's city center is about 45% cheaper per month than the same type of apartment in Tokyo (146,000 yen in Tokyo vs 80,000 yen in Nagoya). Staying in a share house is even more economical – plus you'll get to make friends from all over the world as well as from Japan. 
Read here about one student's experience and costs of living while living and studying in Tokyo.
Please note that accommodation prices will depend heavily on where the accommodation is located, whether it's private or shared, plus many other factors. If you have questions about the cost of accommodation in Japan, don't hesitate to contact us. 
Learn Japanese in Nagoya with Go! Go! Nihon
If Nagoya sounds like the city for you, then the Nagoya International Academy could be the perfect school to learn Japanese in Nagoya. Located near Fujigaoka Station (around 30 minutes from Nagoya Station), this school is focused on offering students a personalised learning environment. Read more about the school on our website or get in touch to enquire about the next available application dates.