Wanting to go to Japan to study, but not sure if it's for you? Applying for a language course and making the move to Japan can be a bit intimidating, especially if you haven't been to the country before. 
That's why it might be a good idea to go on a trial visit before deciding if you'd like to study in Japan long-term. With our Study Trip Japan itineraries, you'll get the experience of studying Japanese, in Japan, while also getting to take part in a variety of unique cultural activities.
Here are 8 reasons why you should go on a Study Trip in Japan.
1. Meet new people while traveling alone
You won't have to worry about being on your own when you go on a Study Trip in Japan. Even if you sign up for a Study Trip by yourself, you'll be joined by other travelers who share the same passion for Japan. You'll be studying together, as well as learning more about the culture together, and you'll probably share some common interests too! Meeting people while traveling alone has never been easier than with Study Trips.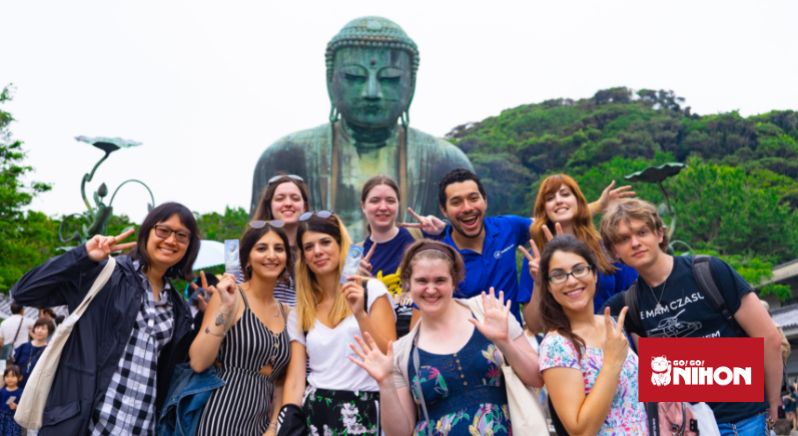 2. Make friends from all over the world
We have participants from all over the world joining our Study Trips. Whether it's bonding over karaoke, solving problems together at an escape room or sharing a picnic under the cherry blossoms, you'll surely make friends while on a Study Trip in Japan.
3. Intensive Japanese course for all levels
Throughout the duration of your trip, you'll be part of an intensive Japanese language course that's adapted to your language level. 
If you've already studied some Japanese, then it's a great opportunity to brush up on your knowledge and improve your skills. If you have no previous experience with Japanese, a Study Trip can be the perfect way to start learning basic Japanese. 
Most of our partner schools have Japanese lessons in the morning, leaving the afternoon and evening open for activities and free time to go out exploring and practicing what you've learned in class.
All levels of Japanese are welcome, but to get the best experience we recommend learning some hiragana and katakana before you go. There's also a special Study Trip for those aiming to take the Japanese Language Proficiency Test (JLPT) in Japan.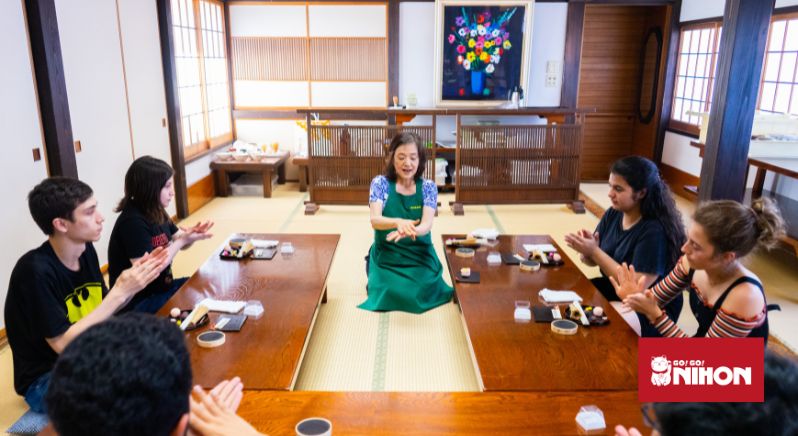 4. Experience traditional Japanese activities
One of the most appealing things about Japan is the blend of traditional culture and modern life. Age-old traditions are a big part of everyday life in modern-day Japan. By going on a Study Trip in Japan you get the opportunity to experience various traditional activities that you might not get to try otherwise. 
Depending on what trip you choose, you'll get the chance to try out a traditional tea ceremony, sushi 寿司 and/or wagashi 和菓子(traditional sweets) making, traditional Japanese tie-dyeing (shibori 絞り) wearing a yukata 浴衣, and more.
5. Get a crash course in a different culture
On your Study Trip in Japan, you'll get to experience Japanese culture and everyday life in a short amount of time. By immersing yourself in life in Japan, speaking the language and encountering different parts of the Japanese culture and society, you'll get a deeper understanding and knowledge about Japan. 
Add on top the fun cultural activities you'll get to do and you'll be brimming with knowledge about Japanese culture by the time you leave!
6. Try out living abroad, without the stress of moving
Maybe you want to try living abroad in Japan, but haven't yet decided if Japan is right for you. Or you don't want to wait until you have enough time to go on a longer language course. Or maybe 2-5 weeks in Japan would be the perfect amount of time for you. 
Moving to another country, especially one far from home, can be a stressful and difficult decision. By joining us on a shorter trip, you can try out life in Japan while also studying – a great option if you're still unsure if it would be the right decision for you.
We offer trips where you stay with a host family, share a dormitory room or live in a private or shared accommodation. Our Study Trips in Japan range between 12 and 29 days.
7. Add something unique to your resume
Studying abroad will give you valuable life experience, which is highly sought after by a future employer. Meeting, and studying together with people from all over the world helps you develop your people skills. Trying to make yourself understood in a completely different country, in a foreign language, is great for your communication and problem solving skills. By experiencing living in an unfamiliar culture you'll get a better understanding of differences and diversities. Going to live abroad is, for many, a daunting adventure. In other words, by doing educational travel to Japan, you'll show courage and determination.
Our partner schools provide an attendance certificate at the end of your course, which you can put in your resume. In conclusion, there are a lot of benefits to studying abroad and it's something many companies value.
8. Go! Go! Nihon takes care of everything
Leave the planning and booking to us! We will take care of all the activities, tours, accommodation, Japanese classes, and even your SIM card. All you need to do is book and pay for the trip that you want and sort out your flights. 
Got questions or concerns? Our team is here to help you. Ask us your questions about the trip and Japan, and don't hesitate to come to us with any issues while you're in the country.
If you're contemplating a short trip to Japan, but you're worried about the language barrier, check out our online beginner Japanese crash course. This two-week course teaches you the basics of the language and useful phrases to help you get by on your visit. For more information and to sign up, visit our website.
Find the best Study Trip for you by visiting our website.
For inspiration and more information about living and studying in Japan, please follow our Go! Go! Nihon blog.