If you're moving to Japan to study Japanese, chances are you'll be looking to take the JLPT—the Japanese Language Proficiency Test (日本語能力試験). It may sound like I'm just trying to get you to take tests outside of school, but the JLPT can come in handy, especially for those looking to stay over here long-term. In this article, we'll give you some tips on preparing for the JLPT.
The JLPT is a standardised test that evaluates and certifies Japanese language proficiency. In Japan and select other countries it's held twice a year. In other countries it is held only once a year. Once you pass, certificates of completion never expire.

The format
Organised from N5 (easiest) to N1 (advanced), the JLPT covers grammar, vocabulary, reading, and listening. At N5 and N4, candidates should be able to understand some basic Japanese. This means being able to read hiragana, katakana, and basic kanji, as well as comprehend basic conversation in daily life when spoken slowly. At N3, one should be able to get a grasp of summary headlines on newspapers and understand everyday conversations at a natural speed. N2 and N1 is where things get to a pretty high level.
N2 test takers should be able to read newspapers and magazines as well as be able to comprehend TV news at a natural speed. If you're ready to take N1, chances are you're far past needing any of this information! This encompasses reading complex articles that cover a variety of topics and being able to listen in, and go into detail about, lectures or conversations.
The test is scored such that passing requires an overall pass in addition to passing each section individually. There is leeway and the overall pass mark does depend on the level. The N5, for example, is 80/180 (44.44%) while in the N1, it's 100/180 (55.55%). Now that you know the layout, let's get to the studying part!

Studying for the JLPT
Though everyone has different ways of studying, an important and certain part of this test will be kanji. There's no easy way about this. It's memorisation. There are, however, smart methods we can use! When I worked in schools and saw elementary and junior high schools practising their own levels of kanji, I saw notebooks upon notebooks filled with characters written over and over again. I tried this too, and to my frustration, progress came painfully.
The Heisig method, developed by James Heisig, teaches readers to create their own mnemonic devices and stories to associate the meaning with the written kanji. A kanji's "primitives," the parts that make up the whole of the kanji, are given a story that connects to the actual meaning of the character. Because the stories are specific to each reader, it's this personal method that helped me recall the characters I was working to memorise.
Wanna give it a try? Check out Hiragana Quest, which was developed by one of Go! Go! Nihon's former students!
I also asked some friends what they thought, since what works for me may not at all work for you. My friend Nicholas, who passed the N2, suggests going online and reading through sites that offer the multiple choice practice questions drawn from previous JLPT's. Maya told me, "Some people write out pages of kanji or use highlighters and Post-Its to mark important grammar points, while others use drill books or try to find 'real-life' examples. There's no best way to study – you have to find the method that works for you."
When preparing for the JLPT, I used the Nihongo Sou-Matome (日本語総まとめ) books, and I think they did a pretty good job. They're very well structured with books for each category, and they do a good job of building up your skills without making you feel too bewildered in the process. The only cons are that the set of them can be a bit pricey and they won't help much with conversational Japanese. These books are easily recognisable, with a white cover and an animal holding a book; a different animal for each facet of the language.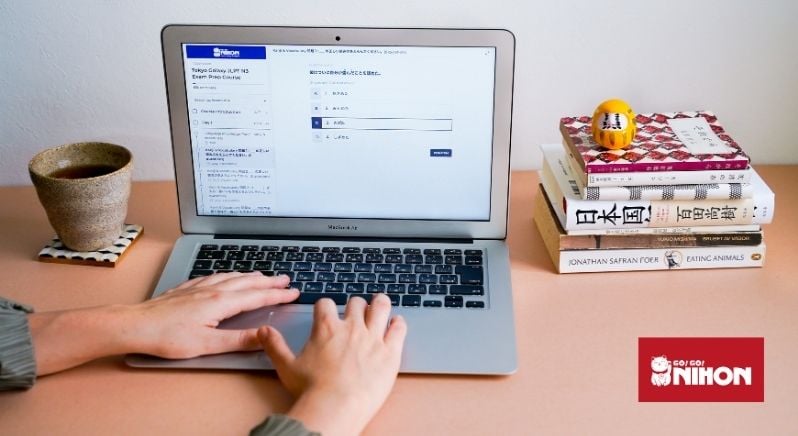 Online JLPT courses
Together with our partner language schools, we offer some online Japanese language courses that you can take from the comfort of your own home. For beginners, our 12-week Akamonkai Beginner Course is perfect for learning all the foundations of the language.
For those who have already studied some Japanese, our Tokyo Galaxy JLPT N3 Exam Preparation course is designed to help ready you for the N3 exam, while the JLPT N4 course by Tokyo Galaxy is for those wanting to pass N4.
What the JLPT can do for you
Taking the JLPT 5, 4, or 3 are good for personal goals and developing your Japanese in general.
At JLPT 2 and 1, those who pass can find jobs doing bilingual work, translating, or being a part of a regular Japanese company. With this certificate, you wouldn't necessarily have to work in Japan. At this level, one could find work in their home country doing translation, corporate, or politics.
If this sounds a little scary, remember, the first couple of tests aren't too bad. Think of them as gauging how much your Japanese has improved. Make sure to sign up, though. With only two tests a year and in some cases one, don't miss the deadline! Not all schools prepare students to pass the JLPT specifically: if preparing for the JLPT is your focus, get in touch with Go! Go! Nihon and get started in finding the right school for you!