In general, there are four Japanese language school terms a year, which means four times a year you can start studying. But, if you want to maximise your time in Japan, you will want to make sure you apply for the term that works best for you. Additionally, you will need to know when the best time to apply for your term is.
Read on to learn more about how Japanese language school terms work and when to apply to guarantee your spot at a language school.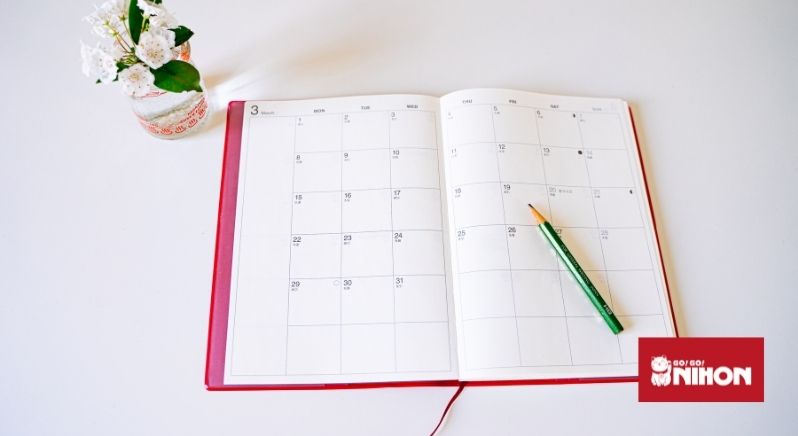 Basics of Japanese language school terms
Japanese language schools terms begin in January, April, July and October each year. Each term lasts three months. Note that some schools only have two terms, so it's always best to check with us for your chosen school.
The maximum time you can get a student visa to study at a language school for is two years. Many schools start and end their curriculum in April, resetting it every two years.
You can still start your course from the beginning in any of the other terms, but keep in mind that the course will end in March. For example, if you begin in January, you can study for a maximum time of one year and three months.
The good news is, it is possible to leave Japan and return later to make up the rest of the remaining time if you wish to do so – as long as you cancel your current visa when you leave the country. When you're ready to come back, you will need to reapply for a new student visa.
There are exceptions and course lengths will differ between schools, so it's always best to double-check with us with regards to the particular school you wish to apply for.
All schools test regularly throughout each term and also do an exam at the end of each term to check your progress. To level up, you must pass these tests as well as attend class, keep up with classwork and do your homework.
Choosing which term is best for you
Deciding on which Japanese language school term you should start in depends on what your goals are and what your current level of Japanese is.
If you are a beginner and want to get the most out of your language studies, then starting in April is a great option. This allows you to complete the full two years of the curriculum.
It's also great for those who wish to move onto further education, as vocational colleges only have one term that begins in April and universities generally have two terms: one in April and another around September.
If your plan is to go to university or vocational college, then you will need about two years to get your Japanese up to speed in time.
If you already have some Japanese knowledge and you are trying to level up by sitting the JLPT exam in either July or December, then starting in January might make the most sense to fast-track your progress. You'll get 6 to 12 months to prepare for either or both of the exams, which is ample time as long as you put in the work.
For those in the northern hemisphere who want to start at a language school immediately after finishing high school, October might be the best choice. This allows you time to complete your education, graduate and have a bit of time off during the summer before heading to Japan to begin your language studies.
If you want a seamless transition after finishing school, then it could make sense for you to sign up for the July term instead.
Another benefit of starting in the July term is if you want to study at a Japanese university. You may have to sit the entrance exam for foreign students (EJU exam), which normally takes place in June and November.
Starting in July allows you to get your Japanese up to scratch to sit this exam. You can take the exam in November and receive your EJU results in December. Then once you have your EJU you can apply for the April intake of your chosen institute.
For more information on taking the EJU, read our article here.
If you need more advice on which Japanese language school term would be best for you, don't hesitate to get in touch with us.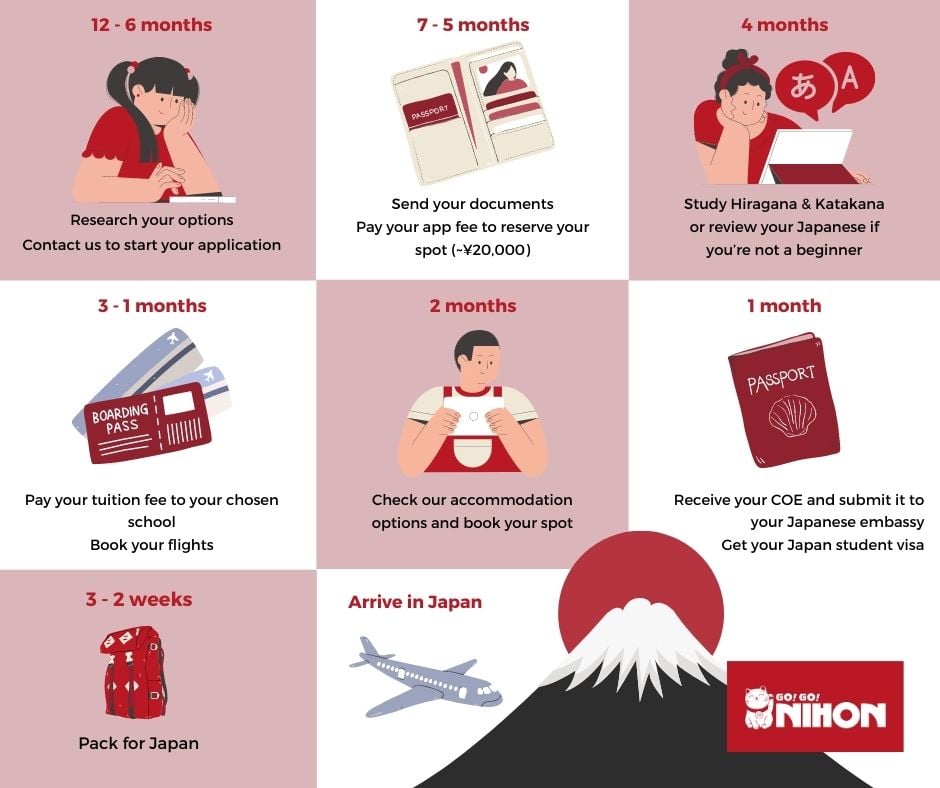 When to get your application in
Ideally, you should begin your application roughly 6 months before you intend to start studying in Japan. This means that if you would like to start studying in October, then April is the perfect time to contact us and get your application started.
Note that during the COVID-19 pandemic, there is more documentation and precautions required, so please get in touch as early as you can, even if it's earlier than 6 months before you want to start studying.
Remember that you can always get in touch with us if you're unsure about the application process.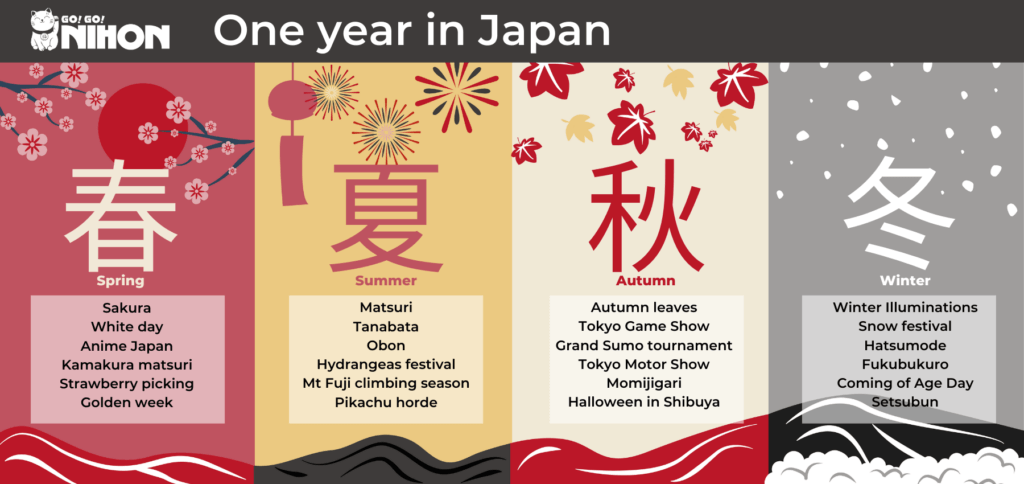 What to do in each term in Japan
There is always something unique to experience in Japan no matter the time of year.
Catch the best of winter and see in the new year at the start of the year, in spring you can experience cherry blossom season from April onwards, take part in summer festivals from July, or go hiking to admire beautiful autumn colours from October.
As you can see, there are more events and festivals in Japan than you could ever imagine – see our blog article for the very best of Japan's events.
If you want more help with deciding which Japanese language school term would work best for you, don't hesitate to contact us!