When moving to Japan, you have a few choices to make about your life there and one of these is where you want to live. One of the more popular options that gives you a mix of privacy and a social life, is the Japanese share house.
Choosing a house
Share houses offer a lot more flexibility compared to getting an apartment in Japan and give you a chance to make new friends at the same time. With an apartment, you often need to have several months rent available in advance and be prepared to pay deposits, key money, and bills. With a dormitory, all your space is shared and privacy is fleeting if not non-existent. With a Japanese share house, things are a lot simpler. They're cheaper than an apartment and you get your own space to relax.
Firstly, you need to find the house and that's where Go! Go! Nihon's staff come in. Depending on the location of your language school we'll be able to help you pick an agency with houses in your preferred area and start sorting arrangements. This process normally starts about a month before you move out to Japan. Once you've selected your house you'll likely need to visit the agencies office on the first day and make payments for rent and deposit if you've not already done this. Some agencies don't accept card so it's worth checking this before you go there.
When it comes to costs, you will need a deposit and on some occasions, a small management fee will be payable. These are often much cheaper overall in comparison to an apartment. What's more is the bills and wifi are included in the rent each month and you won't need to buy your own furniture. Lastly, the rental period is much more flexible. Again, it depends on the company you are renting from but you will often have the choice of how long you stay for. This is perfect if you are looking to stay for short-term or long-term study. Notice periods are also often only a month so you're not stuck if your circumstance change while you're out in Japan.
An average share house rent will be around 50,000-90,000 yen a month including bills. The range is relatively large as it can depend on location (both city and ward), size of room and range of facilities. The deposit will normally be a months rent or slightly more and the management fee can vary from company to company.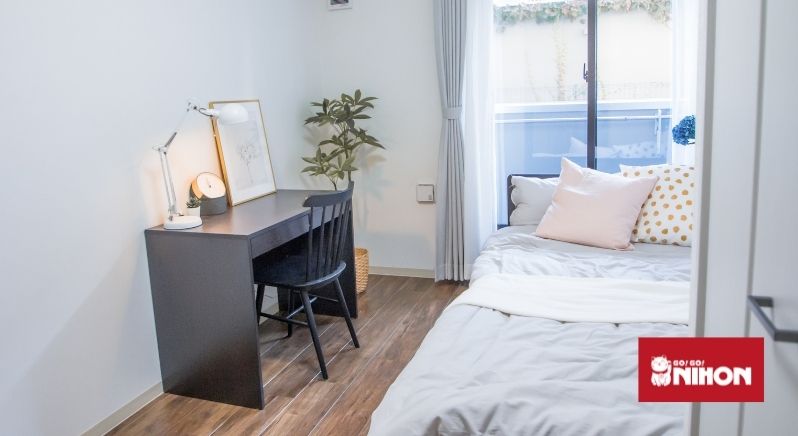 Depending on the share house you choose, your room will likely include a bed, clothes rail, desk, chair, lamp and most importantly, an air conditioning unit. Sometimes there will also be a small amount of storage space, either under the bed or in the form of a small set of drawers. If you want something a little fancier, there may be the chance to have your own fridge in your room and even a balcony. The shared space will include shower rooms, toilets, the kitchen and a common space. Some places have a shared outdoor space too, but this is a bit of a rarity for any inner city accommodation in Japan.
Once you've moved in there'll be a chance to relax and settle in but don't forget to register your address at the local ward office within the first two weeks. You may need to buy a few essentials too such as bedding and your own bowls and plates. A trip to the hundred yen store is a must!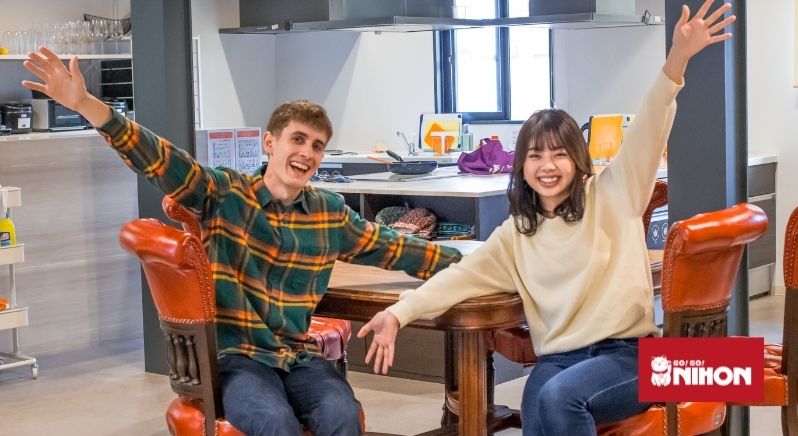 Open your mind
One element of a Japanese share house that has both its good points and bad points, is that you'll be living with a range of people from around the world. This means not only different countries but also different cultures. The best part of this is that it opens your mind. You get to share stories, culture and most importantly, food. The shared environment in the house is often the kitchen and common room. There will be plenty of chances to have group meals, organise film nights or just chill out with a drink and a chat.
What some people moving to Japan don't realize is that many younger Japanese people move in to share houses and on average a Japanese share house is populated by around 50% Japanese people. This gives you the perfect chance to practice your new language skills in a more relaxed environment with native speakers and language exchange is a good way to make new friends. If you're really lucky and you become good friends with your Japanese housemates, they might teach you how to make some amazing proper Japanese food.
However, the other side of this is learning to adapt to other people's habits. This is something you have to do in any shared house whether living with people you know or not. It can be magnified somewhat by the difference in cultures and it's something to be aware of when you move in. For example in Britain, it is normal although not expected, that if one person cooks a meal for others then the guests will offer to do the washing up or will at least help clear the dishes away. However, in some other cultures, it may be considered rude to do this and you simply return the favour at a later date.
It's not just that other people may have different habits but you your be self-aware and understand that your habits may be equally baffling to someone from another culture. Don't panic though! It's a rather good way to learn and simply something to be aware of rather than something to worry about. Many Japanese share houses will have rules for looking after the shared spaces and taking out rubbish, so things will always be kept to a reasonable standard and in some places, you'll have a cleaner that looks after the shared areas once a week, although this isn't an excuse to not clean up after yourself.
Japanese share houses offer an ideal solution for those who want an opportunity to make new friends, share cultures and expand their mind but with some privacy and a place to make your own.
For more information about life in Japan keep following our Go! Go! Nihon blog.