Opening a bank account in Japan is essential if you plan on staying long-term. Luckily for newcomers, there are English-friendly options where you don't need to know much Japanese in order to conduct your banking business. 
However, we recommend learning at least basic Japanese for the bank since this will help you improve your Japanese proficiency. Read on to learn some common words and phrases to use at the bank.
Opening a bank account in Japan
It is fairly straightforward and painless opening a bank account in Japan. As mentioned, there are foreigner-friendly options for those who don't know a lot of Japanese yet. And there are plenty of options in general if language isn't a concern, or if you wish to switch to another bank in the future.
You can read all about how to open a bank account in Japan, what you need and what your options are in our article here.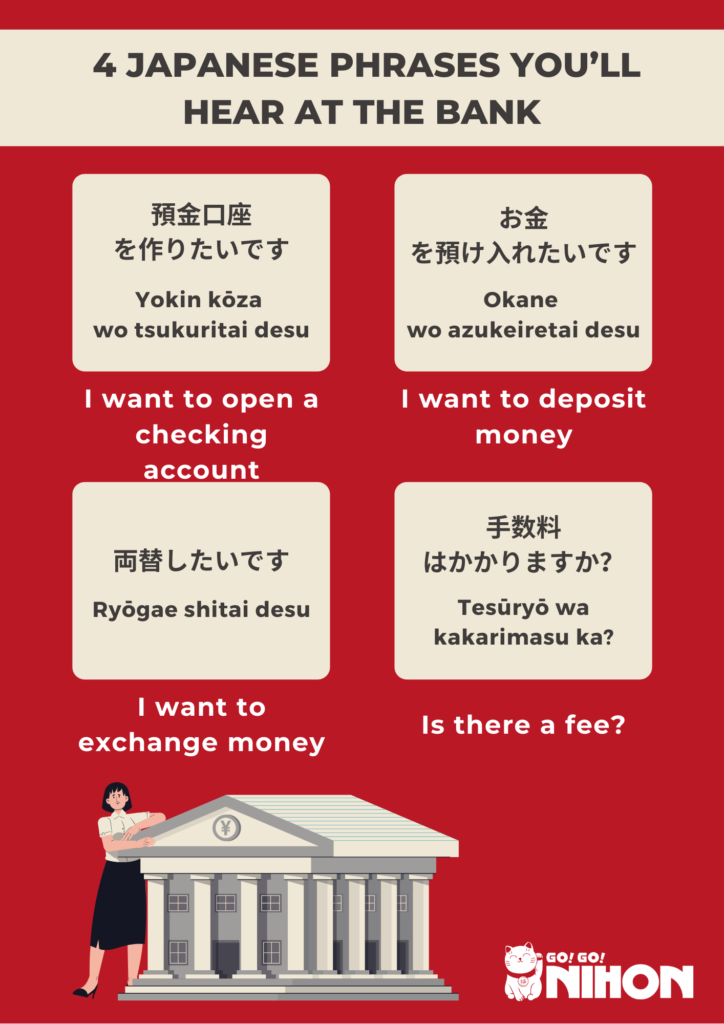 Useful Japanese words for the bank
Even if you use an English-friendly bank, it is still extremely helpful if you already know some common words related to banking. As mentioned, it's also a great step towards relying less on English and improving your everyday Japanese proficiency.
Bank – ginkō 銀行
Deposit – yokin 預金
General deposit account – futsu yokin 普通預金
Savings – chokin 貯金
Savings account – chochiku yokin 貯蓄預金
Transfer – ofurikomi お振り込み
Cash transfer – genkin furikomi 現金振り込み
Direct transfer – kōza furikomi 口座振り込み
Withdrawal – ohikidashi お引き出し 
Balance inquiry – zandaka shōkai 残高照会
Helpful phrases
When you get more confident with your Japanese skills, you can try using some of these phrases the next time you're at the bank. Just remember to listen and try to understand the responses too.
I want to open a checking account
預金口座を作りたいです
Yokin kōzawo tsukuritai desu
I want to exchange money
両替をしたいです
Ryōgae woshitai desu
I want to withdraw money
お金を引き出したいです
Okane wo hikidashitai desu
I want to deposit money
お金を預け入れたいです
Okane wo azukeiretai desu
I want to make a payment
お支払いをしたいです
Oshiharai wo shitai desu
I want to check the balance
残高照会したいです
Zandaka shōkai shitaidesu
Where is the ATM?
ATMはどこにありますか?
ATM wa doko ni arimasuka?
Is there a fee?
手数料はかかりますか?
Tesūryō wa kakarimasu ka?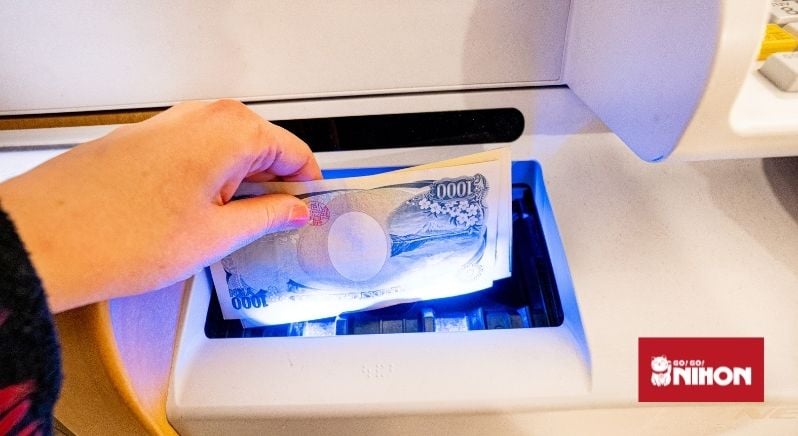 Managing your money in Japan
Accessing your money in Japan once you have a local account is easy since there are so many ATMs everywhere. Read more about how to navigate ATMs and withdraw money in Japan in our article.
There may also be instances when you need to transfer money from your Japanese account elsewhere, which is also straightforward as you can do this via both the internet and ATMs. Read about how to do that here.
You may know already, but Japan is still very much a cash-based society, but cashless options are becoming more popular. Read here about some current cashless trends, apps and methods in Japan.
As a student, you may not have a lot of extra spending money, so how can you save money while you're studying in Japan? We've got some money-saving tips in our article here. 
Remember, you can also work up to 28 hours part-time while you're studying – just ensure you are still prioritising your studies otherwise you could risk revoking your student visa. You can read more about how to get a part-time work permit here.
For more Japanese language tips, find more articles on our blog. If you would like to start learning Japanese, but can't yet make it to Japan, take a look at our online beginner Japanese course.