It's fairly straightforward to open a bank account in Japan, but it's impossible to do this before you arrive in the country. You can use your existing cards to withdraw any money you need when you arrive, but the currency exchange fees will quickly add up. 
Fortunately, there are English options available in Japan when it comes to accessing your money and setting up your finances.
Make it simple with WISE
Wise, formerly Transferwise, helps individuals and organisations around the world manage their money irrespective of physical borders. It offers easy money transfer, the ability to hold money in various currencies and allows you to spend money abroad through one simple-to-use debit card.
It's incredibly straightforward to create an account online and don't worry about getting hit with fees: Wise's conversion fees are generally 7 times cheaper than through your traditional bank. Your money will always be converted at the real exchange rate i.e. the one you see in Google so you can be sure that you're getting the best rate possible and won't be paying hidden markups typical through traditional banks.
You can hold your money in more than 50 currencies on your account, including in Japanese Yen. Once you're in Japan, you can use the Wise MasterCard debit card to spend money, or use it to withdraw money from ATMs. You'll also be able to use Wise to transfer any funds you need for rent, tuition fees or living expenses from your home currency into Japanese Yen.
Apply for your Wise account here.
What to bring
To open a bank account in Japan you will need the following: work/student visa (bring your passport), Japanese ID (Zairyū Card), and telephone number. Some banks require a hanko (判子) or inkan (印鑑), which is a personal seal used to sign official documents, but don't worry if you don't have one – certain banks will allow you to use your signature instead. Keep in mind that if you are here on a tourist visa, you won't be able to open an account.
Foreign-friendly banks
UPDATE: A previous version of this article recommended Shinsei bank as the default choice for new students in Japan; however, a recent change in policy has led to them refusing to support people who have not lived for 6 months in Japan, meaning Shinsei is no longer the best option for new students in Japan. We recommend JP Post instead.
Japan Post bank (JP bank; ゆうちょ銀行) is the easiest option for newcomers who want to open a bank account in Japan. Some of the more traditional Japanese banks such as Mizuho and Sumitomo are fine for those who are fluent in Japanese and plan on staying here for the long haul, but for the purpose of getting started, JP bank is a better choice.
You aren't required to sign with a hanko/inkan, but English support is not guaranteed. We recommend going to one of their larger branches located in more popular areas like Shinjuku, where they might have English staff available.
For those who have already been in Japan for 6 months, Shinsei offers advantages, such as superior online banking, and English support for essentially all their services online. Please note that they may require you to have 1 year left on your visa in order to open an account, and as a foreign bank, they cannot be used for automatic payments like rent and other services.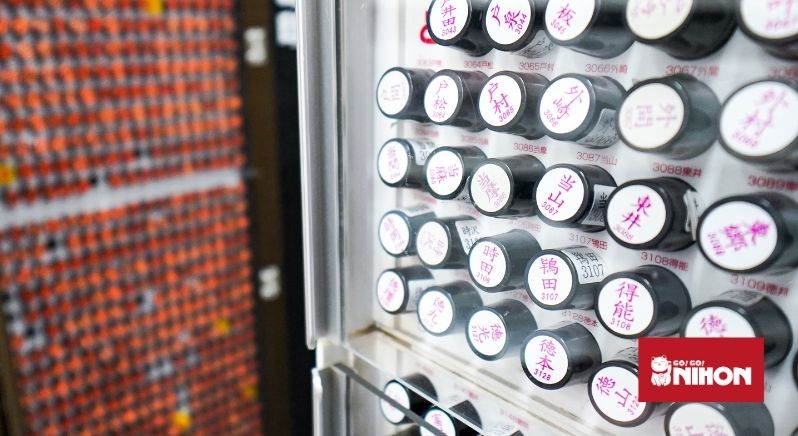 Japan Post bank
Checking and savings accounts can be opened with the Japanese post office. While not as English-friendly as Shinsei, opening an account is easy and does not require a hanko or inkan. International transfer fees are usually 4,000 yen. This is also the only Japanese bank that will allow minors to open their own bank account.
If making a JP bank account first thing after arriving in Japan, it is likely that you will receive a limited type of account which will let you receive direct deposits in Japan, but leave you unable to make transfers to other banks from the ATM or overseas for your first 6 months in Japan. After this time, you may apply for your account to be switched to a regular one, and obtain the ability to make transfers. The process is quite simple, and only requires you to fill out some small forms with your name, address, and phone number.
Types of accounts
Most likely you will need a regular deposit account, or Futsū Yokin (普通預金). A deposit account comes with a bank card (more on that later) which can be used at most ATMs throughout Japan, and a passbook (tsūchō, 通帳) containing your account information and transaction records. The passbook can only be updated at your bank's ATMs. Savings and business accounts are also available for those who are interested.
On top of the limited account we discussed above with Japan Post bank, some banks will offer foreigners the possibility of making a non-resident account in the event that they have not been in Japan for 6 months yet. These types of accounts should be absolutely avoided, as they do not allow you to receive direct deposits (from, say, a part-time job), make transfers, or even get a cash card. Among the most common banks, UFJ and SMBC offer this type of account
Cash card
After making your bank account, you will receive what's referred to as a cash card; maybe right there and then at the bank, but most likely through the mail after a week or two. Unlike the debit cards we might be used to, which let us access our account funds directly to make payments, Japan still operates largely by cash only. While this card will allow you to use ATMs as one might expect, you will not be able to use it to make any actual purchases in stores. Make sure you have cash on hand if you go shopping! That said, it shouldn't be too difficult to find an ATM wherever you are, should the need arise. Both department stores and convenience stores provide ATMs for their customers.
Words to know
While you might be able to find English-speaking staff at bank locations in some of the bigger cities like Tokyo or Osaka, you may find yourself in a situation where knowing the basics will come in handy. Here is some of the most commonly used banking vocabulary:
Bank: Ginkō, 銀行
Withdrawal: Hikidashi, 引き出し
Deposit: Yokin, 預金
Transfer: Furikomi, 振込
Account number: Kōza bangō, 口座番号
Cash: Genkin, 現金
Fee: Tesūryō, 手数料
Passbook update: Tsūchō kōshin, 通帳更新
Cash transfer: Genkin furikomi, 現金振込
Direct transfer: Kōza furikomi, 口座振込
Balance check: Zandaka Shōkai, 残高照会
Easy currency conversion and money transfers with Xe
Xe is a world-leader in currency services and products, including money transfers, live currency exchanges and market analysis. Thoroughly regulated in every country they operate in and cost-effective, Xe helps to make transferring money and keeping on top of exchange rates easy, quick and secure. Get started with Xe here.
For further information about life in Japan, keep following our Go! Go! Nihon blog.