Hiroshima 広島 City is a travel destination loved not only by tourists, but also locals. It's a city with a deep history, awe-inspiring nature, and insanely delicious cuisine. If you want to know what to do in Hiroshima, which food to try, and how to turn your trip into an adventure of a lifetime, this article is for you.
Hiroshima City is like a phoenix. Regardless of its tragic past, it rose from the ashes and has become one of the main tourist destinations in Japan. So, if you want to see one of the Three Views of Japan or try the best okonomiyaki お好み焼き(savoury pancake) in the country, you know where to go!
A brief history of Hiroshima City
Hiroshima City's evolution, as well as its dark history, have been determined by its geographic location. Everything started in the 16th century when Japanese feudal leader Mōri Terumoto 毛利 輝元 built his castle on the territory of Hiroshima. 
The city's connection to the Ōta River (Ōtagawa 太田川) and access to the sea ensured successful commerce with other Japanese provinces. Farmers, artisans, and shopkeepers benefited greatly from the trade, so new villages started to appear in the area.
Hiroshima expanded so drastically that by the 20th century, it transformed from a castle town into a strategic and economic centre of Japan. During WWII, it functioned as a military base, and that's exactly what determined its tragic fate.
On August 6, 1945, the city was struck by an atomic bomb. Thousands lost their lives and thousands more suffered the after-effects of exposure to radiation. Much of the city was destroyed. But despite the enormous destruction, the government decided to rebuild the city. Just like a phoenix, Hiroshima was reborn and became a universal symbol of peace.
Today, Hiroshima is perfectly safe. This lovely city, which also happens to be the capital of the Chūgoku 中国 region, has an excellent combination of traditional Japanese spirituality and modernity. So, whether you're looking for peace of mind or want to get lost in a dynamic metropolis, Hiroshima City offers both.
If you want to learn more about Chūgoku and other regions of Japan, check out our article.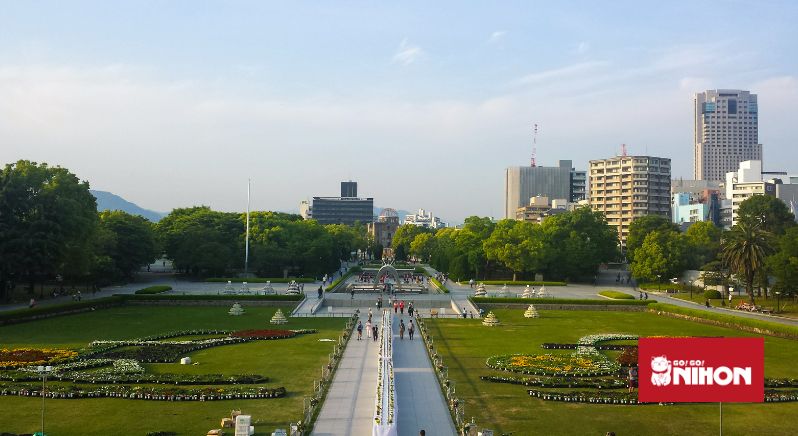 Things to do in Hiroshima City
You won't find a place like Hiroshima anywhere else in the world. Not only does it actively promote peace tourism to remind people to not repeat mistakes of the past, but it also has extraordinary nature. So, if you're planning your trip, here is the list of unique things to do in Hiroshima.
Hiroshima Peace Memorial Park
If you love history and want to study the tragedy that Hiroshima went through, then you should visit Hiroshima Peace Memorial Park (Heiwa Kinen Kōen 平和記念公園). This open-space area is one of the city's main attractions and has more than 70 monuments. While walking in the park, you'll see the Children's Peace Monument (Genbaku no ko no zō 原爆の子の像), the Flame of Peace (Heiwa no Tomoshibi 平和の灯), and an arch called the Memorial Cenotaph (Genbaku shibotsu sha irei hi 原爆死没者慰霊碑).
The park has a museum that demonstrates the horrifying consequences of the nuclear explosion and explains the history of Japan.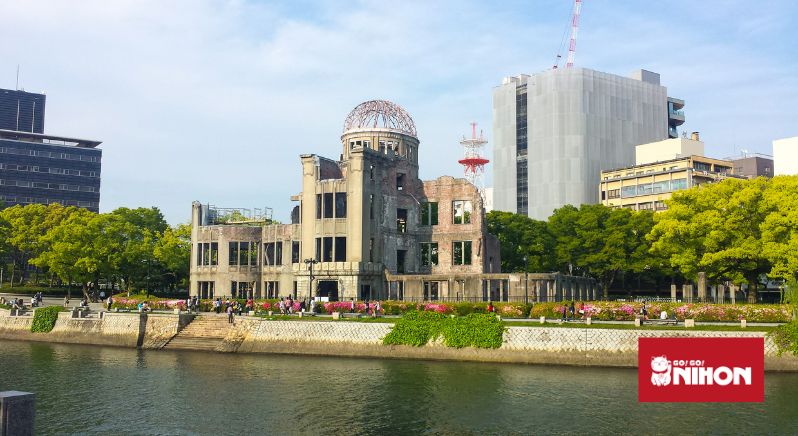 A-Bomb Dome
Among the monuments in the park, A-Bomb Dome (Genbaku Do-mu 原爆ドーム) is the most famous one. It served as a Hiroshima Prefectural Industrial Promotion Hall in the past. What makes it remarkable is that it was the only building left standing after the explosion. As a UNESCO World Heritage site, it serves as a symbol of destruction and hope for peace.
Shukkeien Garden
After exploring the Hiroshima Peace Memorial Park, have a peaceful walk in Shukkeien 縮景園 to ease your mind. This traditional Japanese garden has everything to bring you closer to nature: rivers, lakes, forests, and valleys. A green oasis in the city centre – that's what we would call it!
If you feel slightly tired, the park has plenty of tea shops where you can stop by. Just imagine drinking tea with a view of Japanese ponds and Niwaki 庭木 (Japanese garden trees). Isn't that amazing?
If you're looking for a truly authentic Japanese experience, you can also participate in the tea ceremony! It's a beautiful and long-standing tradition preserved in the garden.
Read more about the history and importance of the Japanese tea ceremony here.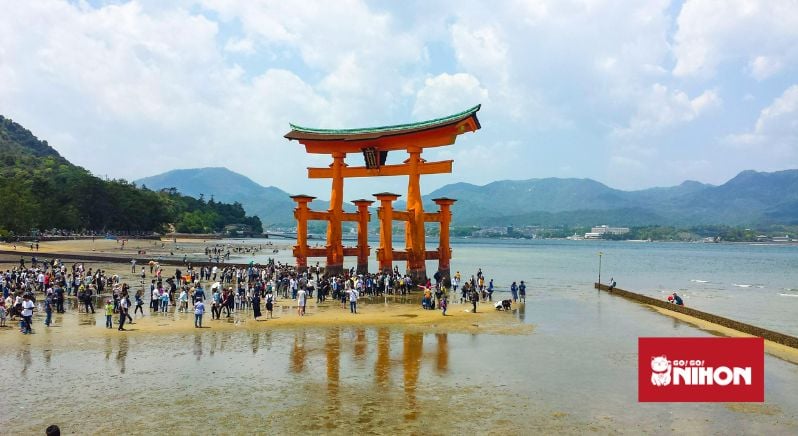 Miyajima Island
Another magical place that you shouldn't miss is the sacred Miyajima 宮島. For many centuries, Miyajima has been a holy spot for Shintoism. That's why you'll notice tranquility in everything you look at: the forests, mountains, architecture, and the sea.
Itsukushima Shrine (Itsukushima Jinja 厳島神社) and a giant tori 鳥居 gate are the jewels of the island. They appear to be floating on water if you visit at the right times of the day. And their unparalleled beauty attracts visitors from all over the world. While peacefully strolling through the island, you can also meet free-roaming deer, just like in Nara City!
So, don't miss a chance to discover this gorgeous island, especially when you can quickly get there by train, tram, or ferry in less than an hour!
What to eat in Hiroshima City
Your trip to Hiroshima won't be complete without food. And when we say that Hiroshima's local cuisine offers some delicious masterpieces, we really mean it. So, here is what you should try!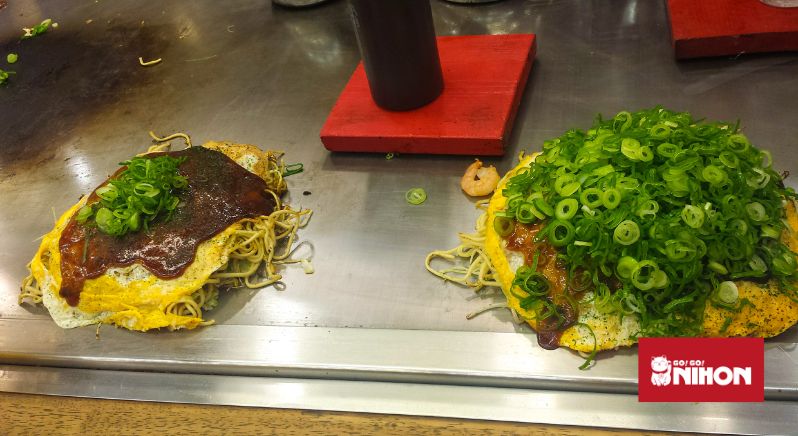 Hiroshima Okonomiyaki
The first meal that should be on your list is Hiroshima okonomiyaki. It's a savoury pancake dish that consists of batter, yakisoba 焼きそば (stir-fried wheat noodles), cabbage, and any topping you prefer. It can be seafood, cheese, or whatever the shop offers! All this deliciousness is seasoned with okonomiyaki sauce, bonito flakes, and seaweed.
What differentiates Hiroshima's version from the original okonomiyaki from Osaka is that it's not mixed, but fried in layers. The batter is thinner and Osaka's version doesn't contain noodles. There is a heavy debate among food lovers about which one is better, and it seems there will never be a winner. Both variations are too good!
Want to know more about okonomiyaki and Japanese street food? Check out our article!
Oysters (Kaki かき)
Did you know that two-thirds of Japan's oysters come from Hiroshima prefecture? That is why you can try them literally anywhere in Hiroshima City. Raw with soy sauce, grilled, baked, fried in tempura… There are so many ways to cook them, and we believe you'll find your favourite one here in Hiroshima!
Momiji Manjū
If you love sweets, then you should try a local dessert called Momiji Manjū まんじゅう. This tiny cake in the shape of a maple leaf is traditionally stuffed with sweet red bean paste. But modern takes on the cake include fillings of matcha, chocolate, custard and more.
Read more about traditional Japanese sweets here.
Onomichi Ramen
And last but not least is Onomichi ramen 尾道ラーメン. This local ramen gained well-deserved fame all over Japan. It has a flavourful broth made of fish, chicken bones, and soy sauce mixed with noodles, pork, and bamboo. If we had to rank it, it's five out of five!
Is Hiroshima worth visiting?
Hiroshima is an excellent place for learning more about Japanese history, culture, and food. There are delicious okonomiyaki, onomichi ramen, and momiji manjū. The floating torii gate is less than one hour away from town. The city is full of UNESCO World Heritage sites. That's an impressive list, right?
If in addition to exploring Hiroshima you would also like to study the Japanese language, we partner with language schools in Okayama and Fukuoka. Although not in Hiroshima prefecture, they are in nearby areas and easily accessible via train and airplane. They offer various short-term and long-term courses. So, whether you're planning to work or study in Japan, we can help you to make the most out of your stay!
If you want to learn more about Japan's travel destinations, food, culture, or the Japanese language, check out the rest of our blog!