When autumn arrives in Japan, landscapes across the country turn all shades of red, orange and yellow. In Japanese the process of leaves changing colours is called "momiji", which is also the name of the Japanese maple tree, and people all over the country travel every year to see the best momiji. 
Here are some of the top places to experience the magic of autumn in Japan. 

Hokkaido
The northernmost of Japan's islands is also the first to experience autumn colours. Combine the colours with the gorgeous natural scenery and it makes for a stunning experience. Some of the recommended places in Hokkaido to visit for autumn include:
Daisetsuzan National Park – this is Hokkaido's largest national park and the first place in Japan to see fall colours. Included in this national park is Hokkaido's highest mountain, Asahidake (Mt Asahi).
Blue Pond (Biei) – you might recognise the stunning landscape of the Blue Pond thanks to an Apple OS wallpaper, but come here during autumn and you'll see not only the beautiful blue of the water, but also the yellow leaves of the trees reflected in the pond surface.
Noboribetsu – Hokkaido's most famous onsen town is also a great place to experience autumn in Japan. Head to Jigokudani, a valley where the town gets most of its hot spring water from, to see the colours amidst clouds of hot sulfur.
Peak season: mid September – mid October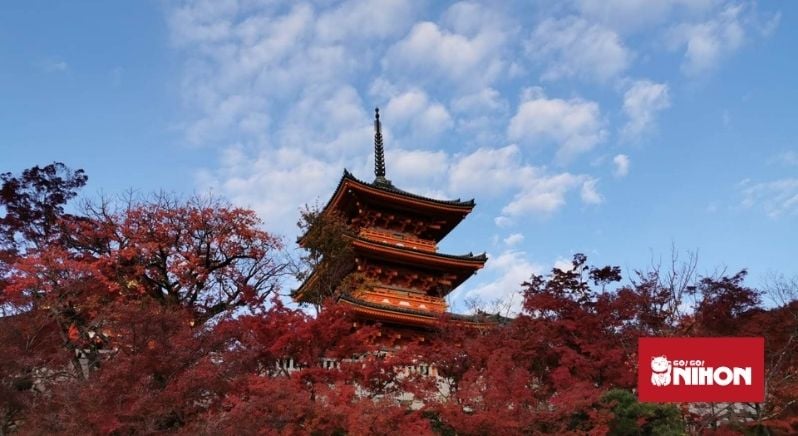 Kyoto
The former capital city is a beautiful place any time of the year, but especially so during autumn, thus making it a popular place to see the magic of autumn in Japan.
Famous places of interest like Kiyomizudera and Arashiyama are breathtaking when covered in gold and red leaves. Other popular spots for autumn leaves viewing in Kyoto include Tofukuji Temple, Eikando Temple and Kodaiji Temple.
Peak season: Mid November – Early December

Tohoku
Being a bit further north, the Tohoku region also sees autumn leaves a bit earlier than the rest of the country.
Naruko River Gorge in Miyagi prefecture is extremely popular for photographers, with its oak, beech, maple and cedar trees turning deep shades of red, yellow and orange.
Lake Tazawa in Akita prefecture, Tsutanuma Pond in Aomori and the Hachimantai area are all popular for fans of autumn colours.
Peak season: Late September – Late October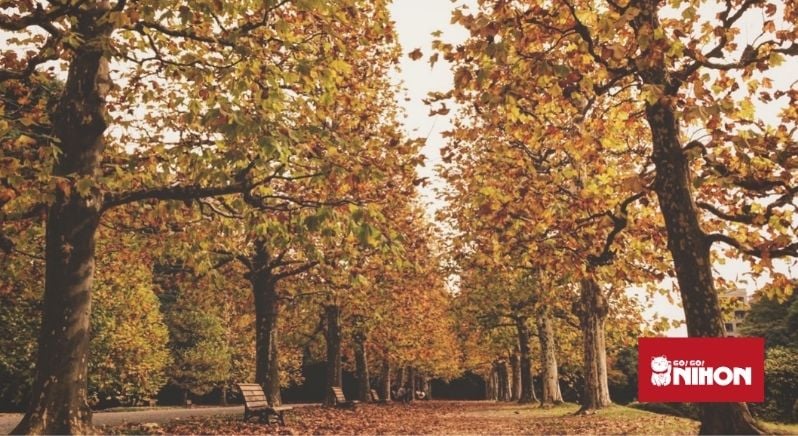 Tokyo
It might not be a nature lover's first choice to see momiji in the country's largest metropolitan area. But, there are actually a few places in Tokyo to experience autumn in Japan.
Shinjuku Gyoen – this beautiful park is a welcome escape from the crowds in one of the city's busiest areas and it is a popular destination for local momiji lovers.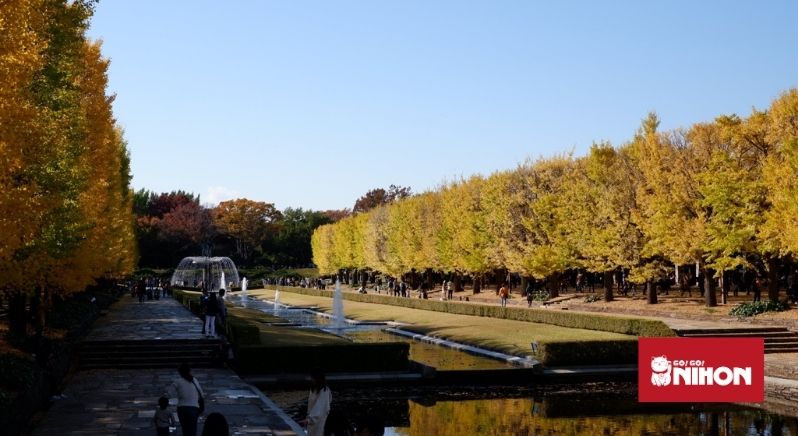 Showa Kinen Park – this sprawling, majestic park is popular amongst locals, not just around momiji season, but all year round. The ginkgo avenue that greets visitors from the Tachikawa gate is a grand view to see when all the leaves turn yellow and the fields of cosmos flowers that bloom during autumn make for perfect floral photography subjects.
Koishikawa Korakuen – one of Tokyo's oldest gardens is also one of the nicest places to experience momiji. The many Japanese maple trees make it a colourful place to stroll around in and despite it being so close to the heart of the city, it is extremely peaceful to explore.
Peak season in Tokyo: late October – late November
For those who want to get out of Tokyo, but don't want to go too far can also head to the nearby towns of Kamakura or Hakone to experience autumn leaves. 
Mt Takao 
This is every Tokyoite's go-to momiji viewing location when they want to escape from the city. It can get extremely crowded, even when it's not autumn, so best thing here is to try and visit during a weekday.
Peak season: Late November

Nikko
The little city of Nikko packs a big punch when it comes to momiji, attracting a serious amount of visitors each year who go purely to experience the changing colours of the leaves.
Kegon Waterfall, Lake Chuzenji and Shinkyo Bridge are all highly popular places for the ardent momiji hunters.
Peak season: Late November

Fuji Five Lakes
This area located near the bottom of Mt Fuji is another popular area for momiji that is not far from Tokyo. There are some excellent vantage points for photographers (particularly at Kawaguchiko), where you can get that famous photo of a snow-capped Mt Fuji framed by delicate red leaves.
Peak season: Mid November
Will you be making the most of autumn? Where is your favourite place to got to experience autumn in Japan?
If you want to see it for yourself, join our Autumn in Japan study trip, and experience the best of the fall season!
For more information about Japan, keep following our Go! Go! Nihon blog.