Japan in winter often gets overlooked, but it's a magical time of year for a lot of reasons. From delicious warming oden 御田 (various stewed ingredients) to relaxing in an onsen 温泉, or getting your adrenaline going with some winter sports, it's a great time to be in the country.
Here is a look into what we think are the best things to do in Japan in winter.

Get your blood rushing with snow sports
As you might already know, Japan is one of the top skiing and snowboarding destinations in the world. They have world-class ski with some of the best powder snow you'll ever experience.
If you're in Tokyo, where it usually doesn't snow, there are some decent ski fields just an hour or two away by train. This means you can still enjoy the snow for a day or weekend trip, even if you're based in a bustling metropolis.
One of the more famous areas for snow sports is Nagano, just 2 ½ hours from Tokyo. The city and prefecture held the Winter Olympics back in 1998 and as such has some of the best ski resorts in the country.
It's also home to the famous snow monkeys that like to bathe in natural hot springs. You can find them at Jigokudani Monkey Park (Jigokudani Yaen Kōen 地獄谷野猿公苑). It's a wonderful sight and you'll want to watch them going about their business all day.

Relax and unwind in Japan's best onsen
It's not a true winter experience in Japan without visiting at least one onsen and we rate this as one of the top things to do in Japan in winter. There are thousands of hot springs around Japan, with some that are located out in the open with serene views of mountains.
Just make sure you know the basics of onsen etiquette before visiting! Read our article to learn more.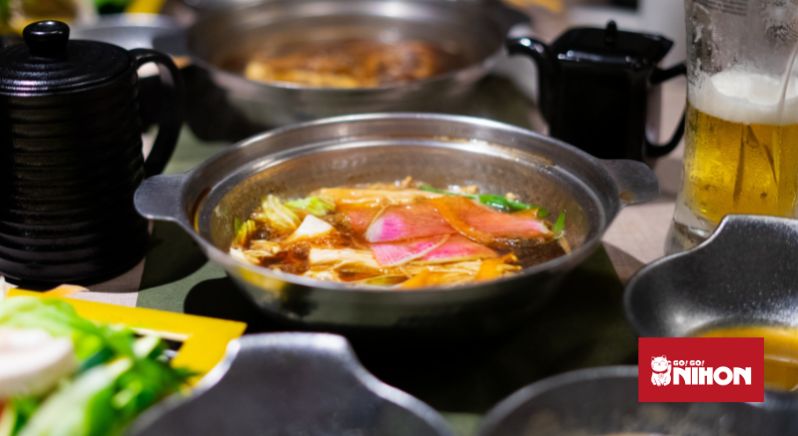 Enjoy heart-warming food
Once you've relaxed in the hot spring, it's time to warm your insides too with some delicious winter food. Every region in Japan has its own favourite local dishes, but there are some universal delights available throughout Japan in winter. Most of them are a variety of nabe (鍋) or one-pot dishes. Oden is one you must try and is available in most konbini too. A hot-pot type of dish, it consists of a variety of items stewed in a dashi だし (soup stock) broth. You can often choose which items you'd like and they can range from boiled eggs to tofu to fishcakes. It's a perfect quick bite to warm you through.
Alternatively, there's shabu shabu where you have a central pot on your table and cook thinly sliced meat and vegetables in boiling soup stock. It's a great communal meal and the perfect experience for a cold winter's night.
And of course, you can have ramen anytime of the year, but it's especially heartwarming in the colder months!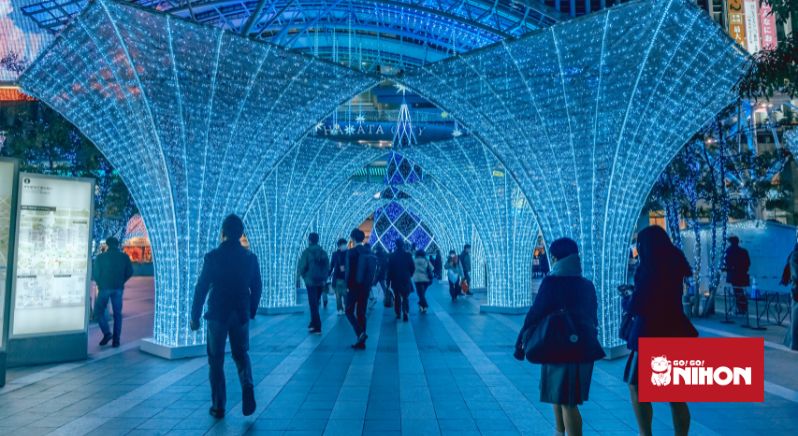 Celebrate Christmas the Japanese way
Being a predominantly Buddhist and Shintō country, Japan doesn't have same tradition of celebrating Christmas as Christian nations. But that doesn't mean they don't embrace it with gusto!
Christmas decorations and winter illuminations are common in larger cities like Tokyo and Osaka. Some stay up well beyond Christmas and they're a truly spectacular sight to behold.
Christmas markets are also common if you're in the metropolitan areas, giving a distinctive European flair with traditional German food, mulled wine, and Christmas decorations for sale.
This time of year is reserved for the romantics and it's common for couples to go out for a special dinner on December 25th. Just make sure you book well in advance if you want to take your loved one out on this night – restaurants get booked up quickly!
Read more in our article about how to celebrate Christmas in Japan.
Shop up a storm
Of course, with holidays, comes shopping. For those with an eye for a bargain, January is a good time to shop in Japan as sales are everywhere. Don't miss out on Japan's New Year's lucky bag tradition, fukubukuro (福袋) where you can find some great bargains.
Japan in winter is a magical time of year to see this country. With crisp cool days and lots to do, you'll be spoilt for choice when it comes to activities to fill your weekends with when you need a break from study.
For more information about life in Japan, keep following our Go! Go! Nihon blog.