Christmas is here and although it's not an official holiday in Japan, you'll see a number of Christmas markets pop up in Tokyo. 
Completed with hot cups of mulled wine, heartwarming food, twinkling lights and traditional crafts, these markets bring a touch of European Christmas to Japan. Here are some of the best Christmas markets in Tokyo.
Please note that due to COVID-19, many 2020/2021 events in Japan have been cancelled. Double check with the official websites for the latest information. 
Roppongi Hills
Each year in November and December, people flock to Roppongi Hills to enjoy winter illuminations and the German-inspired Christmas market with Tokyo Tower as the backdrop.
The market here isn't the biggest, but there's always a fun atmosphere. Stalls offer goods like hand-made decorations, advent calendars and Christmas gifts. You can also drink glühwein, or mulled wine, and try some traditional German dishes.
You can visit the official website here.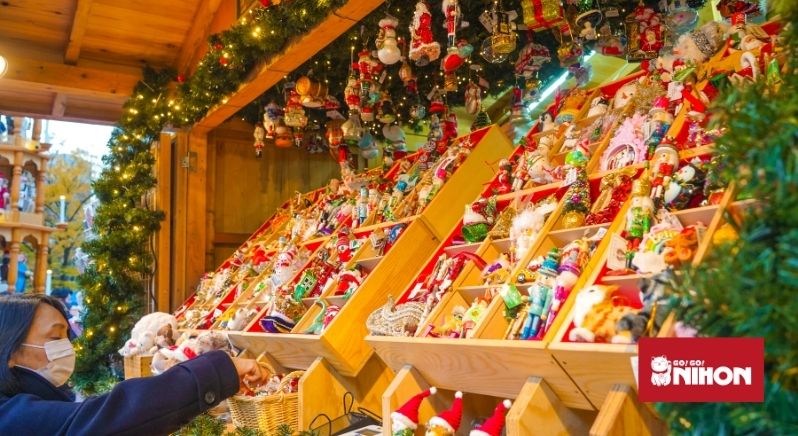 Hibiya Park
If you want more German Christmas market experiences, head along to Hibiya Park for the Tokyo Christmas Market. It aims to replicate the festive energy of European Christmas markets in the heart of Tokyo. You'll find a selection of food, drinks, ornaments and even a 14 metre-high Christmas pyramid bought over from a German village.
This Christmas market has been running since 2015 and is a highlight for many at this time of year.
Ebisu Garden Place 
Starting in early November, Ebisu Garden Place lights up for its annual winter illuminations. It's famous for the dazzling Baccarat Chandelier, it's huge 10 metre-tall Christmas tree, and its beautiful lights and illumination displays.
There is usually also a small French-inspired Christmas market that serves specialties like galettes and hand-made candles.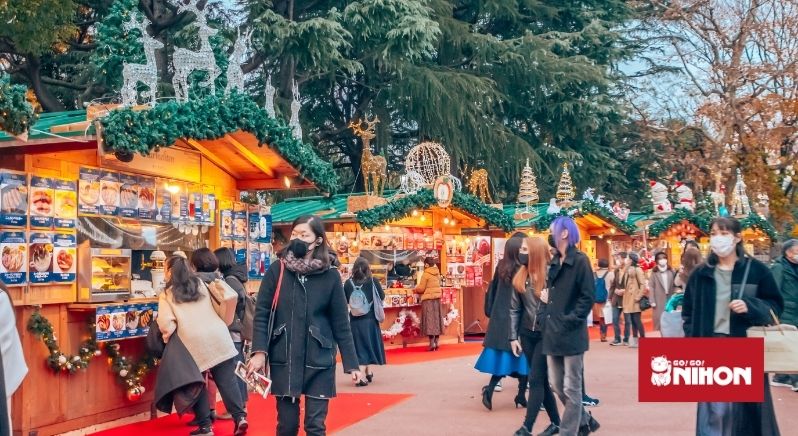 Yokohama Red Brick Warehouse
If you're willing to travel a little farther out, you'll be rewarded with one of the best Christmas markets near Tokyo. Yokohama is less than an hour by train from Tokyo and its Akarenga, or Red Brick Warehouses, turn into a winter wonderland inspired by the Christmas markets in Nuremberg, Germany. 
A grand Christmas tree in the middle of the market sets the tone. There are stalls selling classic ornaments, traditional toys and of course glühwein. The market offers German food as well as the traditional "stollen" fruit and nut cake.
There's a skating rink where you can skate and enjoy art at the same time.
Read more about the market here.
Disneyland and DisneySea  
Although not quite a Christmas market, you can also enjoy the holiday season at Tokyo Disneyland and DisneySea! The Disney theme parks never disappoint when it comes to seasonal themes. Just as Halloween is over, Disneyland and DisneySea transform into Christmas holiday wonderlands. Special decorations feature Christmas trees and several illuminations and Christmas displays.
The parks offer special Christmas menus, holiday merchandise and Christmas-themed parades. 
Enjoy Christmas markets in Tokyo
No matter where you decide to go in Tokyo during the festive season, you'll certainly have a special time browsing for gifts and drinking spiced beverages. What makes Tokyo Christmas so special is all the beautiful winter illuminations and decorations. So be sure to wander around to look at all the twinkling lights during this Christmas season.
Learn more about traditions and seasons in Japan at the Go! Go! Nihon blog.