Hear "Nagano" and you might think: snow, Winter Olympics, snow monkeys. And while Nagano is all of those things, it is also so much more. If you're thinking about whether to live in Nagano, read on to learn more about this amazing city and region.
A brief history on Nagano
As with many cities in Japan, Nagano has a long history. Developed in the Nara period, it started as a small temple town centred around Zenkōji Temple 善光寺. But, it soon grew in size.
By the 1500s, Nagano was a key strategic point in the historic battle between the Uesugi clan and the Takeda clan. As things settled and it became less of a focus for warring clans, Nagano continued to grow as a city and is now one of Japan's "core" cities.
Nowadays it's famous for a lot more than its temple and its strategic advantage. If you're a sports fan then you'll know that it hosted the Winter Olympics in 1998. It still has a reputation for excellent winter sports across the region, which is a highlight for winter sports lovers who live in Nagano.
Alternatively, the famous Zenkōji Buddhist temple and the beautiful rustic onsen in the area offer a more relaxed pace of life. For a city of around 380,000 people, Nagano and the surrounding region is packed with nature, history, and sport.
READ MORE:
*Best cities to study Japanese in Japan
*Wondering where to study in Japan other than Tokyo? We're here to help
*Study in Japan for 6 months: planning and timeline

Keeping busy: what to do if you live in Nagano
Snow sports
If you live in Nagano, then you're in the perfect place on Honshū 本州 (the largest of Japan's four islands) for winter sports. The facilities in the areas surrounding the city offer some of the best in the country, as they were developed for the 1998 Winter Olympics. Hakuba in particular has a reputation for great skiing and snowboarding.
View other great places in Japan to enjoy snow sports here!
Hiking
If you don't fancy sports, but still want to get out and about in the mountains, then there are some amazing hikes that are just a bus ride away from the city. One of the most surprising is Tsugaike Nature Park. Once you're up in the mountains you can head to the high moorlands with boardwalks running through them. In the spring there are beautiful skunk cabbage flowers blooming and an array of auburn, orange and red across the landscape in the autumn.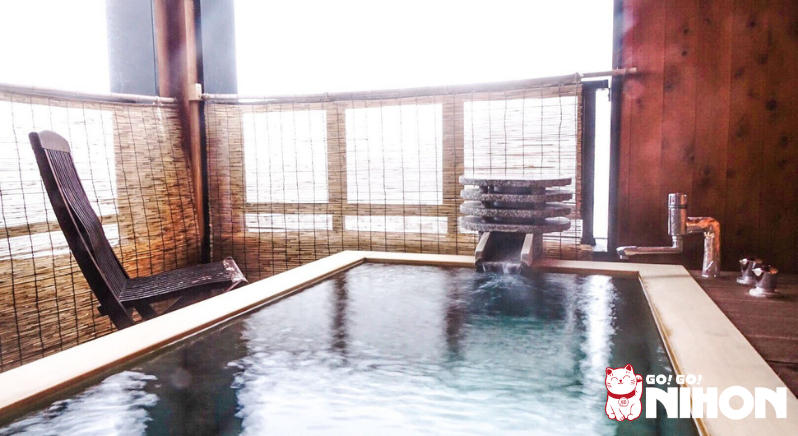 A chance to relax
Once you're done with the snow sports and hiking in the mountains, you'll surely want to relax and there's no shortage of beautiful onsen towns in the region. Yudanaka onsen 湯田中温泉 (close to the monkey park), Nozawa onsen 野沢温泉 (by Nozawa Ski Resort), and Bessho onsen 別所温泉 (just outside of central Ueda city) all have traditional hot springs in glorious settings.
Read more about onsen etiquette and culture in Japan here.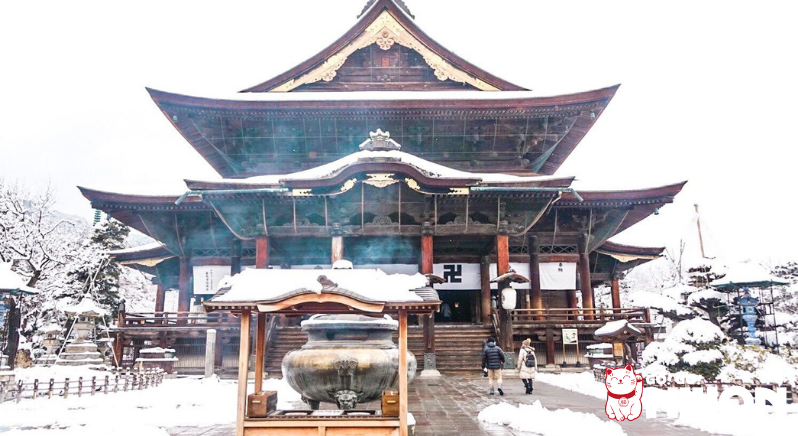 Shrines and temples
One of the most famous temples is Zenkōji, a 7th Century Buddhist temple that serves as one of the few remaining pilgrimage sites in Japan. There is a lot to explore, from the Sanmon Gate, to the main hall and the underground passage that leads visitors on a search for the "key to paradise".
There are plenty of other shrines and temples to explore in this area. If you want to visit one that's a bit closer to nature then Togakushi Shrine 戸隠神社 is a good choice. It's actually three shrines and are related to an important Japanese myth. These shrines are connected by hiking trails up the forested mountain slopes, which make for a peaceful escape.
Read more about how to navigate your way around a Shinto shrine in Japan here.
Chibiko Ninja Village
Up in the mountains and just a short bus ride from the centre of Nagano is the Chibiko Ninja Village. This is a small themed park with attractions that appeal to both kids and adults. There are lots of parts to explore and many chances for you to try your hand at being a ninja!
Further up the hill is a favourite at Go! Go! Nihon, the Togakushi folk museum that explores the history of ninjas and has a traditional ninja house that is full of secret doors and passages. If you're feeling brave you can head in on your own and see if you can find your way through the maze of a building.
Ueda Castle
Situated up in the northern reaches of the region, this castle once belonged to a samurai clan that defeated the Tokugawa hordes twice. It's an impressive fortress in a beautiful setting and well worth the trip to absorb the history of the area and maybe even join the samurai festival, the Ueda Sanada Festival.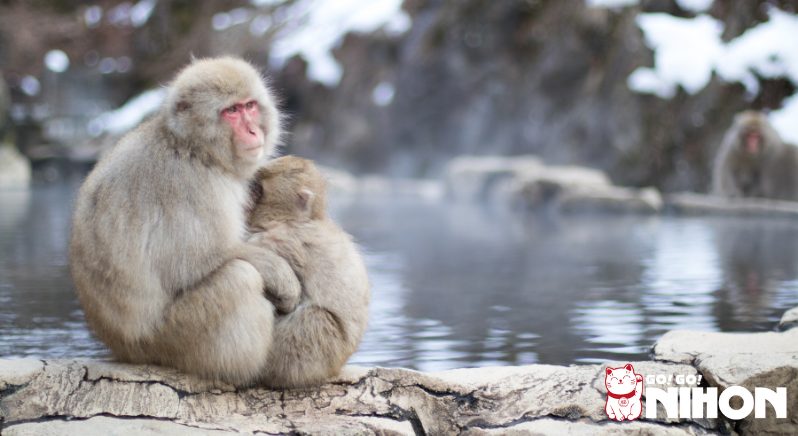 Jigokudani Monkey Park
Possibly the most famous place near Nagano is Jigokudani Yaen Kōen 地獄谷野猿公苑. Follow the trail from the car park through the mountain and up to the hot springs where you'll find the monkeys having a lovely relaxing bath. In the winter the snow covering the area adds to the majesty of the place and offers plenty of photo opportunities.
Local cuisine
As with most places in Japan, there is of course a famous local dish. If you live in Nagano then you have to try the soba そば , particularly as buckwheat is grown locally. Many of the restaurants in the area maintain the tradition of making the soba by hand and you can really taste the difference.
Read more about different types of Japanese noodles here.
Other things you should try include oyaki お焼き, a flour dumpling that can be filled with vegetables, but fillings include a range of options. They're generally considered to be a snack, unlike the other dumplings, gyōza 餃子, that you might be familiar with. Other options include gyūnyū pan 牛乳 パン, a sweet fluffy bread made with milk. Alternatively, you might prefer to try gohei mochi 五平餅 , a glutinous rice cake coated in a sweet and savory sauce.
Whatever your tastes there's plenty to get you salivating when you live in Nagano!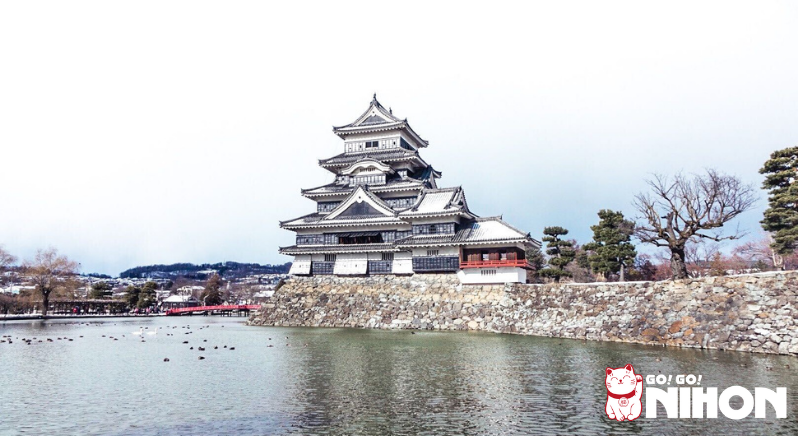 Matsumoto
About 75km from Nagano City, is the city of Matsumoto 松本, the second largest city in Nagano prefecture. Of particular note is the castle, which is one of Japan's oldest castles dating back to the 1500s. Unlike many of the castles in Japan it still has some of the original wooden interiors and external stonework. With a black exterior, it's known as the crow castle and sits strikingly on the landscape.
Karuizawa
Karuizawa 軽井沢 is a small mountain and resort town just an hour from Tokyo thanks to the Shinkansen line. When things are starting to get overly warm in the summer months, Karuizawa offers the perfect cooler climate. It's particularly famous for its autumn colours, as well as its various outdoors activities like skiing, hiking, ice skating and cycling.
Why you'll love living in Nagano
With so much to see, do, and eat in the area you have plenty of reasons to live in Nagano.
Personally, we love Nagano as it has so much to offer, but manages to offer a much more peaceful way of life. With the Japanese Alps as one of the main attractions of the area, Nagano and the surrounding area offers plenty of nature and hot springs for those who want to relax. If you're a bit more adventurous, then the legacy of the Winter Olympics has left some of the best ski resorts in the country.
As well as being chilled in nature, it's also chilled in climate. The mountains are the perfect escape for those that find the sweltering summers of the city a bit much. The proximity to Tokyo means that if you do miss the big city life you can hop on a train and be back in the same day.
All this combined with a lower cost of living adds to the relaxed nature of the region.
Don't forget to check out the rest of our blog for more about Japanese language, life, culture and society.