Japan in the winter is a magical place for many reasons. Whether you like winter sports or relaxing in an onsen in the mountains, there's a lot to choose from. But what if you live in a city like Tokyo? There's still a lot to do but our favourite is to go see Tokyo Winter Illuminations. Japan does illuminations like no other country and most of them are free.
Here are our top picks of the best Tokyo Winter Illuminations.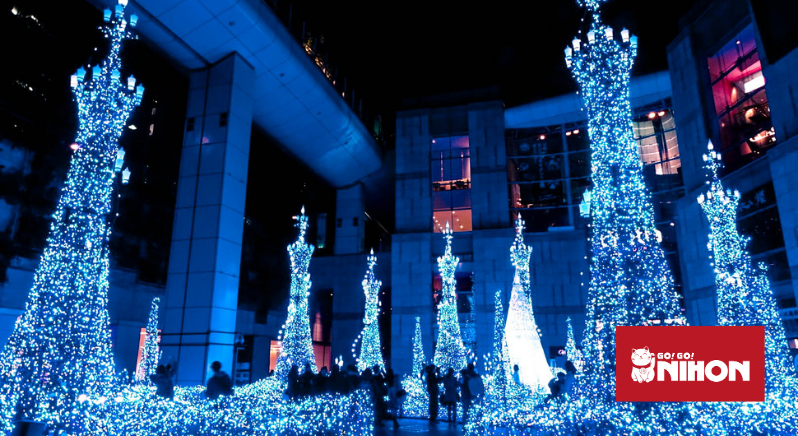 1. Shiodome – Caretta Illuminations
Le Caretta Shiodome complex (カレッタ汐留) to the south of the city near Shimbashi is a great place to visit at most times of the year. This shopping centre has a lot to do and see anyway, but each year puts on a spectacular display of themed lights. Previous themes have included Beauty and the Beast and Disney Princesses.
2. Roppongi Hills Christmas Illumination
Roppongi Hills is a popular place amongst the international community at most times of the year and even more so in the winter time. The incredible lights are accompanied by an excellent Christmas market where you can get your fill of bratwurst and gluhwein.
The most famous part of these illuminations is along Keyakizaka Street with 400m with 700,000 lights in blue and white. Millions of people visit each year to admire the lights, so if it's all a little much for you why not check out the garden at the Mori Tower? It's a much quieter spot to relax with your spoils from the Christmas market.
3. Shinjuku – Winter Illumination
There are many reasons to visit Shinjuku with plenty of shops, restaurants and a Godzilla or two. But did you know that it has not one, but two excellent sets of illuminations?
Firstly, there's the Minami Lumi (新宿, ミナミルミ), a mix of lights and Christmas trees giving you something a bit different to the other displays around Tokyo and something a bit more traditional. It lines the south terrace of the area including the Takashimaya Times Square and the MAYNDs building.
Secondly, there's the Shinjuku Terrace City Illuminations (新宿 テラスシティイルミネーション). These cover a pretty large area encompassing Odakyu ACE, Odakyu Hotel Century Southern Tower, the Southern Terrace and our favourite, Mosaic Street, which is lined with numerous pink lights that give you a warm glow as you go about your shopping.
4. Marunouchi Illumination
With the backdrop of the Tokyo station, the Marunouchi Illuminations are one of the best in the city. Organisers line the streets in this central city business district with millions of lights on hundreds of trees. It's a beautiful display and you can see why it's been so popular over the years.
For those of you that are a bit worried about the massive amount of electricity being used then you'll be pleased to know that a large number of the lights used are eco-friendly and use around 65% less power.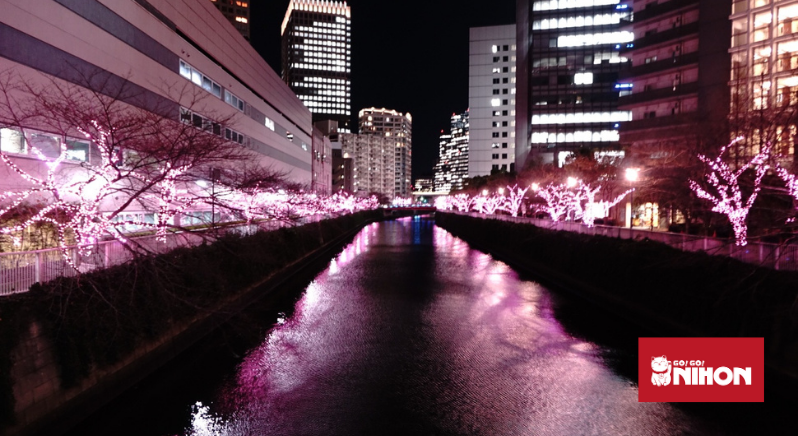 5. Megurogawa – Christmas
The Megurogawa illuminations or the "Minna no Illumination" are some of the most Japanese styled lights on display. With over 400,000 pink lights that will remind you of the cherry blossoms from spring and incidentally the cherry blossoms in the spring are just amazing.
With the 100% eco-friendly lights stretching around 2km down the river it makes a perfect romantic walk.

6. Tokyo Midtown Illumination
Prior to the global pandemic, these illuminations were a huge multimedia production featuring hundreds of thousands of lights. Due to Covid-19, the illuminations have become more subdued. But we would still recommend heading along to it earlier rather than later to avoid large crowds.
This one is a great one to pair with the Roppongi Hills display, which isn't too far away.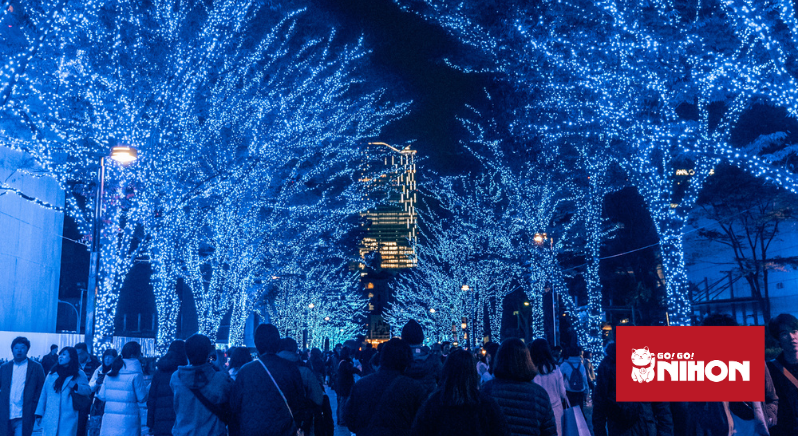 7. Shibuya – Ao no Dokutsu
The Blue Grotto situated in Shibuya, is possibly one of the most famous set of illuminations in Tokyo. Commonly known as the  Ao no Dokutsu (青の洞窟) . These illuminations originally started in Nakameguro in 2014 and moved to Shibuya just outside of the NHK headquarters.
As you might have guessed the 600,000 lights that line this short stretch are all blue and there are strip lights along the site as well to make the avenue of trees seem like a blue cave as you wander through them. Extending along Shibuya Koen Dori Street down through Yoyogi Park it's another magical winter wonderland.
Experience Tokyo Winter Illuminations with Go! Go! Nihon
So which to choose? There are plenty of choices available on our list and a lot more are available on top of these too. Why not spend your next winter in Japan exploring these Tokyo Winter Illuminations? Contact us to find out how to live and study in Japan.