In Japan there's so much more to do at the post office than you might think. It's the place to go to send mail and parcels, but also to withdraw money and even get souvenirs! In Japanese post office is called yūbinkyoku 郵便局, the mailboxes are red, and the symbol for post offices 〒 are similar to the katakana te テ).
Let's see what services are available at a Japanese post office.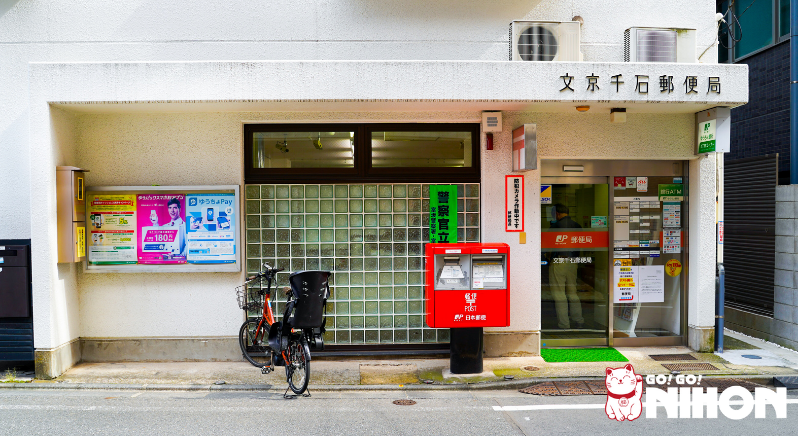 1. Mailing stuff
Whether you are sending letters, packages or simple postcards (called hagaki 葉書) the post office is where you'll go. Your overseas mail can be sent by surface mail (funabin 船便), air mail (kōkūbin 航空便) or economy air (lower priority). Express mail service EMS (kokusai supiido 国際スピード郵便) is also available.
Read more about Japanese to use at the post office here.
If you want to send things to Japan from overseas, take a look at our guide on how to send a parcel to Japan.
Japan Post also has a service for forwarding things when you move house. If you are leaving Japan for good, sending your parcels home through the post office is a quite easy and reasonably priced way to get your stuff home. You can also forward your mail to a friends address for up to one year, when you leave Japan.
Note that from January 1, 2021 you need to type up and print out your package label for international packages, rather than write the label out by hand. This is compulsory for any packages sent from Japan to the United States and is recommended for packages going to all other countries.
Visit the official Japan Post website for more information.
2. Buying stamps
Stamps, or kitte 切手, both for domestic and international mail, are sold at the post office. You can also buy stamps at some convenience stores and tourist information counters.
For sending things other than postcards I would recommend going to the post office to get the stamps. At the post office you'll get the letter or parcel weighed which means you will get the correct amount of stamps.
You can also buy things like envelopes, called fūtō 封筒, at the post office.
3. Buying revenue stamps
In Japan it's common to be asked to buy revenue stamps, called shūnyū inshi 収入印紙, when dealing with certain paperwork. These stamps look like ordinary postage stamps, but are a form of tax payment. Revenue stamps must be attached to a variety of official documents, like visa renewing papers, for them to be legally effective. It's a way of showing that they are paid for. Japanese revenue stamps come in a variety of values, so make sure to get the correct amount for your specific legal document.
4. Gotōchi postcards
Gotōchi ご当地 means "local", so gotōchi postcards are local postcards showing local specialities from each prefecture in Japan. They are only available at post offices in the specific prefecture, making them collectibles and really wanted by postcards enthusiasts. They are limited edition, like many items in Japan, which adds to the hype. Gotōchi postcards make great little souvenirs, symbolising the prefectures you visited while in Japan. And they don't take up much room in your suitcase, which is always a bonus!
5. Japan Post Savings Account
The Japanese post office offers banking services and you can easily open a bank account here instead of at a regular bank. Getting a Japan Post Savings Account means that you'll be able to access your bank account wherever you travel within Japan. Not all banks are available nationwide, so many travellers and foreigners choose to set up an account with Japan Post for convenience.
6. Withdrawing money
Post offices are one of the places in Japan where you can withdraw money from international debit cards. Keep in mind, however, that a Japanese post office isn't open 24 hours of the day so check the opening hours before going. Look for the green international ATM and you'll be set.
7. Sending money home
If you have been earning money in Japan you might want to send some of it home. This can be done through your bank, or through the post office. Make sure that your country accepts these kinds of transfers. Also make sure that you can show that tax has been withdrawn (either in Japan or your own country) for the money you send.
Read more about how to make a bank transfer in Japan here.

8. Picking up mail
If you missed the delivery of a package you can easily get it resent to your house, just follow our guide about the redelivery service in Japan. You can also choose to go to a Japanese post office to pick it up. This service might only be available at some post offices and only within opening hours. But, it's an option.
9. Getting insurance
Japan Post also provides life insurance, seimei hoken生命保険, available at the post office, which can be convenient if that's something you'd like to sign up for.
To find your nearest post office, go to Japan Post's website.
You'll probably go to a Japanese post office more than once if you're living in Japan, since it offers so many services. We hope this guide will help you understand how the post office in Japan can help you!
For more useful tips about life in Japan keep following our Go! Go! Nihon blog.