Sending postcards from your visit abroad is a must, particularly when visiting Japan where you can find original and very special postcards. In fact, there's an endless variety of types, colours, shapes and motifs for both Japanese postcards and Japanese stamps. They often illustrate particular regions, prefectures and cities, famous places, dishes and seasonal events.
No matter what you're looking for, you'll find hundreds of different postcards to choose from. This article will walk you through everything you need and want to know when purchasing Japanese postcards.

Thousands of postcards
In other countries it's common for postcards to depict different cities and tourist attractions, as well as holiday greeting cards like Christmas cards. In Japan, however, a plethora of different cards are offered. Japanese postcard designs change depending on the season, themes like cherry blossoms in spring, wind chimes and goldfish in summer and autumn foliage in fall. The most common postcards, which we usually send for birthdays and Christmas, come in a vast variety and you will have a hard time choosing among them.
Landscape motifs
Postcards showing landscape motifs are popular all around the world, and Japan is no different. These postcards are often sold in stores near popular tourist attractions or areas. You can also find them at local post offices. There are two different types of cards. The classic postcard where the image itself covers the entire side of the card, and you write the message on the back. The second type usually have the motif painted, covering half the front of the card. You're supposed to write next to the picture on the front. Which means that you need to keep your message short. Of course, the price of these cards varies depending on where you buy it. However, they are generally the cheapest on the market. They usually cost just over 100 yen per card and are often sold at the post office, 10 cards for 1000 yen.
Collectible postcards
If you want something more original, why not buy a collectible card? These are sold in limited edition at Japanese post offices. The Collector editions of Japanese postcards are sold in various unique designs. There are postcards depicting beloved characters from Disney and local Japanese mascots such as Kumamon. Illustrations of Japanese landscapes and landmarks are also common. These are not necessarily more expensive than regular cards sold at the post office. These cards, which are very popular among collectors, can also be ordered on the internet through the Japanese Post's website.
Regional Japanese postcards and Gotochi
If you're looking for postcards showing Tokyo Tower, Skytree, Mt.Fuji, Osaka Castle or Yokohama bay you're in luck. The different cities and prefectures of Japan have their own regional postcards. Showing the most famous tourist attractions and places in the prefecture or city. Gotochi are local postcards showing local specialities from each prefecture in Japan. Only available at post offices in the specific prefecture and in limited edition, they are collectibles and sought after by postcards enthusiasts.
There are also regional cards with more extravagant designs, usually decorated with the local mascot, glitter or various illustrations. Prices may vary slightly, between 185-250 yen. An envelope is often included to protect the card.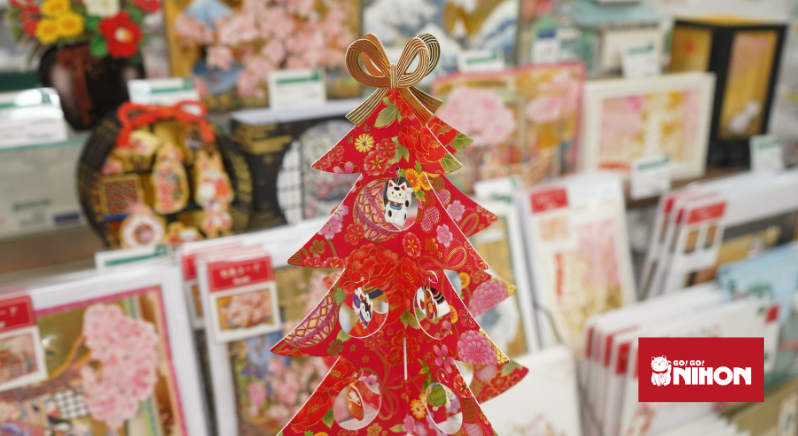 Postcards for major holidays
According to Japanese tradition, you send special postcards to wish a Happy New Year. Important events during the year usually include a special kind of postcard. In Japan the New Year is the most important holiday and during this holiday the Japanese send nengajou (年賀状), New Year's cards. These cards are sold in almost every store during the last months of the year.
You can say that nengajou is the equivalent of Christmas cards, but it has nothing to do with Christmas. Other events during the year when special Japanese postcards are sold include the cherry blossom season, Golden Week and Obon (お盆). The reasons behind sending postcards during specific holidays and seasons are many. And of course all Japanese don't send cards. However the nengajou New Year's card is the most important kind of card in Japan. The post office and other stores offer unique cards with next year's horoscope according to the Japanese zodiac, which originally came from China. This year, for example, is the year of the pig (wild boar).
Japanese birthday cards
Something that is usually very appreciated is getting birthday cards. If you have a parent, a sibling or maybe a friend at home celebrating their birthday, you can certainly make the person extra happy by sending a card from Japan. Cards with birthday motifs can be found in most well-stocked department stores. Loft or Tokyu Hands is a good choice. Birthday cards in Japan are incredibly pretty. There's many different motifs and shapes, as well different types of pop-up cards, which are very popular. Many cards have a message in Japanese that may be difficult for those at home to understand. Why not practice your Japanese skills by translating the message for your loved ones?

Stamps
Why settle for only a Japanese postcard, when you can also buy very unique Japanese stamps? Japanese stamps are sold in almost as many variants as postcards. They are definitely works of art! Why settle for just a special postcard when you can also have an exceptional stamp? Stamps are available in more "traditional" editions as well as seasonal themes. There are also stamps depicting Japanese characters and other motifs.
Collectors' editions
Japan might be the best place on earth for stamp collectors. Just like Japanese postcards, Japanese stamps are often sold in limited edition. The stamps are often published with motifs created by a particular illustrator or artist. These kind of stamps are available at the post office, in various packages. Most often containing 10 pieces or more. Keep in mind that the price of these collections can vary greatly and cost as much as up to 20,000 yen.
Regional stamps
In addition to well-known places, landmarks and landscapes, stamps are often decorated with pictures from the place where they are sold. Examples of this are stamps with pandas from Ueno (Tokyo). Deer in Nara, marine life around Okinawa and the Golden Pavilion in Kyoto. These stamps are unique and differ considerably between different post offices. Since the opening hours of the post can be somewhat limited, they are often also sold at major tourist spots and in tourist offices.
Seasonal stamps
Just as with Japanese postcards, stamps with seasonal themes are also available. It's especially popular to match a seasonal card with a seasonal stamp. Of course, during spring stamps with cherry blossoms are often sold. For Golden Week you can find stamps with carp streamers (鯉幟, koinobori). Summer stamps often depict fireworks. These designs vary from year to year, which makes them limited edition and even more popular. The price doesn't differ much from the regular ones. So why not buy a stamp that matches your card?
Sending your card
When you have written the address on the card (or your envelope) and added your stamp, you can send the card by placing it in the mailbox (for International mail). You can also go directly to the post office to sen it from there. Be sure to write "Air Mail" on the card, or ask the staff at the post office to make sure the card is sent by air and not by boat. By boat, it can take several months for the card to arrive. Writing "Air mail" on the card will get it to its destination as quickly as possible. During holidays it can take extra time, since a lot of people are sending things.
International mail takes between one and two weeks. So be sure to send your postcard well in advance for it to arrive in time. If you're sending New Year cards within Japan, you don't need as much time- it should be enough to send the card before the mail deadline. The post office collects New Year's cards until December 29th for it to be delivered the days after New Year (actually on New Year's Day itself).
Unusual illustrations, extravagant shapes, pop-up cards and seasonal motifs. Japanese postcards are, in short, very original. This is definitely a must to send during your stay in Japan. Your loved ones at home, who might not have visited Japan themselves, will surely appreciate a unique postcard from Japan!
For more useful tips on Japan and Japanese culture, follow our Go! Go! Nihon blog.
This article is a translation. The original article can be found here.