You've made up your mind on coming to Japan this year. Great! You've shopped around and looked at schools and maybe even started learning hiragana to get a head start on Japanese lessons. But wait! There's one more very important step: a student visa to study in Japan in 2020.
There are actually two categories of student visas:
The language school student visa, which can only last up to 2 years at most;
The college student visa, which can last as long as your studies require.
In this article, we will focus exclusively on the first type of student visa, the one Japanese language schools can apply for. It is important to note that once those 2 years are done, you cannot apply for another language school student visa. This is why the vast majority of language school programs last 2 years, and why they feel so intensive: they need to get you from beginner to advanced level in a limited time, and Japanese is a tough language to master.
That's why services like Go! Go! Nihon are so helpful: with limited time and so many schools, it's hard to tell which one is right for you! If you feel a bit overwhelmed by the options and the visa application process, just contact us and we will set you on the right track with information, answers, recommendations, and more!
Here is a breakdown of what you can expect.
Step 1: Choose a city and a school
Japan may seem like a small country, but it's packed in terms of interesting places to be! While the school is an important choice, the city where you will live is just as important: it will affect your daily life after all!
To get you started, we have published a helpful article about the different cities where we have partnered language schools, and what makes them special. Are you more of a city person, or do you prefer the countryside, with beaches and mountains? Buzz and excitement? Or quiet and tradition? These questions are helpful in figuring out the best city for you.
On the school side, Go! Go! Nihon can help you find the best fit based on your future goals and expectations. You will be going every weekday for hours at a time, so it's important to find a school that will help you in your preferences.
Students are assigned a level based on a placement test, taken before or during your first day at school. Usually, students are placed in the level that best matches their lowest skill in Japanese, so you'll be able to catch up while not struggling so much in other aspects.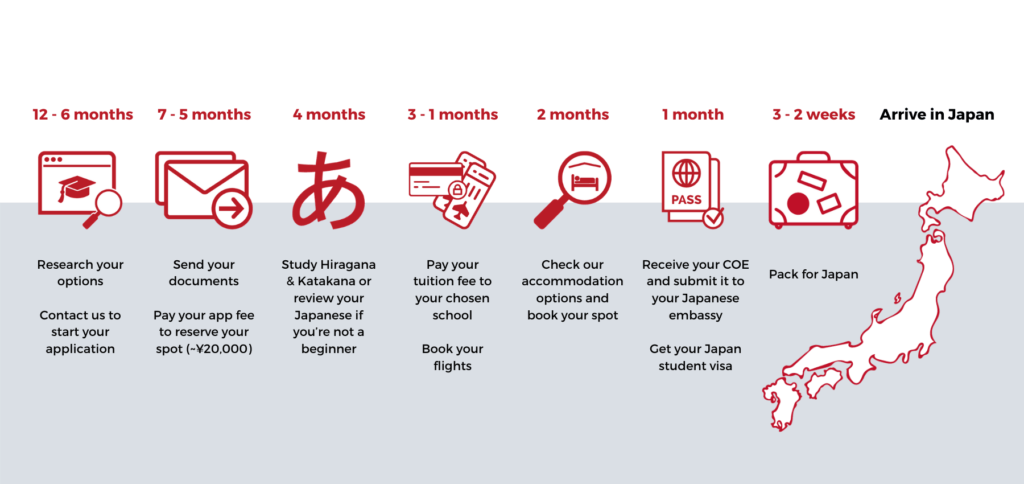 Step 2: Application process
So? Are you ready to get started with your student visa application to study in Japan?
Once you decide on the school and the term you wish to apply for, Go! Go! Nihon will create your application profile on our online platform, where you will fill out various questions. It's a lot of information, but it is important for the school to understand you and your background very well. An application fee is also required: it's the fee the school pays when they apply for your student visa.
The application is not over though! Along with the information, you will need to submit some basic documents, which we are listing below:
Personal photo; it should be passport-style and respect certain guidelines. Go! Go! Nihon will send you information to help you take the perfect shot!
Passport ID; the page of your passport featuring your photo and basic information.
Diploma; the diploma of the last school you graduated from. A university degree is required to apply for most Japanese full-time positions.
Recent bank statement with at least 1,000,000 yen equivalent; this is to show you will have enough to support yourself in Japan. Depending on whether you are using a sponsor or not, you may have to submit yours or your relative's.
Tax return; you or your sponsor's latest tax return will also be required. This is to show that you have reliable income, and that your funds come from a legal source.
More documents can be required depending on your personal situation and the school you apply to; they all have their own preference, so while the list above shows the bare minimum required, you should expect to get a few extra requests.
It's important to note that schools need to submit student visa applications on specific dates: if students don't provide them with the required documents in time, the school won't be able to apply! This is why it's better to submit documents as soon as possible. If you are using Go! Go! Nihon, your student coordinator will let you know exactly when is the best time to submit your documents, and anticipate what other documents might be needed based on your background.

Step 3. Receive the COE
Once your application is approved by the school and submitted to Japanese Immigration, all that's left to do is wait for the Certificate of Eligibility! This document enables you to obtain your student visa to study in Japan at the embassy in your country.
Students often wonder whether a school's approval means that the COE will be granted for sure, but unfortunately no application is 100% guaranteed. That's why Go! Go! Nihon's team makes every effort to make sure each application is as perfect as possible before submission.
As soon as the COE is released, a scan is sent to you so you can see it (it's real!!), along with extra documents or information related to the conversion process and your arrival in Japan.
The documents required for the visa conversion vary per country, but in general you will need: a recent photo (different from the one you applied with), the visa application form (you download it from the embassy's website), and the COE. Some embassies require you to know where you will be staying in Japan, so settling accommodation beforehand is advised. This is also something that Go! Go! Nihon will be happy to help you with.
What could lead to a COE being denied?
It's rare, but sometimes COEs get denied. Japanese Immigration have their own reasons for denying applications, and don't always share them, but here are some reasons why a COE could get denied:
The documents submitted were falsified; if forged documents are provided, the documents are not from an official source, or the information provided is revealed to be inaccurate.
Being convicted of a criminal offense (in Japan or overseas);
Having been deported from Japan in the past;
Failure to provide the requested documents; sometimes, Japanese Immigration requests additional documents when they process a visa application. If those documents are not provided to them in time, it could impact their decision.
Having been denied a Japanese long-term visa in the past.
Step 4. Arrive in Japan
Here we are! Finally, the Land of the Rising Sun! When getting off the plane, the main thing will be for you to get your residence card, also known as Zairyu card. You get it when you go through Immigration.
Once you're in Japan, there are a few things to take care of, and we've compiled a neat article about all the steps to follow after your student visa application.
Step 5. What you can do with a student visa
Student visa holders can study for up to two years. It's possible to study for a year, go back home, then come back for the 2nd year. The visa also allows part time work for up to 28 hours per week, which can help offset the cost of living. Students are allowed travel in and out of the country without having to re-apply for a visa each time, provided they fill out a re-entry permit slip at the airport.
Anyone with a student visa staying longer than 6 months and wishing to work must submit an application for "Permission to Engage in Activity Other Than That Permitted by the Status of Residence Previously Granted." This should be done immediately upon arrival at the airport (Go! Go! Nihon will send you the form before you leave for Japan). If you don't do it at the airport, you will have to go to the Immigration Bureau to apply, and the process could take up to three months.
Getting your student visa to study in Japan may seem a little tricky up front, but Go! Go! Nihon walks students through the entire process, so there's no need to worry. All you have to do is shoot us an email and we'll work together with you to get you over here. Go ahead and find a school, contact us, and we'll see you soon!
If you like to read more about Japanese culture, make sure to follow our blog where we cover everything you need to know about Japan!
Content updated on February 2020