You might have heard of this otaku hub of Tokyo. Akihabara started as an important crossroad for trade between what used to be Edo and the merchants from northeastern Japan. As Tokyo expanded and engulfed this trade hub, it began to grow and change further. In the 1940's it slowly became an area specializing in electrical and electronic products, hence the name "Electric Town" (電気街 denkigai).
As tech became synonymous with the new otaku culture in the 70's, Akihabara developed even further becoming the hub for manga, anime, and video games.
To this day, it's maintained its reputation and has some of the best shops for all things tech and otaku. Read on to find our recommendations of the best shops in Akihabara, the neon maze of Tokyo.
Akihabara Radio Kaikan
One of the central landmarks of Akiba, Akihabara Radio Kaikan has been on the same site since 1962. It had a facelift in 2014 with a new building but still offers the same eclectic range of books, CDs, video games, and action figures. There's something for everyone. It's a particular haven for card enthusiasts whether collectors or players. They have everything from Pokemon to Magic the Gathering and a range of limited edition cards produced for the Japanese market.
Yodobashi Camera
Yodobashi Camera might be a chain, but the Electric Town location is one of the best stores in Akihabara. Covering 7 floors, it's one of the best places for electronics with a callback to Akihabara's origins. It sells everything from smartphones to televisions and cameras and audio systems.
Of course, there are plenty of other options in the area as well if you like to shop around. Sofmap is great for second-hand electronics and Laox has a great offering too. A key tip if you're visiting Japan in the short term, or out here studying for less than three months, is the tax-free offer. If you have a non-Japanese passport and don't reside in Japan you can get these products tax free. Keep an eye out for the signs, particularly as VAT has risen to 10% recently. If you can get it tax free, that's a pretty big saving on the more expensive items.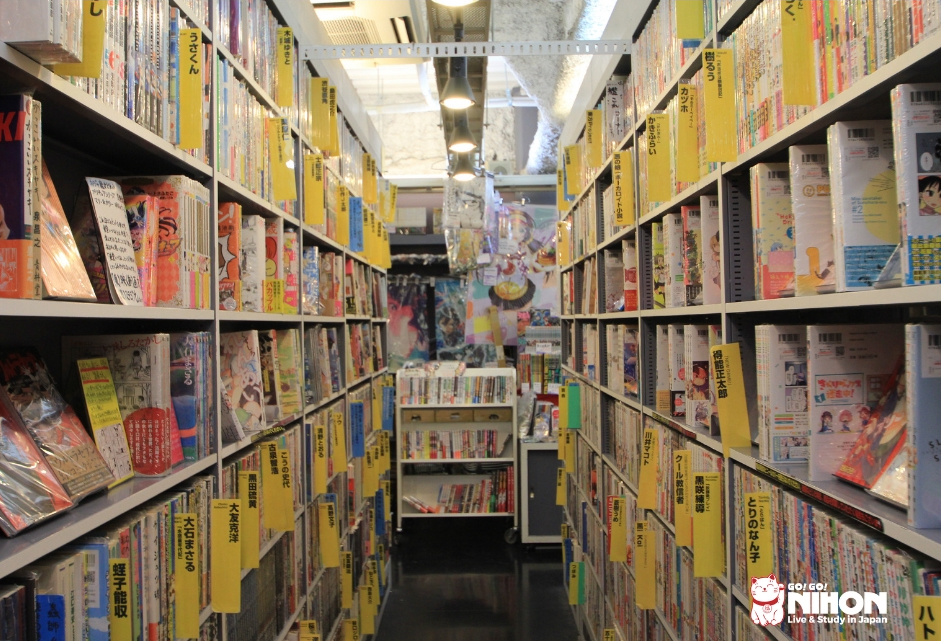 Mandarake
Don't worry, we haven't forgotten the manga. Mandarake is the place to go if you're a manga fan as it's one of the largest and well-stocked stores in the world. Not only that, there's plenty of second-hand manga; and with Japan being Japan, that means they're often in very good condition. It's a great place to stop by to stock up on manga to practice your Japanese learning with. We think it's a pretty good way to learn Japanese! Definitely one of the best shops in Akihabara in our opinion.
Kotobukiya and Volk's Hobby Tengoku
If you're into collectables then these shops should be on your map. They sell a broad range of characters from both anime and manga including some obscure ones you won't find elsewhere. As with the manga, there are also often second-hand sections in most stores. This is a great option if you're not a hardened collector as you can find some gems for less than 40-50% of the original price.

Gamers
Another treasure trove store, this time for, you guessed it, gamers! If you're into video games or animation then this is the store for you. It's close to the station just like Radio Kaikan. The store also regularly hosts events that are regularly attended by Japanese anime voice actors, meaning you may get a chance to meet your favourites.
Super Potato
Super Potato not only has an excellent name but it's an excellent store too. If you like old-school then this one's for you. It specializes in both selling and buying anything and everything that is retro-gaming. Missing your old Sega Mega Drive? Well they have a range of old consoles for reasonable prices from Sega to Super Nintendo. They also have all your favorite old games so you can step back in time to your childhood. As there's a large market for retro-gaming in Japan, they're actually been able to maintain the pricing. That means that the prices aren't eye-watering and you can stock up on your old favourites.

Themed Café
Another type of shop that Akihabara is saturated with, are the themed bars, cafes and restaurants. There are a lot, but some of the best known ones are AKB48 Cafe (permanently closed from December 31, 2019), Gundam Cafe, and numerous Maid Cafes.
For those of you that aren't familiar with them, AKB48 are a famous group of idol singers that are famous around the world. Gundam is the famous human operated mobile suit. It's in many forms a robot but be careful who you say that to. Gundam Cafe has a range of dishes and drinks themed around the different characters and you can buy memorabilia too.
The Maid Cafes have staff dressed as maids, although it's not exactly traditional dress. The theme in the cafes is very kawaii with cute food. The maids greet you respectfully and perform various kawaii songs and games with you. It's not for everyone but it's certainly an experience.
Arcades!
While they're not technically shops, it would be remiss of us not to mention the arcades that line the streets of Akihabara. They fill floors and floors of buildings with every arcade game you can imagine and some more that you can't.
Starting at the bottom there's normally a floor or two of claw machines, purikura (プリクラ), photo booths where you can add kawaii effects to the pictures of you and your friends and gashapon (ガシャポン), the toy dispenser machines. As you move up the floors you'll find everything from Street Fighter to dance machines, drum machines, VR games and pods where it's like you're inside a Gundam. Whatever your tastes and whether you want to play with friends or on your own, you'll find something to keep you occupied for hours.
…and everything else
Akihabara is known as Electric Town because it's big enough to be a town. The streets are lined with so many shops and tower blocks containing more shops. Whether you want practical tech, anime and manga characters, books, games or strange and wonderful bars, there's an entire neighborhood to explore. Why not start with our best shops in Akihabara and go from there.
We highly recommend a visit on Sundays, where they close the road and open the area up to all otaku, tourists and the curious alike. If it's modern culture that's brought you to Japan, then this is the place for you.
Did you know we also run Otaku Study Trips if you want to explore the area with some company? If you can't get enough information about otaku culture in Japan, you should check out the Japanese culture section of our blog!