With spring in the air and the sun shining many people in Tokyo are thinking about hanami 花見 (flower viewing) and how they can enjoy the sakura 桜, or cherry blossoms. Did you know, though, that there are so many other flower festivals too? Whether it's the Wisteria in Ashikaga or the Nemophila at Hitachi there are plenty of opportunities to get out and about, soak up the spring sunshine and enjoy the beautiful flower festivals around Tokyo.
Here are some of our favourites!
Wisteria at Ashikaga Flower Park (あしかがフラワーパーク)
Wandering through the tunnels of wisteria is a truly relaxing experience and the wisteria in Ashikaga is one of our favourite flower festivals around Tokyo. With wisteria dating back 150 years and with so many displays, it's really a sight to behold. Open from April through to May you can see a range of glorious colours, from the well-known purple to pale red and yellow.
Admission: 300 yen to 1800 yen depending on when you go (check the website for daily fees)
*Note that opening hours have been shortened due to COVID-19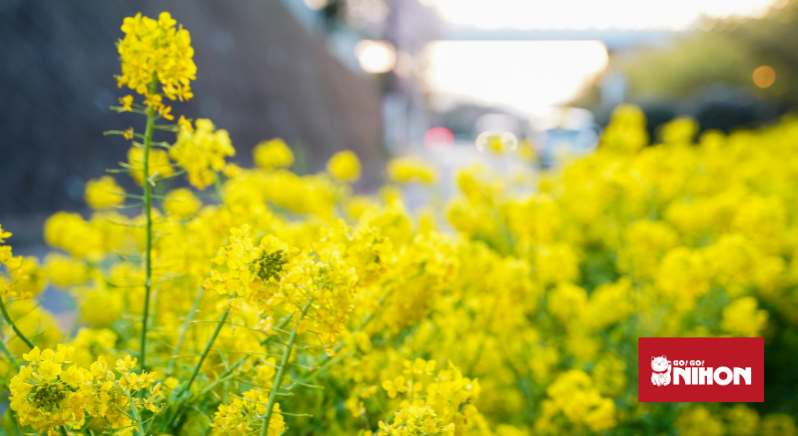 Kurihama Flower Parkくりはま花の国
This park in Yokosuka is open all year round and has a series of beautiful seasonal displays. Their nanohana 菜の花, or rapeseed flower, season runs until the end of April. There will also be ice cream tulips (a type of tulip, not tulips made out of ice cream!), Emperor Dahlia and camellia flowers on display. It's just to the south of Tokyo, so it makes for a nice and easy day trip from the city.
Admission: free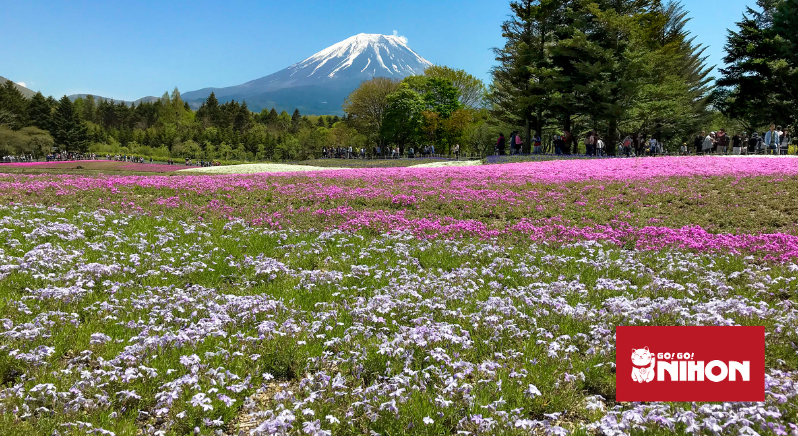 Shibazakura

芝桜 
The Shibazakura Festival is set near the foot of Mt Fuji, so if you're lucky and go on a clear day, you'll be able to get stunning photos of the flowers with the mountain the background. Shibazakura is also known as moss phlox and grows on the ground, creating a pink blanket when in full bloom.. The festival runs from around mid-April through to late May, although we recommend checking the official website for the most up-to-date dates.
Admission: 600 yen
*Note that the 2021 festival has been cancelled.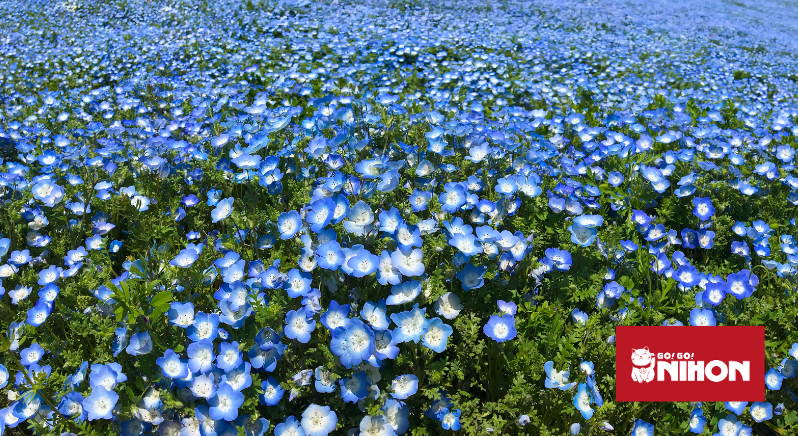 Nemophila in Hitachi
Bask in a never-ending sea of blue at Hitachi Seaside Park from mid-April to early May. Nemophila, also called Baby Blue Eyes, is a common garden plant and when in full bloom at this park, create a huge blanket of baby blue. It's a bit further out from Tokyo with a journey time of around 2 hours but it's definitely worth it to get out of the city and experience these flowers.
Admission: 450 yen
Bunkyo Azalea festival
The Tsutsuji Masturi つつじ祭り, or Azalea Festival, features thousands of colourful Azalea flowers from early April to early May. Walk through the gardens, enjoy the performances and stop at the small cafe by the pond.
Admission: 200 yen
Sakura Tulip Festa
The Sakura Tulip Festa is the largest tulip festival near Tokyo and features more than 600,000 tulips of all colours throughout April. They've run with the Dutch theme, offering tulip picking, organ performances and even rental of traditional Dutch clothing. It takes about an hour to reach from Nippori.
Admission: Free
*Note that the 2021 festival has been cancelled.
Showa Kinen Park 昭和記念公園
This large park in west Tokyo is popular for its various flower festivals throughout spring, as well as its leisure and sporting facilities. You can enjoy rapeseed flowers, tulips and azalea at various times throughout the season. There is a small admission fee, but they offer set days each year where entry is free. Check their website for these dates, plus hours and more information about the park.
Admission: 450 yen
These flower festivals around Tokyo are sure to give any flower fan their floral fix. Don't forget to follow our blog for more articles about things to see and experience in Japan!