Greenery Day, or Midori no Hi みどりの日, is a national holiday in Japan that's celebrated on May 4 as part of Golden Week. This is a public holiday dedicated to nature, so what better way to recognise it than to learn some Japanese words about nature!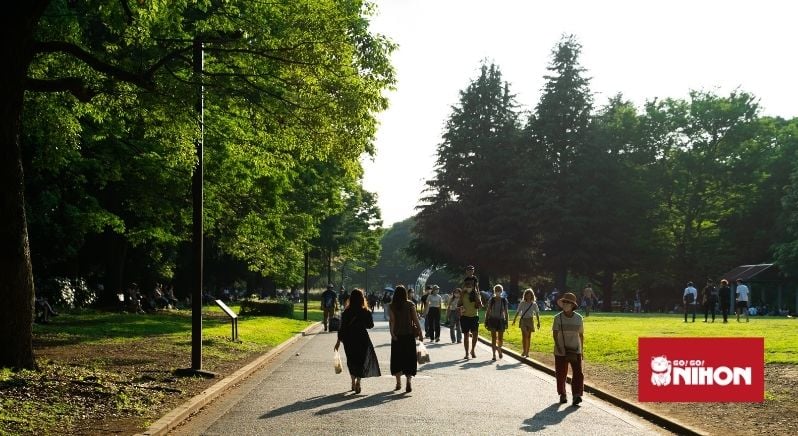 History of Greenery Day
This public holiday was originally a celebration of the Shōwa emperor's birthday on April 29. When Emperor Akihito ascended the throne in 1989, it changed from the former emperor's birthday to today's Midori no Hi to reflect the Shōwa emperor's love of plants.
Greenery Day is a part of Golden Week, one of Japan's biggest holiday periods. 
How to celebrate Midori no Hi
As mentioned, this holiday is part of Golden Week so it is often met with joy and fun since many people take time off to travel and/or spend time with family. Different people celebrate in different ways, with some partaking in planting trees, while others might spend some time outdoors at the park.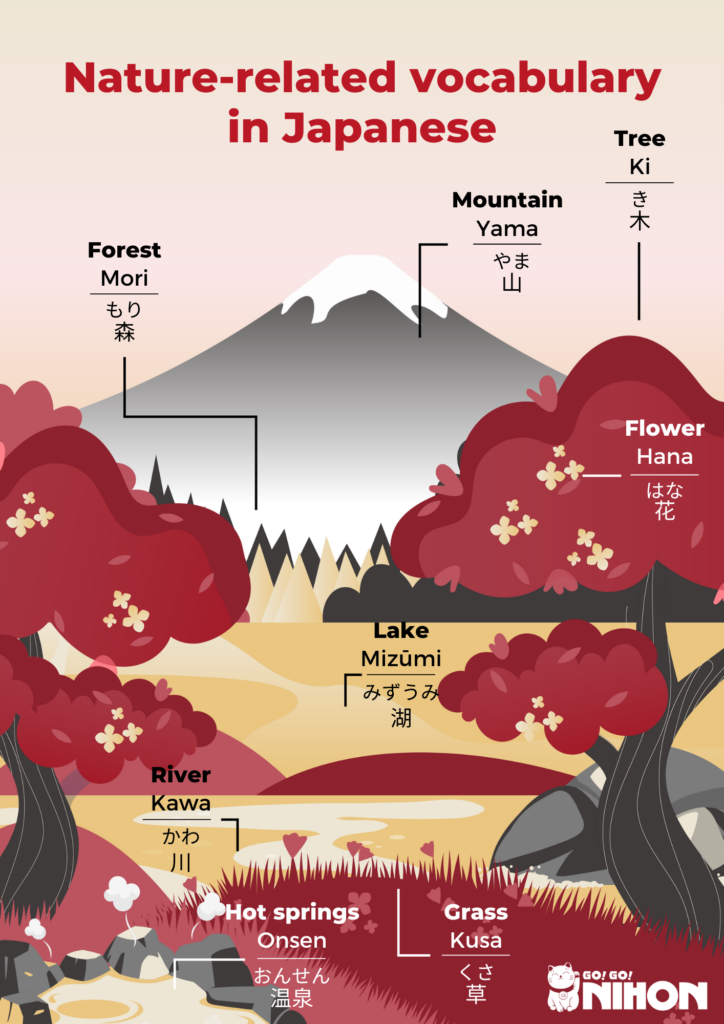 Japanese words for nature
Just like there is a vast list of words in English for the things in our natural world, there are also just as many words in Japanese. For the purposes of this article, we will explore some words describing parts of the physical world that you will see most often in Japan. 
| | | | |
| --- | --- | --- | --- |
| English | Kanji | Kana | Romaji |
| Nature | 自然 | しぜん | Shizen |
| Landscape | 景色 | けしき | Keshiki |
| Mountain | 山 | やま | Yama |
| Volcano | 火山 | かざん | Kazan |
| Forest | 森 | もり | Mori |
| Tree | 木 | き | Ki |
| Flower  | 花 | はな | Hana |
| Grass | 草 | くさ | Kusa |
| River | 川 | かわ | Kawa |
| Lake | 湖 | みずうみ | Mizūmi |
| Ocean | 海 | うみ | Umi |
| Hot springs | 温泉 | おんせん | Onsen |
| Valley | 谷 | たに | Tani |
Words to describe nature
Mountainous
山の多い
Yama no ōi
Example:
日本は山の多い国です
Japan is a mountainous country.
Nihon ha yama no ōi kuni desu.
Blooming
開花
かいか
Kaika
Example:
今年、桜は早めに開花です。
Kotoshi, sakura wa hayameni kaika desu.
The cherry blossoms are blooming early this year.
Full bloom
満開
まんかい
Mankai
Example:
桜の花が満開です。
Sakura no hana ga mankai desu.
The cherry blossoms are in full bloom.
Panoramic
全景
ぜんけい
Zenkei
Example:
東京スカイツリーから東京の全景が見えます。
Tōkyō Sukaitsurī kara tōkyō no zenkei ga miemasu.
You can see a panoramic view of Tokyo from Sky Tree. 
Scenic/picturesque
壮観
そうかん
Sōkan
Example:
壮観な景色
Sōkan na keshiki
Spectacular scenery.
Lush
青々
あおあお
Aoao
(Often: 青々として)
Example:
春になると森は青々としてくるです。
Haru ni naru to mori wa aoao toshite kuru desu.
In spring, the forest becomes lush.
Dry
乾燥
かんそう
Kansō
Example:
砂漠は乾燥しています。
Sabaku wa kansō shite imasu.
Deserts are dry.
Overgrown
茂っている
しげっている
Shigette iru
Example:
この山は木が茂っている。
Kono yama wa ki ga shigette iru.
This mountain is thick with trees.
(=there are many trees in this mountain)
夕焼け
ゆうやけ
Yūyake
The red sunset sky
Example:
今日の夕焼けはとてもきれいです。
Kyō no yūyake wa totemo kirei desu.
Today's sky is nice and red.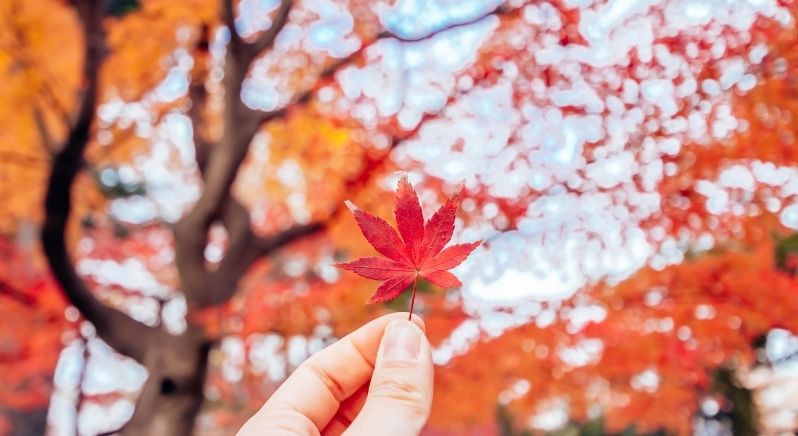 Uniquely nature-related words in Japanese
There are some words in Japanese that might not have an exact translation or word in your own language. Here are some nature-related ones!
Kōyō 紅葉
This word refers to the colours that leaves turn when autumn sets in. The word itself is made up of the kanji for "red" 紅 and "leaf" 葉. The reds, oranges and yellows can set entire mountainsides on fire (figuratively). Seeing kōyō is a highly anticipated event of the year and just like cherry blossom season, people travel all over the country to see the very best autumn foliage. 
Kogarashi 木枯らし
This means "cold wintry wind" and specifically refers to the first cold wind you feel at the end of autumn that indicates winter is coming. The kanji is made up of the words for "tree" 木 and "to dry up" 枯.
Komorebi 木漏れ日
Meaning "sunlight filtering through trees". This poetic word represents the dappling effect of sunlight that shines through a forest full of trees. Isn't it beautiful!
Shinrinyoku 森林浴
Another beautifully poetic word, this means "forest bath". It refers to "bathing" in the peacefulness and fresh air of the forest and reflects the connection between nature and human happiness and wellbeing.
Experience nature in Japan with Go! Go! Nihon
Living and studying in Japan is the best way to learn Japanese and to experience Japanese culture and way of life. Contact us if you want to be studying in Japan by the time the next Greenery Day comes along!