For those with dietary restrictions or needs, navigating food labels in Japan can feel daunting. Particularly for those whose health and wellbeing rely on being able to know exactly what is in their food, it's important to be able to read food labels accurately. 
In this article, we go over some basics of nutrition labels and common words you'll encounter. We also offer some tips to help you feel more empowered when going food shopping or eating out.
Basics of nutrition labels
Nutrition labels in Japan are pretty similar to the ones you might be used to – except everything is a lot harder to read if you're unfamiliar with the language! Here are some common things you'll see on nutrition labels and how to read them in Japanese:
Ingredients
原材料
げんざいりょう
Genzairyō
Nutrition label
栄養成分表示
えいようせいぶんひょうじ
Eiyouseibunhyōji
Protein
たんぱく質
たんぱくしつ
Tanpakushitsu
Fat
脂質
ししつ
Shishitsu
Carbohydrates
炭水化物
たんすいかぶつ
Tansuikabutsu
Sugar
糖質
とうしつ
Tōshitsu
Sodium
食塩相当量
しょくえんそうとうりょう
Shokuensōtōryō
Dietary fibre
食物繊維
しょくもつせんい
Shokumotsuseni
Vitamin
ビタミン
Bitamin
Low-fat
低脂肪 OR 低脂質
ていしぼう OR ていししつ
Teishibou OR Teishishitsu
Low-sugar
糖質オフ OR 低糖質
とうしつ OR ていとうしつ
Tōshitsu OR Teitōshitsu

Allergens
The common food groups that cause allergies are often found in Japanese food and food products. Not all allergenic ingredients have to be listed on food labels in Japan, so take extra care if you have one of these allergies.
Note that labels are typically written in two ways:
Allergens added after each ingredient e.g.

Ingredients: potato, carrot, ham (containing egg and pork), mayonnaise (containing egg and soybeans), hydrolyzed protein (containing salmon, mackerel and gelatin), seasoning (amino acid, etc.)

Allergens added at the end of the ingredient list e.g.

Ingredients: potato, carrot, ham, mayonnaise, hydrolyzed protein/seasoning (amino acid, etc.), (partially containing egg, pork, soybeans, mackerel and gelatin)
According to regulations, the following seven allergen ingredients must be listed on products that contain them:
Cow's milk
牛乳
ぎゅうにゅう
Gyūniyū
Eggs
卵
たまご
Tamago
Soba/Buckwheat
蕎麦
そば
Soba
Shrimp
海老
えび
Ebi
Crab
蟹
かに
Kani
Peanuts
落花生
らっかせい
Rakkasei
Wheat
小麦
こむぎ
Komugi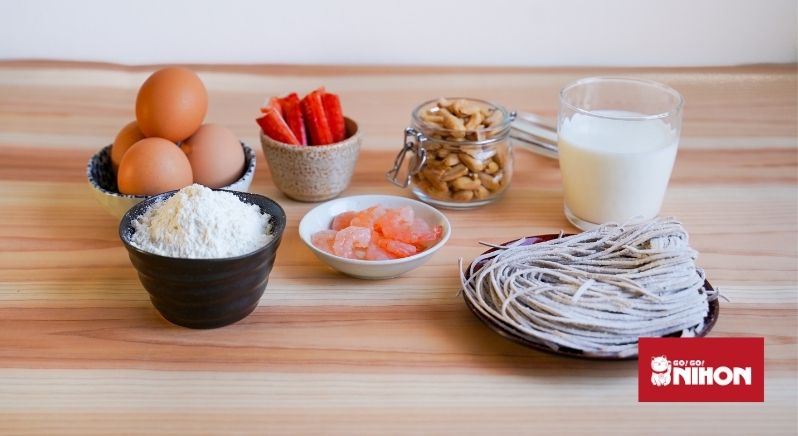 Note that gluten isn't identified in Japan as an allergen so for those who have an allergy to gluten or a gluten intolerance, please exercise extra caution with your food. For more insight into eating gluten-free in Japan, read our article here. Gluten is more prevalent than you might think in Japan, so take time to read through the information in our article.
There are an additional 20 recognised allergens that manufacturers are recommended to identify, but aren't obligated to include on their ingredient statements:
Abalone
鮑
あわび
Awabi
Apples
林檎
りんご
Ringo
Banana
バナナ
Banana
Beef
牛肉
ぎゅうにく
Gyūniku
Cashew
カシューナッツ
Kashu-nattsu
Chicken
鶏肉
とりにく
Toriniku
Gelatin
ゼラチン
Zerachin
Kiwifruit
キウイ
Kiui
Mackerel
鯖
さば
Saba
Matsutake mushroom
松茸
まつたけ
Matsutake
Oranges
オレンジ
Orenji
Peaches
桃
もも
Momo
Pork
豚肉
ぶたにく
Butaniku
Salmon
鮭
さけ
Sake
Salmon roe
イクラ
Ikura
Sesame
ごま
Goma
Soybean
大豆
だいず
Daizu
Squid
烏賊
いか
Ika
Walnuts
胡桃
くるみ
Kurumi
Yams
山芋
やまいも
Yamaimo
If a product contains one of the 27 allergen ingredients, you should see it identified in a coloured rectangle or square.
A product might also have a note on the label stating the absence of any of the 27 allergens:
アレルギー特定原材料等27品目不使用。
あれるぎー とくてい ざいりょうとう にじゅうなな ひんもく ふしよう。
Arerugi- tokutei zairyōtō nijūnana hinmoku fushiyō.
Free of the 27 allergen ingredients.
When eating out or buying takeaway meals, it's always better to be safe than sorry. It's rare for takeaway meals and bento boxes to list allergen information on the labels. To check, you can say:
__________ のアレルギーがあるんですけど, __________ が入っていますか?
__________ no arerugi- ga arun desukedo, __________ ga haitteimasu ka?
I am allergic to __________, is there __________ (in this dish)?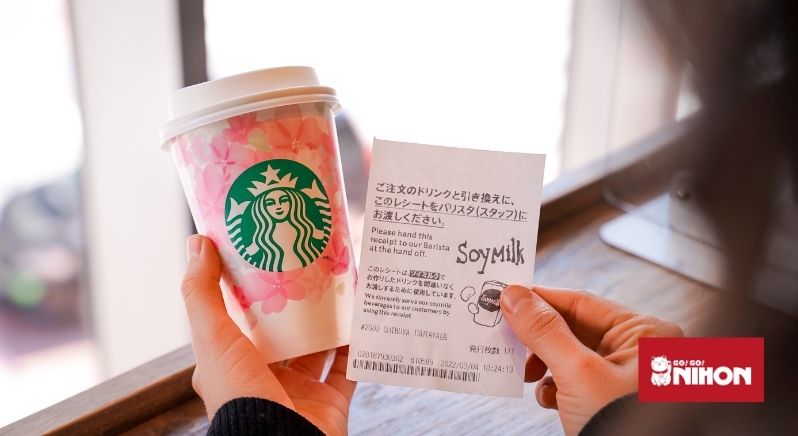 Dietary restrictions
Whether you're plant-based, pregnant, or choosing not to eat or drink certain things for other reasons, you'll want to be able to recognise them on food labels in Japan. Here are some common items:
Caffeine
カフェイン
Kafein
Alcohol
酒, アルコール
さけ
Sake, aruko-ru
Meat
肉
にく
Niku
Seafood
シーフード
Shi-fu-do
If you're following a plant-based diet in Japan, read our article on Life as a Vegetarian in Japan for more information and tips.
When in doubt, use an app
Translation apps can be extremely helpful if you're unsure about what a food label says in Japanese, or if you want to double-check something. 
Google Translate, while not perfect, is one of the best translation apps you can find. It will translate words from images, by hovering the phone camera over the words, or by writing out the word on your phone screen. It also has a vocal translation function. 
Waygo is another popular translation app that's designed especially to read Japanese, Korean and Chinese characters. Simply point your phone at the words and away you go. It also doesn't require an internet connection. 
Read our article on the best apps for students for other helpful apps to use while living and studying in Japan.
Study Japanese in Japan with Go! Go! Nihon
The best way to improve your Japanese language skill is to fully immerse yourself in Japan while learning the language. Go! Go! Nihon is here to help – from choosing the right school and helping with the application, to support you as you settle into your new life. Contact us to see if we can help you achieve your goals in Japan.