Don't be afraid. If anything, get excited. Oh sure Japan's filled with beautiful temples, food you'll never forget, and history to get lost in. But how about using a Japanese toilet?? 
If you have never been to Japan, you might not understand why toilets, of all things, are such a big deal. But if you have been to Japan, or are there right now, you'll understand just how wonderful – and sometimes confusing – Japanese toilets can be. 
In this article, we look at what makes a Japanese toilet so fantastic and how to use them (including language tips!).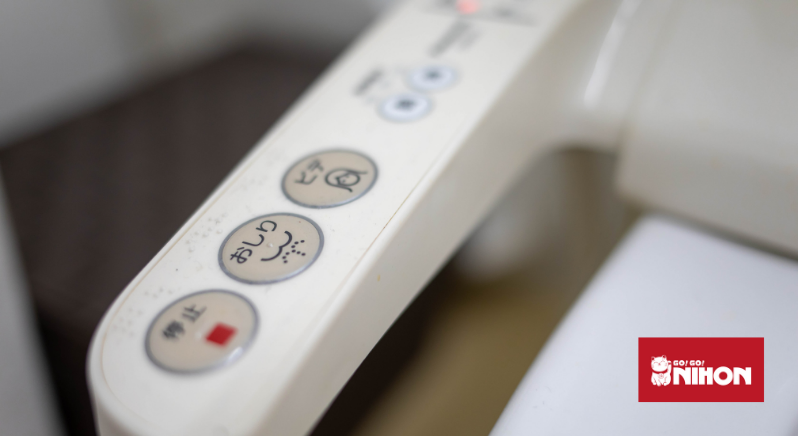 Where it all started
In the Nara period (AD 710 to 784), a drainage system consisting of 10-15 cm wide streams existed where a user would squat over with a foot on each side of the stream. Wooden sticks called chūgi (籌木) were used as toilet paper. Seaweed was also used, but by the Edo period, all were replaced by toilet paper made from traditional Japanese paper. Documents from the 9th century exist detailing laws regarding the construction of fresh and waste waterways, and how to dispose of toilet waste. Sanitation and cleanliness in Japanese culture was, and still is very important. 
Western style toilets and urinals began to show up in Japan at the beginning of the 20th century, and became widespread after World War II, under the influence of the American occupation. Kazuchika Okura founded Eastern Ceramics (東洋 陶器), also known as TOTO, to really spread the word of the Western toilet. In 1977, Western-style toilet sales exceeded the sales of traditional squat toilets in Japan. TOTO then introduced the washlet (ウォシュレット), which are toilets with a built-in bidet, in 1980, and the rest is history.
Fun fact: having a toilet separated from the bathroom is a strong selling point for real estate in Japan. This is because it's believed to be cleaner to separate the two since the toilet is seen as something "unclean", while the bathroom or shower is somewhere clean. 
What's all the hype about using a Japanese toilet?
Using a Japanese toilet can range from basic to state-of-the-art technology. If you're in a city wandering around a shopping mall or in a nice restaurant, there's a high probability you will encounter washlet toilets in the public bathrooms. Some may feature heated toilet seats and automatic flushing, while others might offer discretion by playing music as you do your business. There are some with dryers, some with automatic lids and others with deodorisation functions. 
The fanciest ones will do all of the above, as well as measure blood sugar of urine, body fat content, blood pressure – the list goes on.
As of 2002, the number of private homes in Japan containing a washlet toilet exceeded the number of households with a computer! But don't expect every household to have such fancy toilets. There are many apartments that have Western style toilets without a bidet, or with just a simple washlet toilet function without all the bells and whistles.
There are also many places in Japan where you will find the traditional squat toilet. This is especially so if you are in a more rural area, in a train station, or if you're in an older part of town.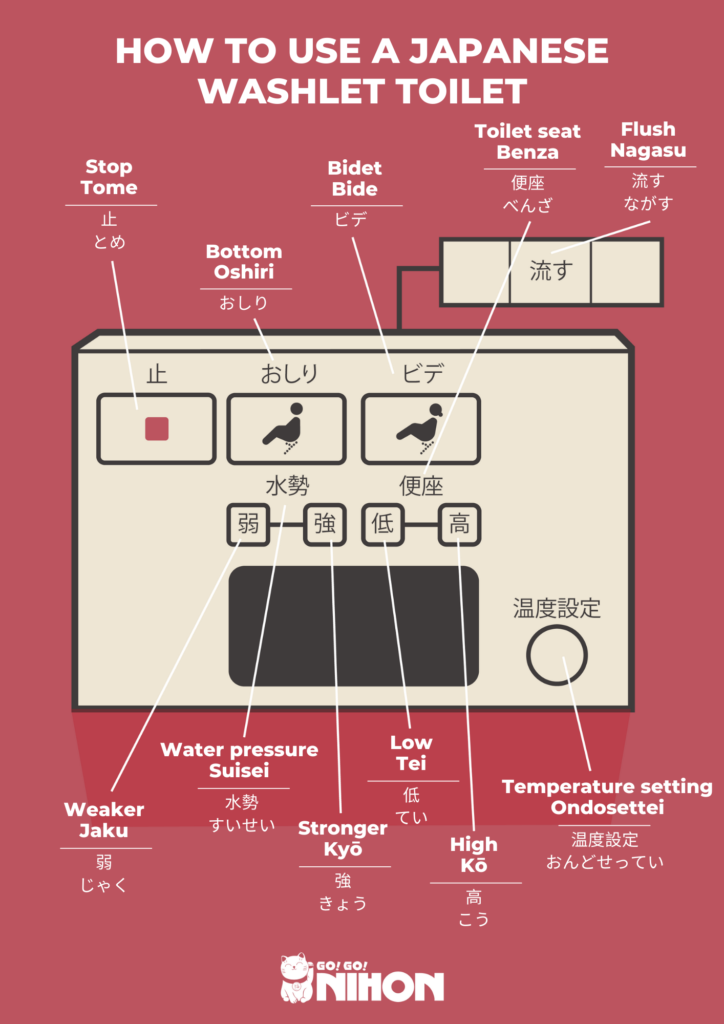 Understanding the controls when using a Japanese toilet
Whether you're using a basic washlet toilet or a fancy one, the essential functions will be the same. Sometimes they will have basic English on them, sometimes they won't. So it's always better to know what the buttons mean regardless! 
On the control panel, you may find the following words:
止
とめ
Tome
Stop
This is usually a red button and hard to miss. Press this when you're done with the washlet functions and are ready to flush the toilet.
流す
ながす
Nagasu
Flush
You'll see the buttons 大 (dai) and 小 (shō) associated with the flush button, meaning "big" and "small" respectively.
ビデ
Bide
Bidet
This is generally understood in Japan as a "front spray" option for women. 
おしり
Oshiri
Bottom
This changes the direction of the spray to be more directed towards your bottom.
水勢
すいせい
Suisei
Water pressure
You may also see the following for "water pressure":
水勢強さ
すいせいつよさ
Suiseitsuyosa
弱
じゃく
Jaku
Weaker
強
きょう
Kyō
Stronger
温水
おんすい
Onsui
Warm water
便座
べんざ
Benza
Toilet seat (as in: toilet seat warmer)
温度設定
おんどせってい
Ondosettei
Temperature setting
低
てい
Tei
Low
高
こう
Kō
On toilets that have a drying function, you'll see:
乾燥
かんそう
Kansō
Dry
For those that can play sounds or music while you use the toilet:
音姫
おとひめ
Otohime
Toilet device that plays sound or music
And there you have it! Everything to know about using a Japanese toilet! You're set! Go explore Japan's gardens, temples, mountains, streams, oceans; but don't forget the toilets!
For more tips about life in Japan, keep following our Go! Go! Nihon blog.