The Japanese Language Proficiency Test (JLPT) is the most widely recognised Japanese proficiency exam. Foreigners who want to work in Japan sweat blood and tears to pass the coveted JLPT N2 exam – the level at which Japanese employers deem foreigners' Japanese language abilities to be sufficient enough to work in a Japanese workplace.
Aiming to take the JLPT exam in the future? Read on to learn everything you need to know about the JLPT in Japan.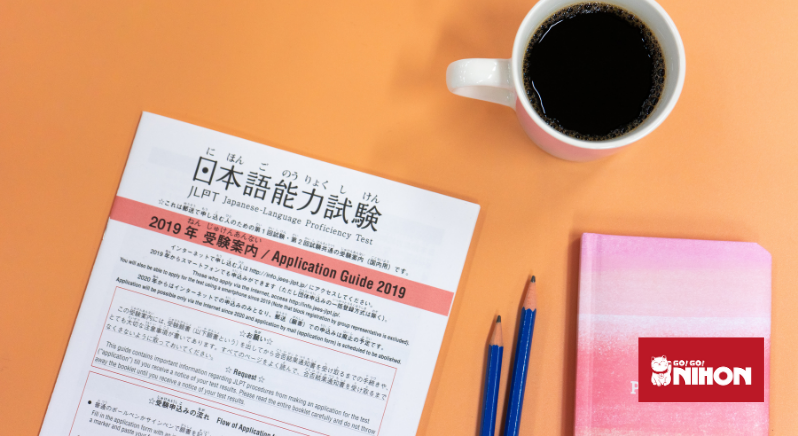 JLPT basics
The JLPT has been around since 1984 and now, hundreds of thousands of people around the world take it each year. It is currently the most widely-taken Japanese language test in the world.
There are five levels, with N5 being the easiest level to pass and N1 being the most difficult. You do not have to pass a certain level before moving onto the next level i.e. you do not have to have passed N5 before you can do the N4 exam.
Each exam tests four things: reading comprehension, grammar, vocabulary and listening.
As of April 2020, the exam does not test writing or speaking.
When are the exam dates?
In Japan, the exam is normally held twice a year – once in July and once in December. There are many overseas testing sites, but not all of them offer the chance to take the test twice a year.
The official JLPT website has the most updated information on where all the testing sites are and when they offer the chance to take the exam.
Cost of taking the JLPT in Japan
The exam fee can differ depending on location and level, but in Japan, it is normally around ¥5000.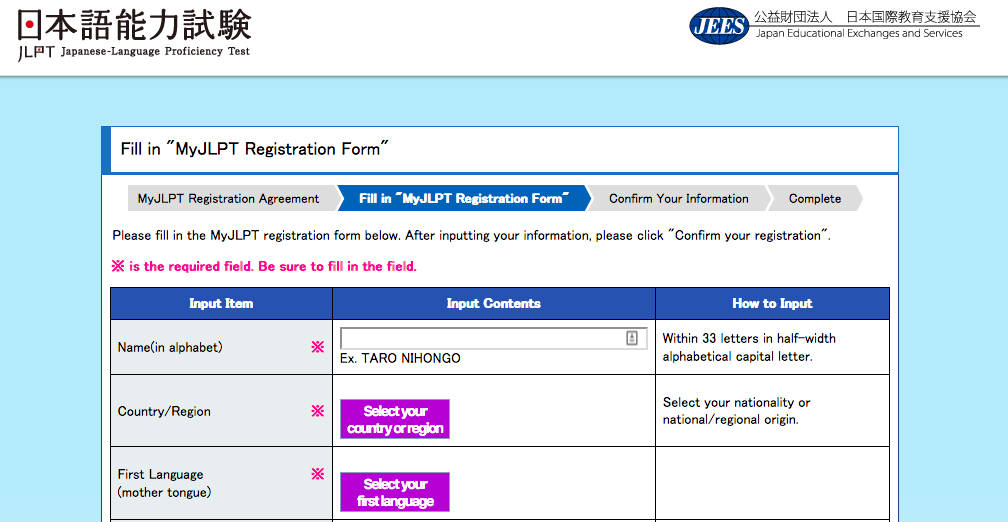 How to apply online for the JLPT in Japan
Applications for each test date open about 3-4 months before the date of the exam and you can apply online if you're taking it in Japan.
Go to the Japan Educational Exchanges and Services website to double-check the test dates and create a MyJLPT account
Once registered, apply for the test on your preferred date and pay the application fee. Note that you will need to submit a photo in along with your application so make sure you have one ready
Closer to the test date, you will receive a test voucher which tells you where your test location will be, how to get there and when you need to be there. There will also be rules about what you can and cannot bring into the exam room. Don't lose this voucher as you'll need it on your test day!
From here on, you just need to turn up to take your test and wait for the results. Your results will first be posted online, which you can access through your MyJLPT account. Later on, you will be sent a confirmation in the mail of whether you passed or not and your scores for the test.
JLPT prep courses
Many of our partner schools offer JLPT preparation classes, which have a special focus on preparing students for the JLPT exam. Contact us to find out which schools offer these classes.
Our partner school Tokyo Galaxy is also offering a 7-day JLPT N3 online prep course that is designed to mimic the real N3 exam. Additionally, you will get to check your answers, as well as receive tips and guidance throughout the course on how to best approach the exam. Find out more and sign up here.
Want to take the N4? Tokyo Galaxy also offers an N4 prep course designed to help you check your abilities and pass the exam. Similar to the N3 course, you will get to answer questions in the same way as you would in the actual exam, check answers with the help of a Japanese teacher and have access to a private student community.
For beginners, our 12-week Akamonkai Beginner Course is perfect for learning all the foundations of the language, so that you can build on your language skills and even take the JLPT N5 exam if you wish.
Go! Go! Nihon also offers a JLPT Study Trip. Students on this one month trip will attend classes at a language school to prepare for the JLPT in either July or December. Additionally, you will get to take part in uniquely Japanese experiences, such as taiko drumming and trying Japanese calligraphy.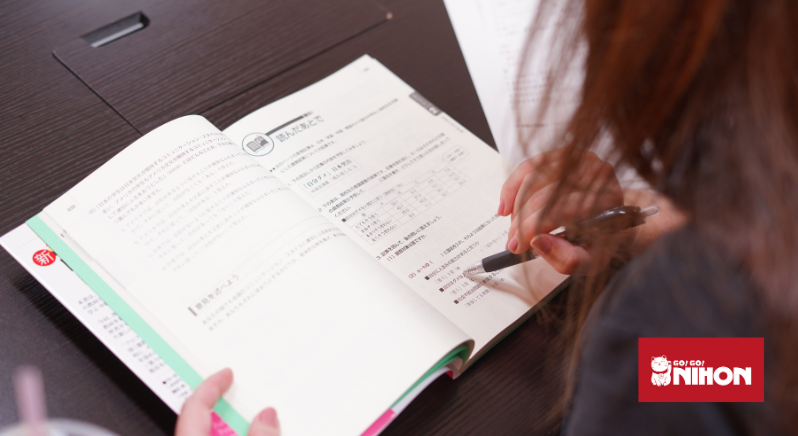 What to expect on the day of the exam 
After you arrive at your test venue, you will need to show your voucher to the staff. Test-takers are split into different rooms based on the individual number found on the voucher.
Once you find your room, you will need to find the desk that has your number on it. You must place your bag on the ground and have only your writing utensils on the desk. Note that you are only allowed to use pencil to record your answers. You are allowed to have a watch, but it must be analogue.
You will receive instructions from staff when it's time and your test will commence. The whole exam will take several hours to complete. You will get short breaks between each section.
When the exam is finished, you will need to wait until all test papers have been collected before you can leave the room.
Note that this is just a general overview of the process if you're taking the JLPT in Japan. Processes at overseas testing sites may differ.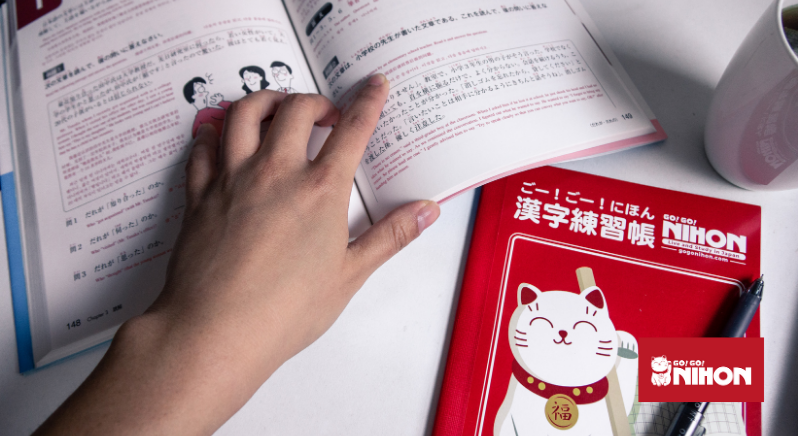 Tips for taking the JLPT exam in Japan
Try to bring a watch
If you're taking the JLPT in Japan, there is a chance that you will not have any way of keeping time in your exam room. Unlike in some other countries, examiners don't write time intervals on the board and cross them out to tell you how much time has passed. And there might not be a clock in your room, either.
You shouldn't underestimate how squeezed for time you will be, especially if you are taking the test at the higher levels. Once the time is up, then that's it – if you continue to write then you will be penalised and possibly even barred from finishing your exam.
Having a watch will help you keep track of how much time you still have left, so you don't end up missing questions in an exam where every single point matters.
Practise, practise, practise – then practise some more
This probably goes without saying, but do as many practice tests as you can leading up to exam day. This will help you familiarise yourself with the format of the exam and also help test the things you have learned.
It will also help you better understand how much time you will need to complete each section. If you don't have a way to keep time on exam day, then at least you have some sort of a feel for how long you need for each section.
You can easily buy JLPT exam preparation books from bookstores in Japan, or online. Some tried and true titles include: New Kanzen Master, Drill and Drill, Nihongo So-Matome and the official JLPT practice workbooks.
Read more about preparing for the JLPT in our blog article.
Bring snacks
Taking the JLPT makes for a very long day, so make sure you prepare plenty of snacks and water to keep your energy levels up! You're not allowed to eat during the exam, however, you get plenty of time between sections to refuel.
Got other tips? Leave a comment below!
If you're serious about taking the JLPT N3 exam, don't forget to check out our online prep course, taught by Tokyo Galaxy.
And don't forget to check out our blog for more articles about learning Japanese.