If one of your goals is to study in Japan, then you'll want to know all you can about applying for student visas for Japan. This article will go through everything from when you actually need to start your application, to what you need to organise before you arrive. You can never be too prepared, especially in times of COVID-19, so read on to make sure you get it right.
The importance of planning in advance
Going to Japan to study Japanese is a longer process than you might think, so it's best you give yourself plenty of time to complete your school and visa applications.
Normally, we begin accepting applications around 6 months before the start of term. For example, students applying for the July term will typically begin their school application process in December of the previous year, or January of the same year. However, students can save their spot up to one year in advance by paying the application fee, which we recommend to avoid disappointment. 
It's also important to note that schools will submit your visa application to Japanese immigration, however they must do so on specific dates each year. This makes it even more important to plan in advance and to use a service like Go! Go! Nihon. We will ensure you have the right documentation submitted on time so you don't miss out on your Japan student visa in 2021.
For more guidance and insight into how you should plan your studies in Japan, read our articles:
*Study in Japan for 6 months: planning and timeline
*Live in Japan long term: a five-year visa plan for Japan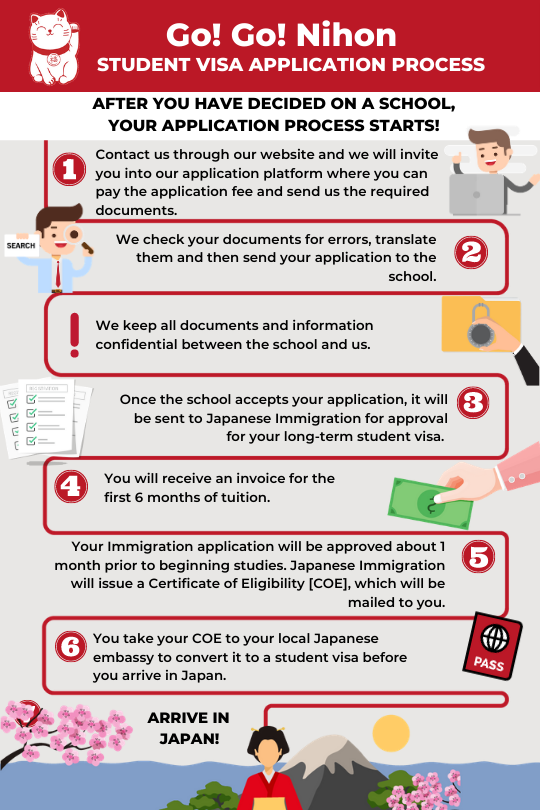 The process for student visas for Japan
Check you can come to Japan
We recommend you double check first that you are actually able to leave your country and fly to Japan. Your country may have its own restrictions in terms of movement in and out of its borders as the COVID-19 situation continues to develop.
Additionally, check with your local Japanese embassy about whether or not they have resumed issuing visas to Japan.
Choose your school
Have a look at our school options on our website. Or if you're unsure what school to choose, get in touch and one of our team will help you!
Note that due to some Japanese immigration requirements, we're unable to assist applicants from certain countries.
Apply through Go! Go! Nihon
Once you choose and apply for the language school of your choice through Go! Go! Nihon, your school will submit your visa application after you pay the application fee. 
You will be required to submit several documents for your application. Don't worry, Go! Go! Nihon will help you with that if you apply through us. Some of these documents include:
Passport-style profile picture

Copy of your passport ID page

Copy of your high school diploma (or proof that you have completed 12 years of education)

Recent bank statement with at least 1,000,000 yen equivalent

You, or your sponsor's, recent tax return
More documents may be required depending on your personal situation and the school you apply to. Your Go! Go! Nihon coordinator will help you with these documents, including checking for errors, translating them and sending them to your school of choice.
It's important to note that schools need to submit student visa applications to Japanese immigration on specific dates. If students don't provide them with the required documents in time, the school won't be able to apply for those visas. This is why it's better to submit documents as soon as possible. If you are using Go! Go! Nihon, your student coordinator will let you know exactly when is the best time to submit your documents.
Note: it's possible to apply for a Japanese language school if you did not complete high school, but have done GED, or General Education Development, instead. If you have not completed the requisite 12 years of education, or you do not have university entrance level education, then unfortunately your language school options will be limited. 
Get your student visa
After your application has been submitted, you need to wait to receive your Certificate of Eligibility (COE), which you take to your local Japanese embassy. They will need this document to issue you with your student visa. You will receive this around one month before you're due to arrive in Japan to start school.
To convert your COE to a student visa, you need:
The original COE

A good quality and recent portrait photo

Your passport

School guarantor information – our team will share this with you if you apply through Go! Go! Nihon

Pledge – this is a

new document

required by the Japanese government that sets out the rules that students must follow in order to enter Japan. We will send our students a copy as soon as it is confirmed they will be coming to Japan. Sometimes additional documentation may be required in order to receive the pledge. 
It's rare, but sometimes COEs get denied. Japanese immigration has their own reasons for denying applications and don't always share them. But here are some reasons why a COE could get denied:
The documents submitted were falsified; if forged documents are provided, the documents are not from an official source, or the information provided is revealed to be inaccurate;
Being convicted of a criminal offence (in Japan or overseas);
Having been deported from Japan in the past;
Failure to provide the requested additional documents in time;
Having been denied a Japanese long-term visa in the past.
For more information about the COE, please read our article here.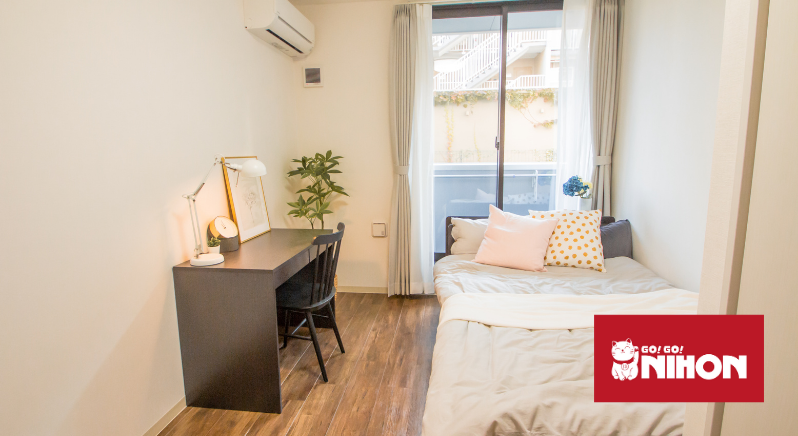 Book accommodation 
Once you receive your visa, you can start booking flights to Japan, as well as accommodation. Contact your Go! Go! Nihon team member for help with finding a place to live – we partner with several accommodation partners that offer a range of options.
Read more about the types of accommodation you can find in Japan here.
You must confirm your accommodation before arriving in Japan as you will need the address for the official forms you fill out when you arrive. This will be the place where you will quarantine after arriving, so it must be accurate. 
Note that some schools and accommodation providers have their own quarantine rules. Therefore, they may require you to quarantine at a specific place before you can move into your long-term accommodation. Some schools also book quarantine accommodation for students directly.  
You should also make sure to book appropriate transport from the airport. Due to quarantine requirements, you will not be able to use public transport after arriving in Japan. Our team will share with you the best transport options and recommendations for your case. Some schools may also be able to offer pick-up services, so please contact us about this if you are interested.
A note about entry date and visa length
The duration of your visa is based on when you enter Japan and not when your language course starts. Therefore, we advise students to plan their arrival in Japan accordingly so they do not miss the end of their course, nor overstay their visa.
For example, if you have an 18-month visa and your course begins in January, aim to arrive in Japan just before your course begins, rather than months beforehand. Please contact us if you're unsure about when you should time your arrival for.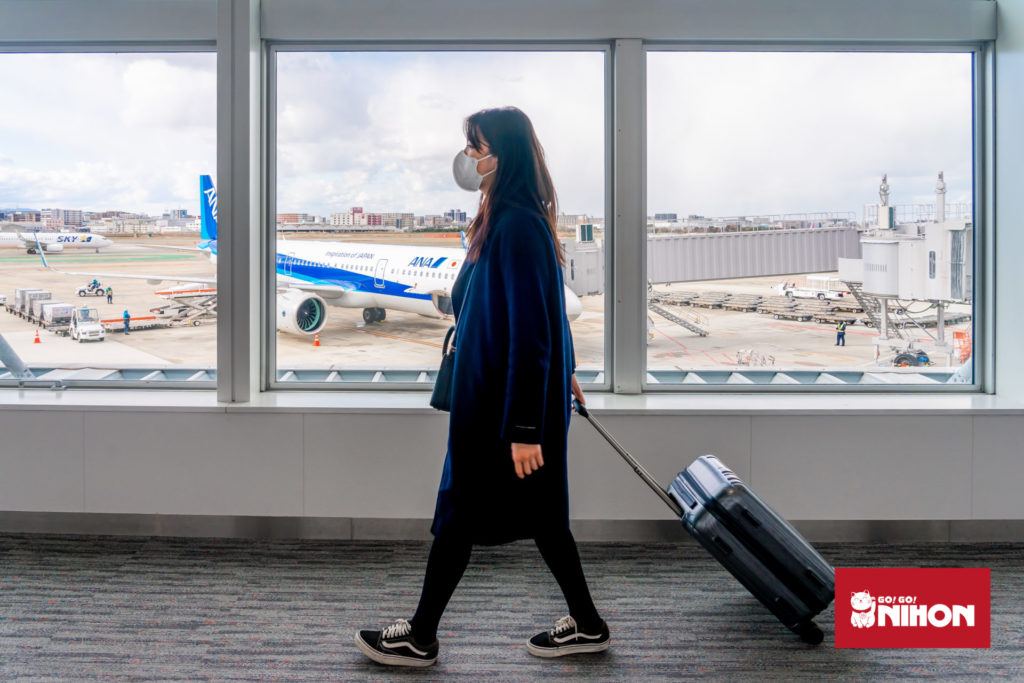 COVID requirements
You must present a printed copy or original of a negative PCR test that you have taken within 72 hours before flying. You must also provide a document that has been filled in and signed by a medical institution. The result must be written as "Negative". No other response or words will be accepted.
In addition to your PCR test, you must also monitor your health 14 days prior to your flight, including conducting daily temperature checks. Most of our partner schools require the results of this to be submitted. If you apply to study in Japan through our services, we will instruct you on how to proceed.
If any symptoms of COVID-19 appear, including fever of 37.5°C or higher, respiratory symptoms, a strong feeling of weariness, you must cancel your trip to Japan.
Once you arrive in Japan, you must quarantine for 14 days. You are advised to stay indoors during that time and minimise your contact with other people. You should only be going outside when essential, such as going grocery shopping. When you do go outside, you should maintain a safe distance of around 2 metres from others.
You must also not use any public transport and you're advised to practise all the usual hygiene measures such as wearing a mask, using disinfectant, washing your hands thoroughly and monitoring your health.
FAQ
Go! Go! Nihon is here to help you with any questions you might have about the student visa application process for Japan in 2021. 
Please check our FAQ on the application timeline, or if you don't find your answer, contact us directly.