Ancient temples woven into bamboo forests, festivals with old incantations of long lost dialects spilling onto the streets, and open air hot springs daringly embedded in active volcanoes. It's no wonder nearly 20 million people and rising come to visit Japan each year. There are a number of ways to come and see the country, the main one being a temporary visa for Japan.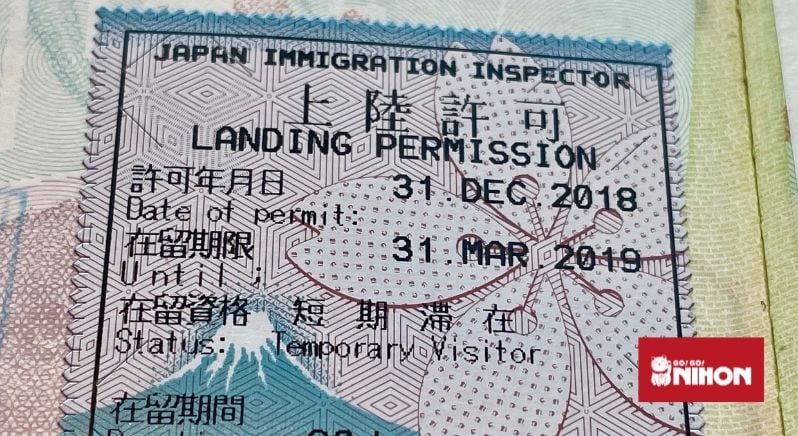 What exactly a temporary visa can do
In order to fly into Japan and make it past immigration and out of the airport, visitors are required to have a visa. In the case of tourism in Japan, we talk about a temporary visa or a visitor visa for a short stay, for those looking to sightsee. Depending on the visitor's home country, temporary visas allow up to a 3 month visit (90 days).
If visitors come to tour, backpack, go to conferences, see friends/relatives, etc., then the visitor visa is perfect. Anything else though—any kind of activity receiving pay, extending allowed time, anything non-tourism related—then a different kind of visa along with different applications will be required.
If you want to study Japanese at a language school in Japan, we highly recommend a long-term Student Visa instead. However, it is possible for you to study at a language school on a temporary visa if you have a school that is willing to sponsor you. Note that school options will be limited as not all language schools offer a short-term option.
How to get a temporary visa for Japan
Nationals from certain countries must obtain a temporary visa for Japan in advance in order to enter Japan. Among these countries are Russia, China, India, Brazil, the Philippines, some Asian countries, and some Middle Eastern and African Countries. In addition to this, specific rules apply to each country, so please visit the Ministry of Foreign Affairs in Japan website to learn the requirements and print out the applicable documents.
Document processing is usually free of charge, although there will be a charge for the actual visitor visa. This fee varies according to whether the visa is single entry, multiple entry, or transit. Visitors should also make sure their passport is valid for 90 days following their departure date from Japan.
There are currently 68 countries exempt from requiring a visa to enter Japan. Citizens from most European countries, Australia, New Zealand, and North America are allowed a stay of 15, 30, or 90 days in the country depending on their choice. This means visitors from these countries can arrive at a Japanese airport without having previously applied for a Japan visitor visa, and receive a stamp that allows for an allotted time in Japan.
To check whether their country is visa exempt, visitors should check with the Ministry of Foreign Affairs of Japan website. Although visitors from these countries are visa exempt, it's important to remember that this still means visits must be tourism related.

Provisions and rules
There is a bit of fine print! All visitors must make sure they carry their passport with them at ALL times. Whether just stepping out of their hotel room for a bite at the convenience store (by the way, this is a fun recommendation, as Japan's convenience stores have an interesting variety of food and drinks) or going hiking outdoors, it's Japanese law that visitors must always be carrying their passport.
If ever asked by police or authority, visitors must present their passports. It's also necessary to have a return ticket on hand. It's up to the discretion of the officer at the port of entry to check for that ticket, but it's better to be safe than sorry.
It's not overly difficult, but the most important thing is for visitors to check with the Ministry of Foreign Affairs in terms of what visa rules apply to their country. After that, come see what this beautiful country has to offer.
Temporary visa extensions
Visitors from a limited number of countries can apply for an extension to their temporary visa. These countries are Ireland, the United Kingdom, Austria, Switzerland, Germany, Mexico, and Liechtenstein. The extension permits visitors to stay up to 6 months under a bilateral visa exemption arrangement.
If you're from one of these countries and want an extension, you must apply to the Ministry of Justice )Regional Immigration Bureau) before your current period of permitted stay expires.
Visit Japan with Study Trip and Go! Go! Nihon
Japan isn't just Tokyo, Osaka, and Kyoto. Okinawa has waters so blue and clear you can sometimes see the bottom of the ocean floor. Kyushu with its rich, hearty, simmered pork bone (豚骨, Tonkotsu) broth, Shikoku with its 88 temple pilgrimage, or Hokkaido with its long scenic roads; the country has so much to offer, chances are you'll need to come back for another temporary visa for Japan!
If you can't wait to experience all these wonderful locales for yourself, definitely check out Studytrip.com, where there's all kinds of programs to suit Japan lovers' needs!
If you're contemplating a short trip to Japan, but you're worried about the language barrier, check out our online beginner Japanese crash course. This two-week course teaches you the basics of the language and useful phrases to help you get by on your visit. For more information and to sign up, visit our website.