Every year on August 11, people celebrate Mountain Day, or Yama no Hi 山の日, in Japan. This is the country's newest public holiday, enacted in 2014 with the intention to encourage people to pay homage to, and appreciate blessings from, the mountains.
Learn more about Mountain Day in Japan, its significance and some mountain-related Japanese words.
Celebrating Mountain Day in Japan
It shouldn't come as a surprise that there is a public holiday in Japan celebrating the mountains. More than 70% of the country is mountainous and the highest peak, Mt Fuji (Fujisan, 富士山) at 3,775 metres, is one of the most famous mountains in the world. 
Traditionally, mountains have held great spiritual significance in Japanese culture and they are often revered, sacred places. This makes complete sense when you think about the strong relationship the Shintō 神道 religion has with nature. 
The Japanese Alpine Club and other hiking, trekking and skiing enthusiasts advocated for a public holiday to celebrate the country's mountainous landscape. The law establishing Mountain Day was enacted in 2014 and first enforced in 2016. 
It is said that August 11 was chosen because the kanji for "eight" (八) looks like a mountain and the number 11 looks like two trees. 
Since it's a new holiday, there are no traditions observed. However, what better way to celebrate Mountain Day than to spend some time in the mountains? Read more about where to experience breathtaking mountains in Japan. 
Did you know that Japan has 16 public holidays? Read more about them in our article here.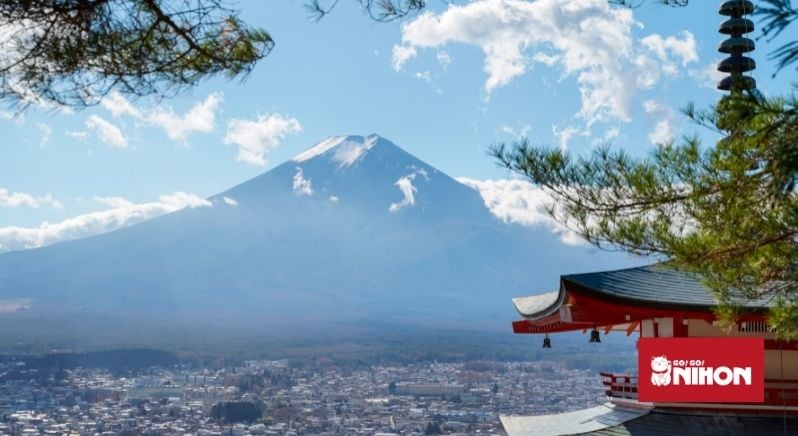 The most famous mountains in Japan
There is a deep reverence and spiritual connection to nature in Japan thanks to the Shintō religion, which emphasises the power and divinity of nature. Spirits, or kami 神, take the form of things found in nature like mountains, trees, rivers, and so on. 
There are three mountains considered to be the holiest mountains in Japan: Mt Fuji, Mt Haku (Hakusan 白山) and Mt Tate (Tateyama 立山). Together, they are known as Sanreizan 三霊山, or the Three Holy Mountains and are believed to possess spiritual powers. 
Aside from being a symbol of Japan, Mt Fuji is a gathering point for the spirits of ancestors. The main deity associated with Mt Fuji is Shintō goddess Konohana Sakura Hime, the Goddess of Flowering Trees. "Fuji" is also the Ainu word for "fire", so the fire god is associated with Mt Fuji and honoured in a fire ceremony at the end of each year's climbing season. 
While Mt Fuji is associated with fire, Mt Haku – located near Kanazawa in Ishikawa Prefecture – is worshipped as the god of water. This is because three nearby rivers get their water from this mountain. The water from these rivers is essential for local farmers. Hakusan, meaning White Mountain, is covered in snow for most of the year, making it a popular destination for skiers and snowboarders.
Finally, Mt Tate is known as the place where spirits come back. It used to be where Buddhist Monks trained, but nowadays is a popular hiking destination like its other holy mountain counterparts. Along with hiking, people enjoy onsen when visiting this mountain. It is also covered in snow for much of the year, making it a difficult peak to climb for most of the year.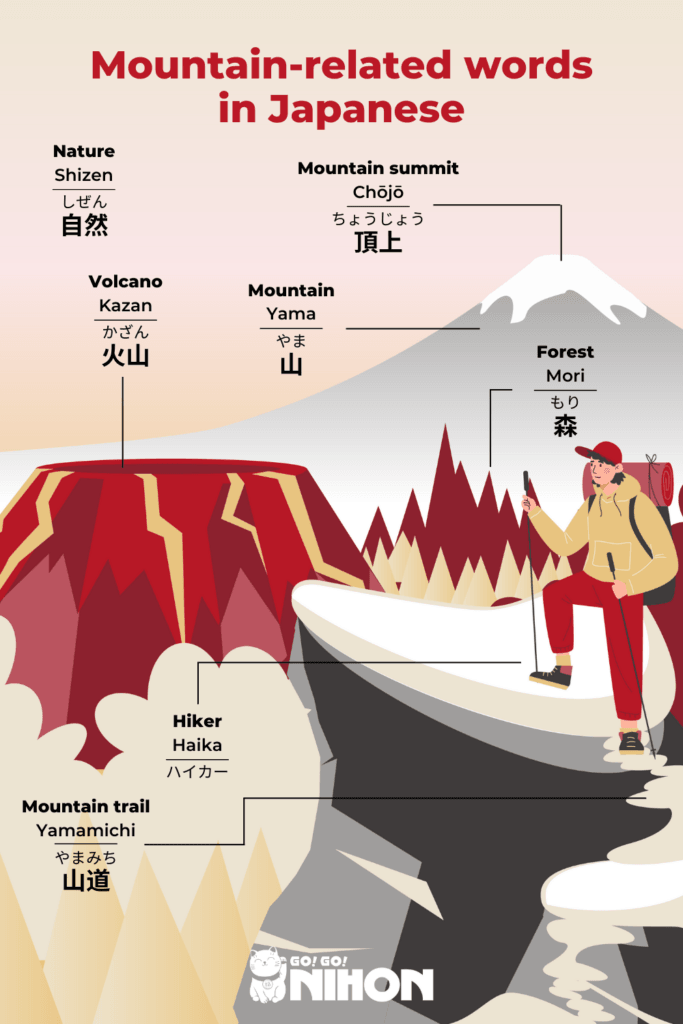 Mountain-related vocabulary
Yama no Hi is the perfect time to learn some easy mountain-related Japanese vocabulary. 
Mountain
山
やま
Yama
Volcano
火山
かざん
Kazan
Mountain summit
頂上
ちょうじょう
Chōjō
Forest
森
もり
Mori
Nature
自然
しぜん
Shizen
Mountain trail
山道
やまみち
Yamamichi
Things to do in the mountains
Mountain climbing
登山
とざん
Tozan
Hiking
ハイキング
Haikingu
Rock climbing
岩登り
いわのぼり
Iwanobori
Skiing
スキー
Sukī
Snowboarding
スノーボード
Sunōbōdo
Snowshoeing
スノーシューハイク
Sunōshūhaiku
Onsen
温泉
おんせん
Onsen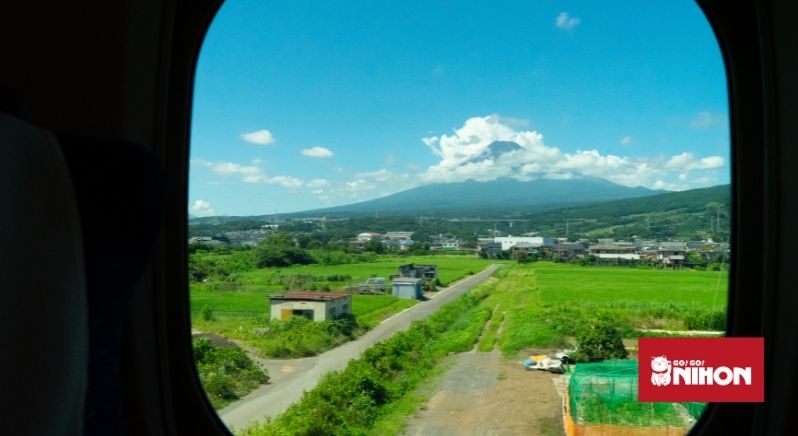 Visit Japan's mountains while studying Japanese in Japan
Living and studying in Japan will give you the opportunity to explore the country's mountains in your own time. Head out for hiking adventures on your weekends or plan a trip to the snow during term break in winter. 
Go! Go! Nihon can help you choose the best school for your goals. We partner with language schools across the country, which offer a variety of course options, and leave the paperwork for your student visa to us. Learn more about the application process here.