Note that while we aim to provide the most up-to-date information, it's always best to get the latest updates from your local Japanese embassy or the Ministry of Foreign Affairs Japan. Or please contact us for the latest updates for language students.
From March 1, 2022 Japan opened up its borders again to new foreign arrivals (except for tourists), including international students. There are still restrictions and entry requirements in place, though.
So what do you need to do if you're coming to Japan on a student visa? Read on to learn more and how Go! Go! Nihon can help.
First things first
Before checking off any entry requirements to Japan, double check first that you are actually able to leave your country and fly to Japan. Your country may have its own restrictions in terms of movement in and out of its borders during this time.
Additionally, there are limits on the number of people who are allowed to arrive in Japan each day, so flights may not be as available to you.
We recommend you check with your local embassy, as well as airlines.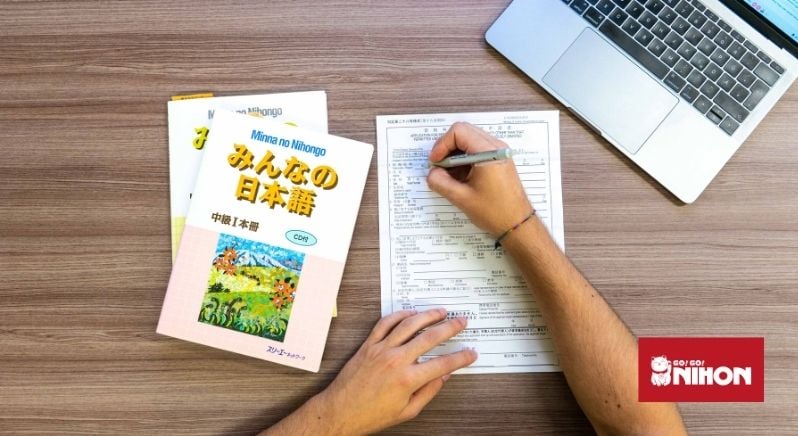 COEs and documentation
Before you receive your Certificate of Eligibility (COE), you need to pay your tuition so make sure you do that on time.
Once your school confirms your payment and you receive your COE, you would normally take the COE to your nearest embassy so they can issue you with your student visa.
Depending on your embassy, there could be fewer appointment times available and longer wait times, so we recommend you confirm this as soon as possible.
In order to convert your COE to a student visa, you need:
The original COE

A good quality and recent portrait photo

Your passport

School guarantor information – our team will share this with you if you apply through Go! Go! Nihon

An ERFS Certificate – the Entrants, Returnees Follow-up System that is now required for short-term entrants into Japan

If your entry to Japan has been postponed, you will also need to submit a Declaration (Mōshitatesho 申立書)
If you have already converted your COE to a student visa, double check with your embassy to see if you need to complete any extra steps. Remember, different countries may have different processes and some countries may require their citizens to produce additional certificates before allowing them to leave. If you are in this situation, please contact us and we can assist you with that.
Japan is gradually lifting the border restrictions imposed during the Covid-19 pandemic. As a result of the border closure, COEs have been extended as follows (as of June 2022):
If issued between 1 Jan, 2020 and 30 April, 2022, your COE will be valid until 31 October, 2022
If the issue date was between 1 May, 2022 and 31 July 2022, your COE will be valid for six months from the issue date
Additionally, if your status changes after receiving your COE, you can update your application under humanitarian measures with the same COE. This applies in situations where you get married and/or become a dependent on another visa holder.
More about the ERFS Certificate
The Entrants, Returnees Follow-up System is a necessary procedure for foreign nationals who want to enter Japan for the first time for a short-term stay (less than three months). You will need a "receiving" organization – the organization that is supporting your stay in Japan – for your application. For students, your receiving organization will be the school you're planning to study at.
If you're applying through Go! Go! Nihon, our team will help you with your ERFS application.
Registration & Fast track
Please register your information here in order to enter Japan, regardless of whether you have to complete quarantine or not: https://www.digital.go.jp/en/services/visit_japan_web-en/
In order to complete some procedures ahead of time, you need to pre-register for Fast Track: https://www.hco.mhlw.go.jp/fasttrack/en/
Doing this ensures you skip lines and speed up waiting times at the airport when you arrive. The fast track also contains a pledge and questionnaire that you have to sign and you will be able to upload your PCR test, so that you don't have to print your results.
Vaccination certificate
If you are travelling to Japan from a country belonging to the "Blue group", you won't need to show a vaccination certificate. However, some airlines may still request it, so it's better to have it prepared just in case.
Vaccination certificates must be either in Japanese or English and issued by an official body, such as your country's government. For more information on Japan's border measures, visit: https://www.mhlw.go.jp/stf/covid-19/bordercontrol.html. For more information about the vaccination certificate, visit: https://www.mofa.go.jp/ca/fna/page24e_000317.html
Health check & PCR test
You must present a printed copy or original of a negative PCR test that you have taken within 72 hours before flying. You must also provide a document that has been filled in and signed by a medical institution. The result must be written as "Negative". No other response or words will be accepted.
In addition to your PCR test, you must also monitor your health in the 14 days prior to your flight. Most of our partner schools require the results of this to be submitted. If you apply to study in Japan through our services, we will instruct you how to proceed.
If any symptoms of COVID-19 appear, including fever of 37.5°C or higher, respiratory symptoms, strong feeling of weariness, you must cancel your trip to Japan.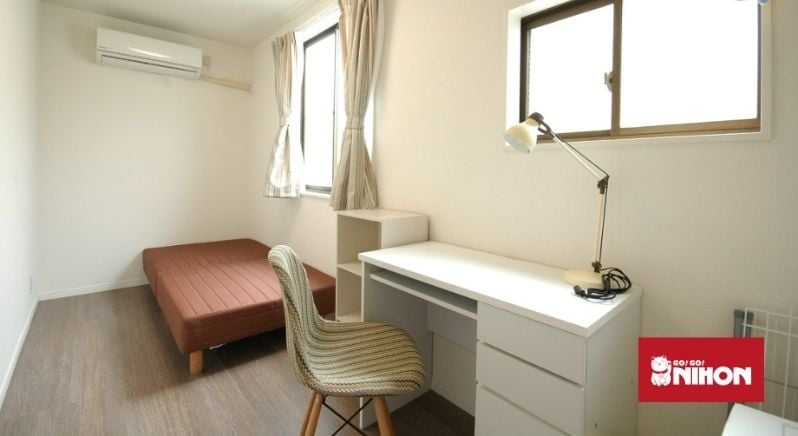 Organise accommodation
Once you receive your visa, you can start booking flights to Japan, as well as accommodation. Contact your Go! Go! Nihon team member for help with finding a place to live – we partner with several accommodation partners that offer a range of options.
Read more about the types of accommodation you can find in Japan here.
You must confirm your accommodation before arriving in Japan as you will need the address for the official forms you fill out when you arrive. This will be the place where you will quarantine after arriving, so it must be accurate.
The school you have applied to may offer quarantine accommodation which you pay for. Some require students to use their package and not book their own accommodation, so please follow your school's instructions if this is the case.
If your school doesn't offer a quarantine package, Go! Go! Nihon has an option in collaboration with our partner BeGood Japan.
Hotel (required)
Pickup (optional)
Insurance (optional)
Online course discount (optional)
BeGood Japan rent discount (optional) for your accommodation with them after quarantine.
If you are interested in booking the package please fill out the form: https://gogonihon.com/en/pick-up-and-stay-quarantine-package/
Staying in a private apartment for quarantine
If you are planning to live in a private apartment during your stay in Japan, you can use it to do the self-isolation period.
Staying in a share house for quarantine
If you are staying in any form of shared accommodation, please be aware that not all accommodation partners allow people to complete their quarantine period in their shared houses for the safety of their other occupants. Please double check with your chosen accommodation option.
Staying with a host family for quarantine
If you are applying for a homestay, there is no single answer as to whether you can start your stay with them after arrival. It depends on the host family and your chosen school. In the event that you are not allowed to move in with them upon arrival, we would recommend our package.
If you have any questions about accommodation, please contact us.
Arrival transport
Once in Japan and in quarantine, you should refrain from using public transport. However you can use public transport to get to your private accommodation for quarantine if you do so within 24 hours of your negative PCR test which you do upon arrival in Japan.
Alternatively, you can book our pick up and stay package for peace of mind: https://gogonihon.com/en/pick-up-and-stay-quarantine-package/
We also offer a pick-up only option that's available from Haneda, Narita and Kansai Airports.
You can book for multiple people at once and it's a service for anyone, not just Go! Go! Nihon students. There is a charge for this service and you can see all the prices, as well as make your booking, here: https://gogonihon.com/en/pick-up-reservation/
Quarantine
From June 1 2022, Japan waived COVID-19 tests and self-quarantine periods for people arriving from low-risk areas. The government has categorised countries and regions into three groups: red, yellow and blue. The blue group will be the low-risk group and visitors from that group will not have to take tests or follow quarantine rules, even if they have not received their booster shots.
Visitors from the red group will need to take tests upon arrival and isolate for three days at a designated quarantine facility. If they have all three vaccine shots, then they can self-quarantine in their own accommodation instead.
Those from the yellow group must also take tests and self-quarantine in their own accommodation for three days, unless they have all three shots in which case they will not have to take the tests or quarantine.
For the most updated information on which countries are in which groups, please refer to the Ministry of Foreign Affairs Japan website or contact us. Please also contact us to organise your accommodation if needed for quarantine and post-quarantine.
A note about entry date and visa length
The duration of your visa is based on when you enter Japan and not when your language course starts. Therefore, we advise students to plan their arrival in Japan accordingly so they do not miss the end of their course, nor overstay their visa.
For example, if you have an 18-month visa and your course begins in January, aim to arrive in Japan just before your course begins, rather than months beforehand. Please contact us if you're unsure about when you should time your arrival for.
Go! Go! Nihon is here to help
The above are the main updates to the entry requirements for Japan. For full details and information, please visit Japan's Ministry of Foreign Affairs website.
If you're unsure of anything, please don't hesitate to get in touch with your coordinator so that you have everything you need to enter Japan smoothly.