One of the most remarkable aspects of Tokyo is the way centuries-old tradition and architecture seem to blend in perfectly with the city's modern urban landscape. It is one of the few cities on earth where you can sip coffee from a French-style cafe located next to a local sushi restaurant and across the street from a buddhist temple over one thousand years old.
While the contrast of old and new may sound startling and unnatural, Tokyo has a unique way of making it work. One of the best examples of this is Kagurazaka, a small but fashionable neighborhood where swanky wine bars and shopping centers exist side by side with geisha houses and traditional Japanese restaurants. This article will give you a better idea of things to do in Kagurazaka.

Early history
Located near the edge of Edo Castle (now part of the Tokyo Imperial Palace), Kagurazaka has been a bustling entertainment district since the early 1900s. During this time, the area was best known for its geisha houses, several of which still stand to this day. After the Great Kanto Earthquake in 1923, merchants from Ginza and Nihonbashi were forced to move their business elsewhere; due to its prime location and heavy foot traffic, Kagurazaka soon became a popular place for the merchants to set up shops and night markets.
The neighborhood is also known for its traditional cuisine and high-end restaurants, several of which have been open since the area was first developed. Most of these restaurants are located deep in Kagurazaka's winding cobblestone backstreets and "hidden" alleyways off Kagurazaka dori (the main street through the center of the neighborhood), making it a fantastic neighborhood to explore on foot and one of the best things to do in Kagurazaka.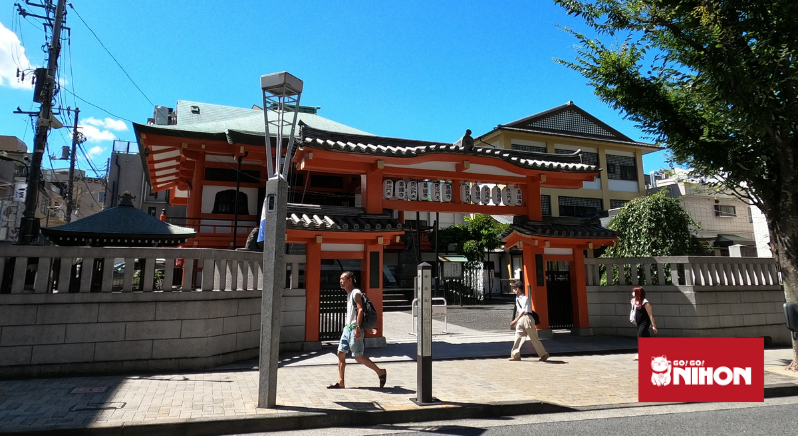 Zenkokuji Temple
Originally built by the shogun in 1595 as a Hindu temple, Zenkokuji was later adopted as a Buddhist temple and relocated from Chiyoda-ku to Kagurazaka in 1792. The temple now sits centrally at the top of the hill along the main street, surrounded by various shops and restaurants.
The temple is maintained and frequented daily both as a place of worship and a tourist attraction; it is one of Tokyo's many examples of traditional, culturally significant architecture, existing side by side with modern attractions.
Modern European influence
In recent years, Kagurazaka dori has adopted a more contemporary, European-inspired look and feel. While the area has retained some of the traditional Japanese atmosphere, a large influx of French expats has had a significant influence on the shops and restaurants along the main strip. For gourmet French, Italian, or German cuisine, it doesn't get much better than Kagurazaka. For this reason the area has become hugely popular among foreign as well as Japanese residents.
It is common to see couples both young and old walking up and down the main strip at night, in search of late-night eats or a nightcap. It's a great cultural mix and a lot of fun to explore by tourists and residents alike. There are so many things to do in Kagurazaka: so when you're next in Tokyo or when you're looking for a new place to study, why not go for a walk in the area?
For more information about living in Japan keep following the Go! Go! Nihon blog.