Spring is perhaps the most popular season of the year in Japan. Snow has been melting, the weather has begun to warm, and beautiful cherry blossoms are blooming to paint the landscape in soft pink shades. The changing seasons have always been present in Japanese cuisine. This means spring in Japan is not only a time to admire the flowers, but an opportunity to quite literally cherish the tastes of the seasons.
To celebrate the arrival of the cherry blossoms, global franchises and neighbourhood shops alike sell seasonal sakura-flavoured and themed food and drinks. Here's a list of sakura food and drinks to look out for or even bring on a picnic to a cherry blossom viewing party.
Sakura snacks
Although an American brand, Kit Kat in Japan are famous for their multitude of flavours. For this reason, you can expect to get your hands on sakura flavoured wafer treats. Seasonal Kit Kat include sakura-flavoured mochi and Japanese sake.

You will also likely find a sakura spin on the popular snack Pocky. Previous years have featured varieties like Sakura Shitate, or blossom flavour, with a buttered pretzel stick coated with cherry blossom chocolate. Another is Pocky Sakura Matcha, which is made with cherry blossom flavoured pretzel sticks that are coated with Uji matcha chocolate.
The Japanese brand Glico, responsible for Pocky, also makes a popular sweet called Cream Collon. The snack is a small, crispy waffle in the shape of a cylinder filled with cream. There is also often a special spring-themed flavour. In the past, there was a limited edition combination of matcha with sakura flavours.
Tokyo Banana is a popular sweet and often brought home as souvenirs. A typical Tokyo Banana is a fluffy sponge cake shaped like a banana with a banana custard cream. During spring, the treat is decorated with pink petals and filled with cherry blossom flavoured Banana custard cream. 
Wagashi are traditional Japanese sweets, and during this season these small delicacies get dressed up a bit more. Sakura-an made with sweetened white bean paste mixed with chopped salted sakura leaves. Sakura manju is a steamed sweet bun filled with a paste mixed with red bean and sakura leaves. Sakura yokan is a vegan-friendly jelly made of agar-agar with pink dye. Finally, hanami dango are rice dumplings served on a skewer, meant to be enjoyed during a flower viewing. The colours of hanami dango reference the pink cherry blossoms and green grass that have arrived for spring.

Savory sakura foods
As far as savoury sakura foods go, the sakura onigiri is a staple with a salty, crunchy texture that comes from pickled cherry blossoms. The blossoms have been picked while the buds are still tender and young. Once washed and dried they are sprinkled with salt. Then, the brine is squeezed out to be pickled in plum vinegar. Sakura inarizushi wraps the cherry blossom mixed rice in a sweet fried tofu skin.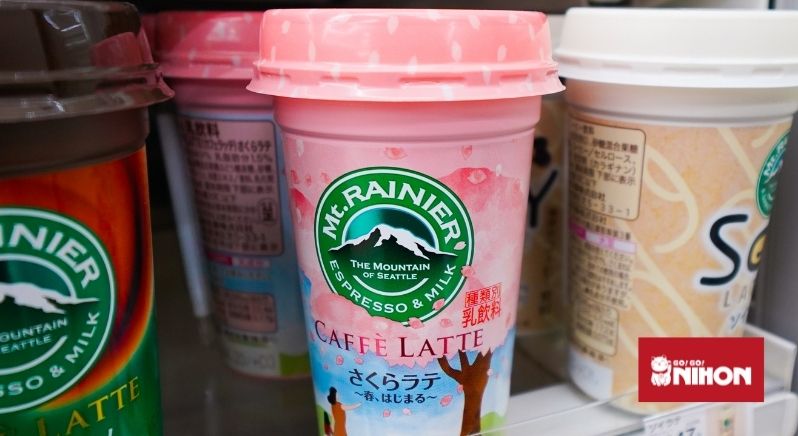 Sakura drinks
The pickled cherry blossom makes an appearance again in teas, which means the tea is somewhat salty but has a light floral aftertaste. The tea is a a translucent pink shade and drank during celebrations and special occasions. The tea also has health benefits, including antioxidants and fatty acids, while also promoting collagen and preventing inflammation. 
Starbucks menus in Japan include pink drinks that are quite like desserts. They always bring out limited edition flavours during spring each year – previous years have included Sakura Milk Pudding Frappucino and Sakura Milk Latte. 

Sakura drink packaging
While we are still left to imagine what a sakura-flavoured Coca Cola might taste like, the company does produce seasonal bottle designs for the arrival of spring. The exterior of the glass bottles are bright pink with illustrations of petals falling down the bottle. These limited edition bottles are often available at supermarkets, convenience stores, grocery stores in Japan. One of Japan's oldest and most popular breweries, Asahi, also sells limited edition cans and bottles of beer with pink cherry blossom decorations. 
The practice of including cherry blossoms in cuisine has been around for many years in Japan. The flower is both a natural treasure to admire every sprin, and also quite versatile, finding its way into many contemporary food and drinks. We hope that you get to try of these sakura food and drinks some while enjoying the spring scenery in Japan. 
To learn more about food, life and culture in Japan, keep up with the Go! Go! Nihon blog.