The intermediate level is a fun place to be for Japanese learners. You know the basics like the back of your hand and you're ready to take on more of a challenge. Now, you can take that next step with the best online Japanese course for intermediate learners: the Go! Go! Nihon Online Intermediate Japanese Course. 
Read on to learn more about the course!
Who is the course for and what is taught?
The Go! Go! Nihon Online Intermediate Japanese Course was designed for Japanese language learners who have finished their beginner level studies and want to continue to the next stage. 
In order to get the most out of this course, we recommend students have finished learning the equivalent of JLPT N5 and N4. 
As this is an online course, it's the best option for those who aren't able to make it to Japan to study at a language school. Or, those who are in Japan already (for example, on a work or spousal visa) and who are looking for a flexible and affordable way to continue their language learning.
By the end of this course, students will add over 700 new words, 68 grammar points, and 310 N3-level kanji to their repertoire. Want to be able to converse smoothly in daily conversation, read and understand long-form text, and discuss and write your thoughts and opinions cohesively? This course will teach you that too.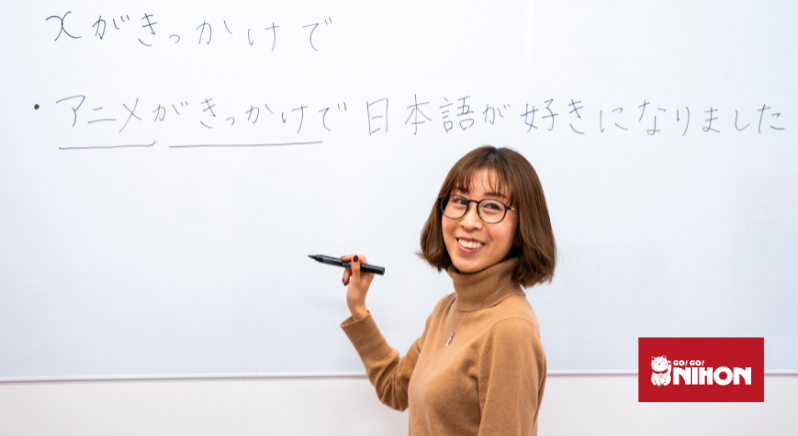 Who is teaching the course?
The Go! Go! Nihon Online Intermediate Japanese Course was created by our in-house Japanese teacher Yoko Hori. She has nine years' teaching experience, has taught Japanese at different education institutions in the United States, including the University of Arkansas and Middlebury Language School, and is fluent in both Japanese and English. 
She loves traditional Japanese culture, such as Kabuki 歌舞伎 (traditional Japanese drama and music) and Ukiyo-e 浮世絵 (Edo-period art made out of woodblock print), and she is excited to share her passion for the language and culture with her students!
Yoko provides direct support to those taking this course, including responding to questions and providing regular feedback to students.
How long does the course take to finish?
Students have six months from the data of purchase to complete the course. There are 11 chapters, so if you finish one chapter per week and put aside about two hours to study Monday to Friday, you will be able to finish the course within three months.
Of course, you are free to allocate time to this course however you wish based on your personal schedule – that's the beauty of learning Japanese online! 
What makes this the best online Japanese course for intermediate learners?
As mentioned, there is a lot of flexibility with this course since there are no live classes. You can study the course content around your work and life commitments with just a laptop and an internet connection. 
While the course is not taught live, you will get lots of timely support and feedback from Yoko. You will also gain access to our online learning community, where you can interact with peers.
After you complete all the lessons, you will receive a completion certificate verifying you have finished 110 hours of Japanese language study. 
One of the best things about this course is the affordability. The entire course costs 99,225 yen, which means it costs less than 1000 yen per hour. This makes it much cheaper than in-person lessons, whether at a language school or private. 
Learn Japanese online with Go! Go! Nihon
Overall, this course is a great option to prepare you for studying in Japan, or if you're looking for a flexible and cost-effective option to continue your language learning. 
However, if you're not quite ready for the intermediate level, we have several other courses that cater for beginners. There are also courses that cover Business Japanese, Kansai-ben, and Japanese onomatopoeia. 
Visit our website for more information and to sign up for the intermediate course. We also offer a bundle of courses designed to take you from zero to JLPT N3, for less than if you purchased the courses separately. Learn more about that bundle here.