There are many reasons why you might want to change to a student visa in Japan. You might be on a Japanese work visa, but wish to study full-time to improve your language skills. Or you might have a one-year working holiday visa, but want to stay in Japan longer and invest in your future here.
It's possible to change from your current visa to a student visa in Japan – and Go! Go! Nihon might be able to help you do that. Read our article to learn about what you need to know.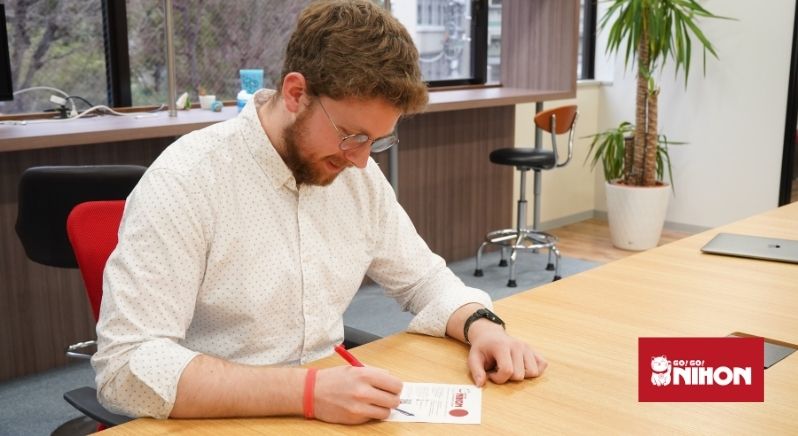 The process to change to a student visa in Japan
If you are thinking about studying at a language school full-time, we recommend first contacting immigration to confirm the feasibility of the timeline as everyone will have different variables tied to their current visa status e.g. if you're on a work visa, this will depend on your employment contract details.

Language schools accept conversions to a student visa on a case-by-case basis, so the next step would be to contact us at least four months before your current visa expires and three months before your desired school term starts. This is to ensure we can process your application to convert visas in time and we can introduce schools that may be able to accept your application.
After you have applied to a school and received school approval, you will need to file an application with your local immigration bureau for a change of visa status. In our experience, it usually takes around one month for immigration to process the application, however this timing may vary. 
Please keep in mind that converting your visa in Japan is not guaranteed and you may in rare circumstances be required to leave Japan in order to complete the conversion process.
If your application to change your visa is rejected, you will continue on your current visa for the remainder of its validity period.
Paperwork required
After you are accepted by a school, immigration requires a full set of paperwork for a visa change application, just as if you were applying for a visa from overseas. The school will help you prepare the documents you will need to submit to immigration. 
Generally, the documents you will need to provide will include:
The change of status application form

A portrait photo

Copy of your current passport

Copy of your Japan residence card

A letter stating your reasons of wanting to study at a language school full-time and what you plan to do after graduation
Documents required can vary and in some situations you may also be required to show:
Your work contract

Current employment certificate and/or your job leaving certificate

Tax payment/taxation certificates

Tax withholding slips
You will also need to prove that you have the money and the financial support to see you through your period of study. Immigration gives a guideline of around 1 million yen for every six months of study. So if you were wanting to study for the full two years that a student visa for language school allows, then you will need to show you have access to 4 million yen. 
Note that the screening process for your visa conversation might be longer and more strict than normal.
Read our ultimate Japan student visa guide for everything you need to know about applying for a Japanese student visa.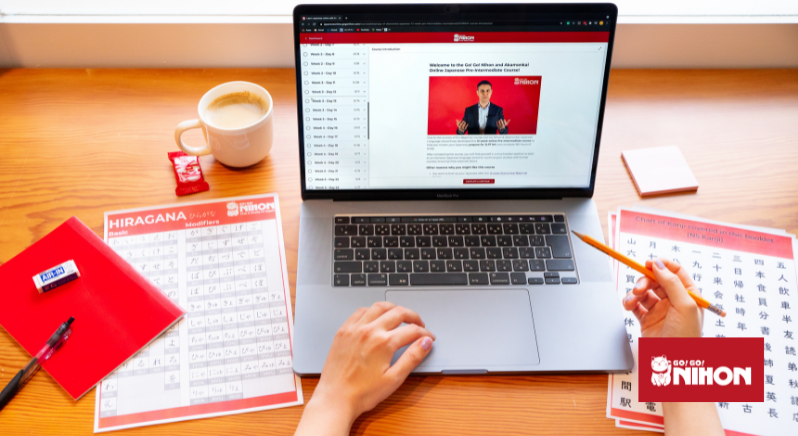 Online course option
For those who cannot study Japanese full-time, you might find online language courses helpful. Go! Go! Nihon's online Japanese language courses were created with language schools in Japan, which means you will get quality learning resources and the flexibility to study around your current schedule. Once signed up, you will get access to an online community where you can interact with other students as well as teachers of the course.
If you're really serious about learning Japanese, you can sign up for our Complete Online Bundle. This features all the courses we currently offer online, including the beginner and intermediate Akamonkai courses, JLPT N3 preparation and both of our Japanese business courses.
With this bundle, you get access to all learning materials for 18 months and you save 20% compared to buying each course individually. You also have the choice to pay for a 14-day trial of the bundle.
You can also take any of these courses individually without paying for the bundle – you can read about all the options on our website here.
Contact us to see if we can help you
Go! Go! Nihon has been making it easier for students to study in Japan for more than 10 years. Contact us to see if we can help you change from an existing visa to a student visa for Japan.
To learn more about the Japanese language and studying Japanese in Japan, read our blog.