Excited about the idea of studying in Japan? That's great! Living and studying in Japan is a life-changing and fulfilling experience. And now that the borders are opening up again, you'll probably be starting to think about what you need to do to prepare to study in Japan.
Our team at Go! Go! Nihon has been helping people from all over the world for more than 10 years to successfully live and study in Japan. So, we've put together our top 10 articles that will help you prepare to study in Japan, so that you are as knowledgeable as possible about the process.
FAQs
The first articles that we recommend to help you prepare to study in Japan are our FAQs. These are especially helpful if you have no idea who we are, what we do or how studying in Japan might work.
Our 10 most common questions about living and studying in Japan article is the transcript of a video our CEO, Davide, did where he answered the top questions that our team gets asked. If you're curious about studying in Japan, then chances are that you will want to know the answers to these questions too.
The next article we recommend you look at is our Japanese language schools FAQ to get all the basic information about how Japanese language school lessons work, whether going to language school actually works, and more.
The student visa application process is very important, but can also be confusing for a lot of people. That's why we put together an article on the most common questions about Japanese student visa applications. We explain why the process is how it is and when you should begin applying. We don't ask you all those questions and request all that paperwork for nothing!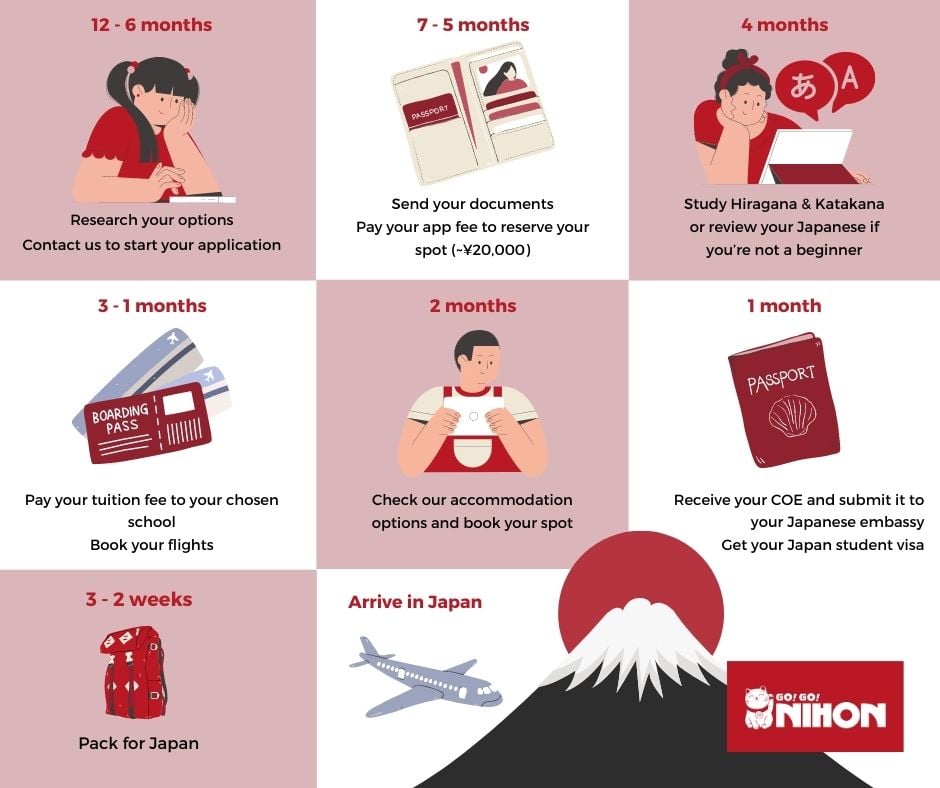 Planning timeline
If you're serious about building a future for yourself in Japan, then you need planning timelines to help you prepare to study in Japan. Based on your goals, we will help you to choose the best study term and school to apply for, but you should also understand what time-frames are realistic and how to go about your planning.
Read these articles for more insight:
Study in Japan for 6 months: planning and timeline
How to plan for living in Japan long-term
Explainers
These articles are great to help you prepare to study in Japan because they go more in-depth on specific topics.
We recommend reading our article on How Japanese language school terms work, so that you can think about which study terms would best suit your goals.
Another important decision you have to make is where you would like to study. Our language school partners are situated all over Japan, not just Tokyo. Why not read up on where to study in Japan other than Tokyo?
If you are interested in studying in Tokyo, then one of your concerns might be how much it would cost to live there. Get a rough idea based on one of our part-timer's experiences in our article on the cost of student life in Tokyo.
As well as what school to choose, you'll also want to think about what accommodation you're going to live in. We sum up your options in our accommodation article.
And finally, one of the most common questions we get asked is: can I work while studying in Japan? And we get it! The student life is frugal and it's always nice to have some extra money. Plus, it's a great way to practise your Japanese and get some real-life work experience in Japan. Read our article about getting a part-time work permit for Japan.
Still got questions? Contact us and one our team will be happy to help. Don't forget to check the rest of our blog for more Japan and study-related content.