When it comes to studying in Japan, Tokyo is an obvious choice as the largest metropolitan area in Japan with many schools, but there are plenty of other options throughout the country. For example, some other popular destinations are Osaka, Kyoto, Fukuoka, and even Hokkaido!
You may be concerned that if you study in a region away from Tokyo you might learn only the regional dialect, but no worries! All the Japanese language schools teach their students hyoujungo (標準語), which is considered standard Japanese.
And since we're on that topic, studying Japanese in a language school is far from being the only option for people who want to study in Japan. Here are a few ways that you can learn.
Japanese language school
The classic, the tried-and-true way to start studying in Japan: going through a Japanese language school seems a bit obvious, but we couldn't possibly skip it! With literally hundreds of language schools to choose from, picking the right one is more difficult than one would think!
Go! Go! Nihon's specialty is helping students find the perfect language school for their situation, plan, and preferences. We know exactly how hard it can be, so don't hesitate to get in touch if you want some help.
When considering a language school, students should pay attention to a few things, namely:
the pace;
the teaching method;
the school's area of expertise (preparing for higher education, full-time employment, etc.);
the school's location.
We detail the process of applying for a language school, as well as the student visa, in a different article.
University E-track programs
Sounds a bit counter-intuitive to learn Japanese through a Japanese university's E-track program doesn't it? E-track stands for English track, and basically means that the undergraduate or graduate program core classes will be taught entirely in English.
How does this help you learn Japanese? As it turns out, in a few different ways! First, while Japanese language schools do allow you to learn Japanese faster, they are quite fast-paced, and don't provide you with official qualifications when you're done. This means that for students who don't have university qualifications but want to learn Japanese in Japan, an English program will allow them to obtain official qualifications AND learn Japanese on the side!
Another thing to consider is that while Japanese language schools have to teach you everything they can in two years only, university studies can last much longer, and therefore, while the Japanese studies are slower paced, this allows students more time to understand the various grammar points and vocabulary.
Higher education… in Japanese!
Plenty of students come to Japan every year with the intent to attend university or college in a specialized field like tourism, animation, design, or fashion. Most E-track programs tend to be related to language, international relations, business, and other related fields, and while that's all well and good, there are so many other opportunities out there! Japan has a unique culture to offer the rest of the world, and it's no surprise that so many students are drawn in and want to learn in an environment steeped in that culture. Japan holds many universities and vocational schools that can sponsor student visas for their students, but their requirements vary so it is important to do your research carefully.
Vocational schools tend to be most similar to trade schools, where they offer programs of two years usually, but some also offer four year programs. The fields taught in vocational schools tend to be related to more practical fields, such as animation, manga, design, personal training, etc. Like universities, their requirements vary, and students will need to pass their entrance exams, which usually include a written test, an essay, and an interview, all in Japanese. For this reason, students who wish to pursue higher education in Japanese should make sure to plan for sufficient time learning the language before it's time to take entrance exams.

Language exchange opportunities
Just because it's not an official context and the fee is minimal does not mean that language exchange events are invalid! On the contrary, language exchange events like international parties, meet-ups, and community clubs represent an ideal context to practice and learn Japanese in a natural, fun, and organic way.
Learning Japanese through books or a language school is wonderful — great, even — but the Japanese you learn is usually very formal, very proper, and as is often the case with languages, that's not really the way people speak in day-to-day or informal situations. It can be frustrating to spend hours learning Japanese through a certain context, only to realize that outside, people use a completely different way to communicate.
In Japan, Meetup.com is probably the most common way to find people with similar interests. You can find meetups to just hang out at a cafe, draw together, play D&D, go for a hike, visit a museum, and more! And if you can't find a group that matches your interests, you can always create your own!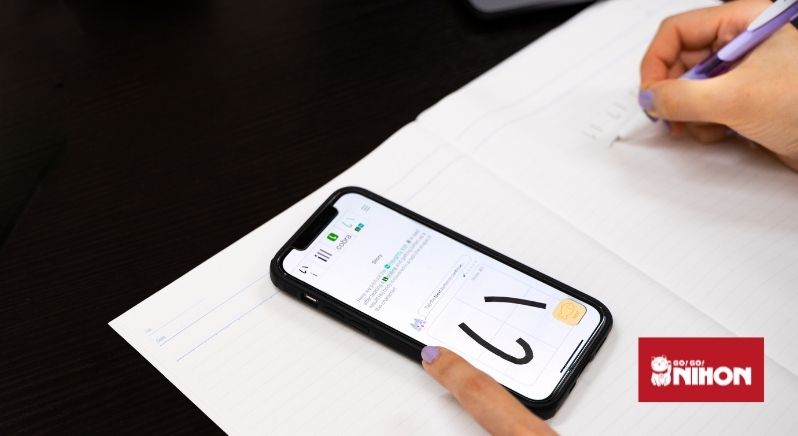 Mobile apps
Do you feel like you want to improve your Japanese, but the whole face-to-face thing puts you off? It can be quite intimidating to have a conversation in Japanese, where you have to remember the vocabulary, grammar points, get used to the person's way of speaking, trying to guess the meaning of new expressions, and oh did I mention actually paying attention to what the other person is saying? And then it's not over, you have to answer all of that as well, in a way that makes sense and carries the conversation forward.
If you prefer an experience which lets you take a step back, look up a kanji or two and take some time to come up with an answer, language exchange applications can be a great way to learn Japanese.
Complete beginners will want to start with something like Hiragana Quest, to learn hiragana and katakana. For those who are more advanced, HelloTalk can be a good way to be in contact with Japanese people seeking to practice their English and help others learn Japanese. The application comes with quite a few nifty tools to help you correct each other's sentences, showing the incorrect and the correct way to write something, and allowing you to record your voice for proper intonation as well!
Length of stay: short-term or long-term?
Most schools begin their sessions 4 times a year (January, April, July, October) and require all students to start their studies at the beginning of the term. A 3 months or less stay is a great opportunity for beginners as well as the more advanced to study the language. Students interested in learning Japanese in Japan for longer than 6 months are required to apply for a long-term student visa using a Certificate of Eligibility. The visa application process is very long and must be started well in advance, so for long-term study, students should apply for visa at least 6 months in advance. Go! Go! Nihon allows students to sign up for their preferred school up to one year in advance, which gives them a much better chance of getting a spot at the school they want.
There are also benefits with the student visa, students are legally allowed to work up to 28 hours a week. Furthermore, for around 1,500 yen a month, long-term students on student visas can benefit from the Japanese National Health Insurance to cover 70% of all medical expenses. Check the Japanese immigration information to see individual country qualifications.
What Go! Go! Nihon can do to help you start studying in Japan
Pick a school: Check out some great videos on our website of our partner schools! Our YouTube channel has even more information and playlists!
Application: We have a simple and straightforward web application template.
Accommodation: Check out our accommodation page for more information on your 
options!
Support in Japan: Reach out for us for anything once you're here as well, we'll do our 
best to help you during your stay.
Job: Check out our Jobs in Japan page on Facebook.
Contact us through our website if you are planning to learn Japanese in Japan.
If you like to read more about Japanese culture or life in Japan, make sure to follow our blog!