Although not so hidden anymore, Golden Gai is one of the gems of Tokyo set in amongst the skyscrapers and chaos.
While it's got its own brand of chaos, it's a bit more organised than it may seem. Hidden in the back streets of Shinjuku, it's certainly worth stumbling upon, this selection of tiny bars is a treat even if you're not a big drinker. Even just wandering through the meandering lanes and looking at the variety of old buildings is a treat in itself and something you wouldn't really expect in the modern Tokyo Metropolis.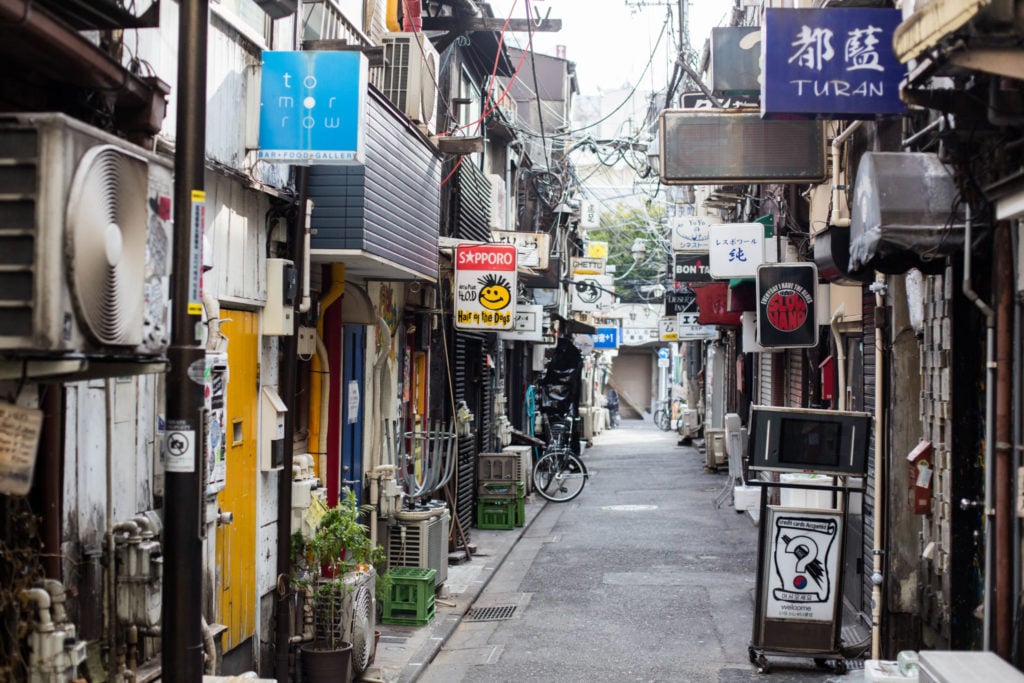 A brief history 
A hangover from the Showa period, Golden Gai (新宿ゴールデン街) was lucky that it never got bulldozed and a lot of that is probably down to the locals. Originally a haunt for prostitutes and the black market, over the years it developed into a haven for artists of every variety, and the character that this history brings to the area is still on full show.
Around the 1980's, when Tokyo was still going through its economic miracle and the Yakuza were supposedly setting fire to older areas to make way for new developments, the Golden Gai hung on. The businesses and local neighbourhood teamed up and guarded the district meaning these 6 tiny streets could continue to do their own unique thing.
You'll find a lot of the bars are already full when you make your way down there because they cater to a few special regulars. Normally this might be a bit annoying but personally, I think it adds a charm to the place and there are so many choices, you'll be able to find somewhere to get a drink in. If anything, with over 200 joints, you'll be spoilt for choice.

A wealth of variety
Each bar has its own charm and it's worth going a few times to get the full range of delights. From Halloween decor, it's fair share of karaoke places to jazz bars, there really is something for everyone but you may not know till you're already inside. Some places are also a bit more Gaijin friendly and even have prices lists in English, but it's always worth brushing up on the basics before you head down there.
Each of the bars sits around 5-30 although more often than not it's on the smaller side of things. This might be a bit cosy for some, but if you're studying Japanese in Japan, it's a surefire way to get some practice in with the locals. A drink or two will also help you get over the nerves too. Check out our article about Japan's drinking culture!
The best bars in Golden Gai
Albatross. One of the bigger bars in Golden Gai, seating around 30 people. There is a 500-yen cover charge but the decor is worth it alone. They also have a roof terrace for a different view of Tokyo.
Bitter Orange. On the smaller side compared to Albatross, it goes for the chic side of things. With beer, wine and cocktails you can chill out to 5 am. With a warm glow attracting the young and cool, it's a perfect spot for stylish students.
Kenzo's Bar. Although heavy on the leopard print, Kenzo's is one of the best for foreigners. Kenzo himself used to be an actor and fits right in with the artistically bent clientele of the area. He loves a good chat too, so it's the perfect place to drink the night away.
Enjoy yourself
Some might argue that it's getting a bit touristy and the seating charges attest to that somewhat, although this is a lot more common in Tokyo that it seems. Like any hotspot, pick your times and try not to go in tourist season and you'll get the full charm of the place. You never know, you might become one of the regulars with a seat waiting for you. And most importantly, don't forget to Kanpai!
For more information about life in Japan, keep following our Go! Go! Nihon blog.