The Japanese bento box is a big part of the wonderful complexities of Japanese food culture. It's an affordable and popular meal option for many in Japan that you should definitely try when you're visiting or moving to Japan.
So what's inside a Japanese bento box?
A bento (弁当), or obento, is more than just a lunch box in Japan – it's its own category of food that you can eat at any time of day. The first bento dates back to the 5th century when bamboo was used as boxes to contain food to carry out to the fields, for hunting or to the battlefield. The traditional lunch box has evolved over the centuries and today, you can enjoy a countless variety of bentos.
In Japan, traditional Japanese food is served individually on many small plates. You can see this system of small dishes inside a Japanese bento box as well. Each food type is organized neatly into the box, thoughtfully planned out so the foods do not mix, oftentimes using small separators or cups. This is very helpful in transporting the bento boxes.
Traditionally, bento boxes are room temperature or stored cold, but it can also be heated. The portions are bite-sized, and conveniently eaten easily using chopsticks.
You can find prepared bento boxes almost anywhere in Japan, in supermarkets, convenience stores and specialty bento shops. Some restaurants also offer bentos for takeout. Ekiben (駅弁), sold at train stations, are popular when traveling by train.
If you want to get creative, try Kyaraben (キャラ弁), where cute characters are recreated with food.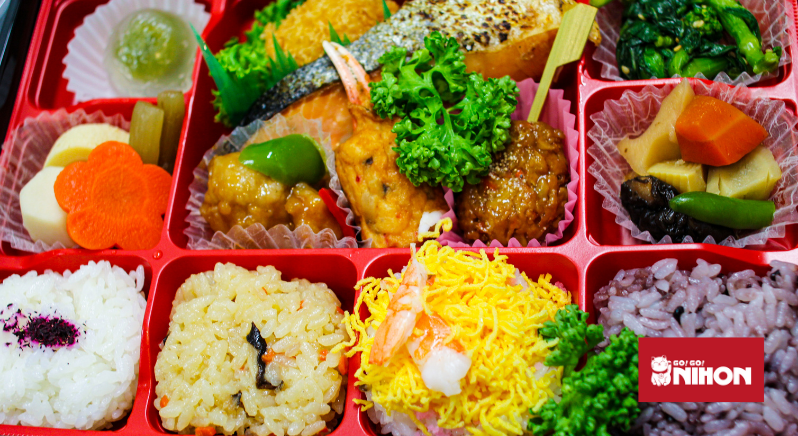 Popular bento ingredients
Bento boxes can be filled with anything, but the main ingredient is usually rice, the staple of Japanese cuisine. Otherwise, you're pretty free to put whatever you want in it, as long as you pay attention to balance.
Popular items inside a Japanese bento box include:
Fish or meat (usually in the form of meatballs, karaage, katsu, sausages, etc.)
Pickled or precooked vegetables (Salad, broccoli, carrots, bean sprouts, edamame, mini tomatos, etc.)
Tamagoyaki (Japanese omelett)
Potato or pasta salad
Sometimes fruit (in a little box or small bowl)
Japanese supermarkets sell a number of useful foods for packing in bento boxes such as frozen mini-meatballs, potstickers and pre-portioned vegetables.

How to make the perfect bento box
What do you need to make your own bento box?
First, you'll need a bento box to pack everything in. Japan boasts such a wide variety of choices with different sizes, shapes and materials. There's also a variety of design to fit any taste, ranging from beautiful traditional Japanese designs, anime characters, modern simplicity and more. You'll find plenty of choices that may make it hard to choose – the bento box industry in Japan is huge.
You can also choose portable cutlery to include chopsticks or a fork and spoon set. You could find matching ones with your bento box or choose a completely different set to go along with your bento box. The portable cutlery comes with a small box to transport them in.
To carry your bento, you also need a bento bag to carry it in. There is a number of choices for these as well, most of them made with fabric. Some are insulated, or have pockets for an ice pack to keep it fresh, especially in the warm months.
There's an array of accessories you can use in your bento boxes for functionality and beautification. There are colorful small bowls and skewers, some shaped as animals or fruits and other cute shapes. With molds you can shape boiled eggs, vegetables and sandwiches to small animals, flowers, stars and countless shapes. You can find a lot of useful and cute bento products in the kitchen department of 100 yen stores, supermarkets and department stores.
What about you? What would you put inside a Japanese bento box?
Leave us a comment if you have made a nice and delicious bento yourself, and keep following our Go! Go! Nihon blog for useful information about life in Japan.