Japan is world-famous for its quality powder snow and exceptional ski experiences. One of the best areas you can visit is Hakuba 白馬村, located in Nagano, which has several ski resorts in the Japanese alps. 
Hakuba has a good range of ski resorts for all skill levels, breathtaking scenery, a range of good value accommodation and easily accessible from major Japanese cities. The Go To Travel Campaign, which was suspended at the end of 2020 to help curb coronavirus cases, included packages to Hakuba to help visitors experience the snow for less. If that campaign resumes, then it may be possible to take advantage of some great travel deals to Hakuba.
Read more about why you should choose Hakuba ski resorts for your next snow adventure.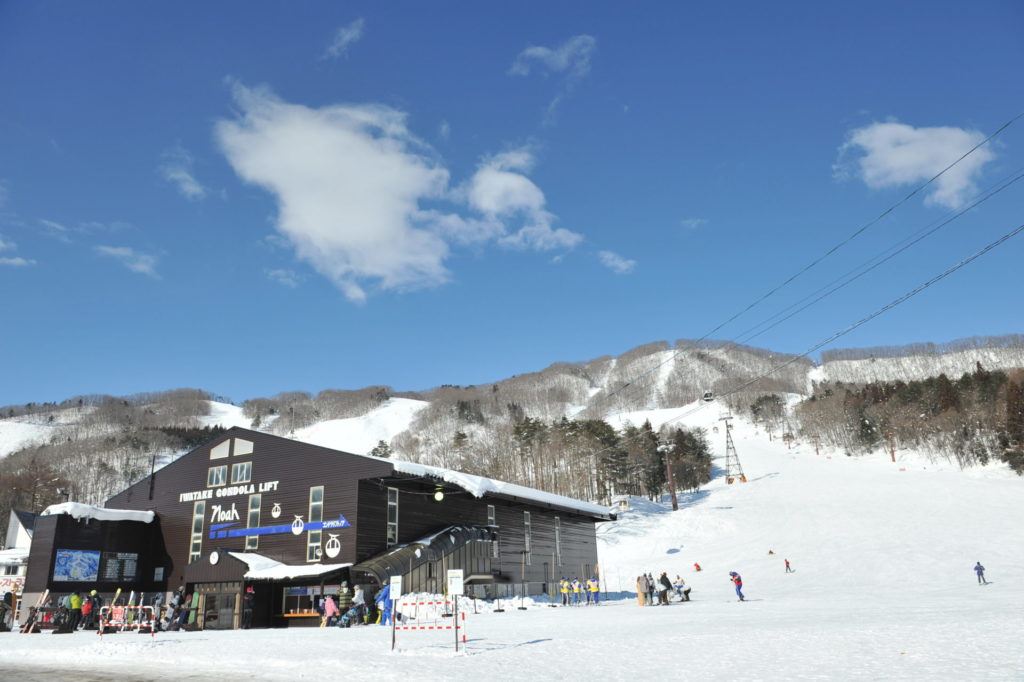 Hakuba Village Tourism Bureau
About Hakuba ski resorts
Hakuba is a collection of 10 ski resorts, which are included in a common ski lift ticket and accessible via shuttle bus. 
These are some of the most popular ones:
Sanosaka – a small resort that hasn't been as exposed to international guests as some of the other resorts. You won't have to battle the crowds to enjoy the ski area and there are incredible views.
Goryu – a large ski resort with options for all experience levels, particularly beginners and intermediate skiers and snowboarders. It features beautiful views of the Northern Alps and is very family-friendly. It's fairly westernised so it's an easy resort to visit for English speakers and there are also English ski and snowboard lessons.
Hakuba47 Winter Sports Park – known as "yon-nana" (four seven), this resort is known for its superior snow quality and great terrain. The slopes are steep, so this resort is a great one for those who are more experienced. Like many of the other resorts, this one offers amazing views of the mountain ranges.
Happo-One – pronounced "O-ne" (not "one" like the number in English), this is one of Japan's best and most famous resorts. Because of this popularity, you're sure to bump into crowds, but you get better facilities and services that are English-friendly, plus more choice when it comes to restaurants and bars. There is an experience for everyone, from beginners to those who prefer steep alpine terrain. 
Iwatake – this ski resort is great for intermediate level skiers and snowboarders, as well as some harder beginner runs. From the top of Mt Iwatake, you get a 360 degree view across Hakuba Valley and the Japanese Alps, so if views are your thing then don't miss this resort. There are English ski lessons available.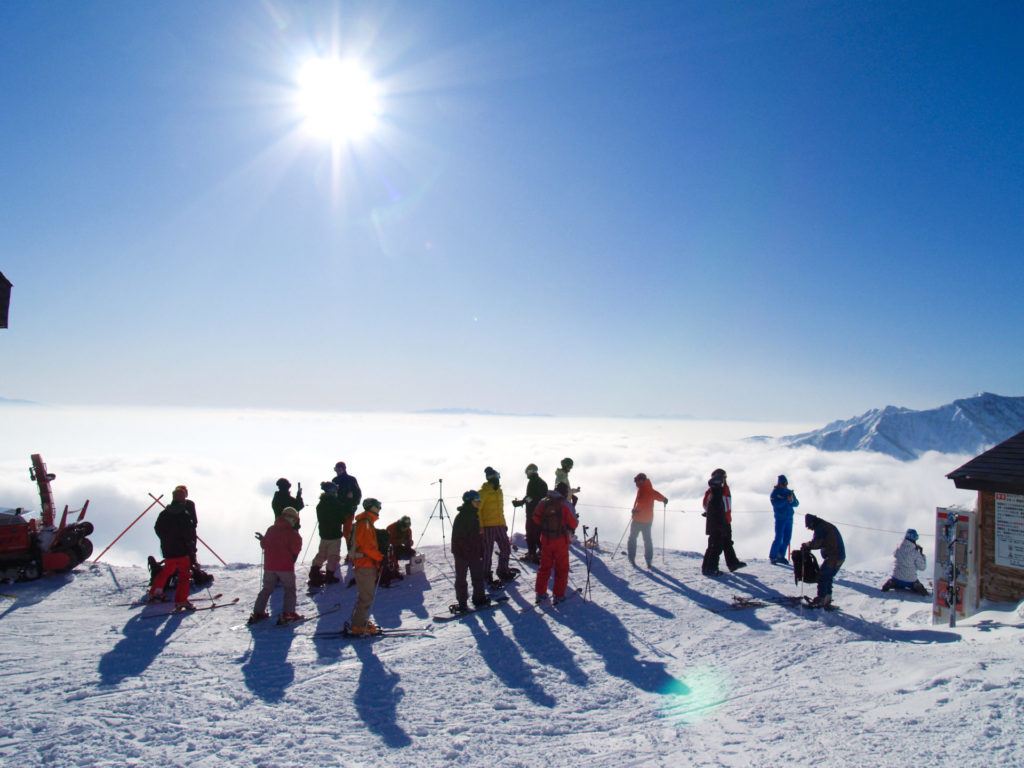 Hakuba Village Tourism Bureau
Activities at Hakuba
Snow sports 
It goes without saying that the top activity at Hakuba is snow sports. Total beginners can find their feet at one of a handful of English-language skiing and snowboarding classes. Meanwhile, those who are more experienced can try out the steeper slopes and even go on a backcountry tour. 
If you want a change from skiing or snowboarding, why not try snowshoe walking or snow rafting? Get away from the crowds and take in the snowy wonderland around you on a guided walk. Or glide along the snow in an inflatable raft while being pulled along by a snowmobile.
Nagano 長野
This is the capital city of Nagano prefecture, where Hakuba is located, and it's about an hour away by bus from Hakuba. It became famous after hosting the 1998 Winter Olympics, the remnants of which can still be seen and visited around the city. 
Nagano grew from a temple town that was built around Zenkōji Temple 善光寺, which was established in 642. 
For more information about what to do in Nagano, read our article (need to link to after it's published).
Onsen
Winter in Japan wouldn't be complete without a visit to an onsen. It's particularly relaxing after a day of skiing or snowboarding! You'll find plenty of options within Hakuba itself and which ones you visit will depend on what experience you want.
For example, inside the Hakuba Highland Hotel, you'll find Tenjin no Yu. The water comes from the Himekawa River near the hotel, but the real attraction here is the spellbinding view of the Northern alps from the outdoor bath. 
Located at the base of Hakuba Happo One ski resort (one of the most famous ones in Japan), is the Hakuba Happo Onsen. It's very popular amongst locals for its supposed healing properties. The water here is clear and alkaline, making it very soothing to relax in.
Don't forget to read up on onsen etiquette if you're unfamiliar with visiting onsen in Japan!
About the Go To Travel campaign
The Go To Travel campaign in Japan is a government initiative to try and boost domestic travel and support local businesses. The campaign was developed to support the local tourism sector as many businesses are struggling due to COVID-19 restrictions.
With this campaign, residents of Japan – including foreigners – can get 50% off on transport, accommodation, attractions and shopping. There is a set limit on how much can be subsidised:
The maximum spend for day trips is 10,000 yen per day

For longer trips the maximum spend is 20,000 yen per night
Of the discount, you receive a 35% discount for hotels (and transport if it is covered as part of a package) plus 15% in vouchers that you can use in campaign affiliated stores and restaurants. Vendors that are part of the campaign will display stickers so you know where to go to spend your vouchers.
The Go To Travel campaign started in July 2020, but was suspended as the coronavirus worsened across the country. There have been talks of resuming the campaign and a trial run has started from October 2021. It remains unclear when the campaign can restart.
How to get to Hakuba
Hakuba ski resorts are exceptionally accessible from other parts of the country. 
From Tokyo: There are buses and trains that depart from Tokyo and head to Nagano. From Nagano you can catch a taxi, bus, shuttle or train to Hakuba. There is also a highway bus directly from Tokyo (from Shinjuku bus terminal) to Hakuba. 
From Osaka/Kyoto: You can take the bullet train to Nagoya and transfer to a limited express bound for Nagano. Transfer again at Matsumoto for trains bound for Hakuba. 
For the most accurate information on how to get to Hakuba from wherever you are in Japan, use Hyperdia or talk to your travel agent.
Book your trip to Hakuba ski resorts
To book your perfect trip to Hakuba the following travel agencies can help you. All you need to do is contact them for more information:
Ski Japan Holidays: https://www.japanspecialists.com/about
JHN Travel: https://www.japanspecialists.com/about