The 100 yen shop in Japan is the stuff of legends and yes, it lives up to its name.
Japan is often mistaken for an expensive country and while in some respects it is, in many others it's not. When moving into your new home in Japan and whenever you need something useful and cheap, the 100 yen shop is where you should be heading.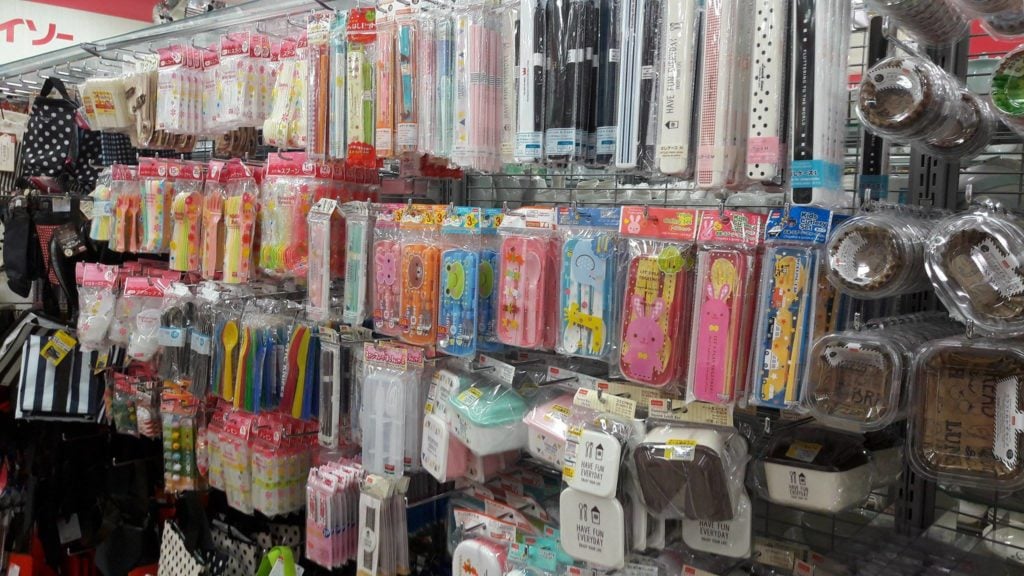 Just what is it?
Well, as the name suggests, it's a store where most items are 100 yen. Similar to the pound stores or dollar stores that you may be more familiar with, there are a range of useful items for 100 yen. From stationary to kitchen utensils and everything in between, it's the perfect place to kit out your new home in Japan without breaking the bank.
It's also a great place to get some cheap, uniquely Japanese items that make perfect souvenirs for your friends and family back home.
As you may already know, in Japan cash is king and many places may not take cards. 100 yen shops are one of those places because of the very low prices. It's not hard to spend a few 1000 yen when buying essentials (and almost certainly many non-essentials) so make sure you've plenty on you before you raid your local store.
Where are they?
Everywhere! Especially in the cities around Japan, there are several stores to enjoy. Many are chains and one of the most famous is Daiso. It tends to lean more towards kitchen and cleaning products but they're often large shops with several departments and as such a good one to start with when stocking your new home.
Next on the list is Can Do. Again, it stocks a range of items, but is particularly good for stationary, making it ideal to get all your school supplies before each new term. There are plenty of the kawaii designs you would hope for in Japan, and popular Shiba Inu related ones (our personal favourite).
Of the big chains, the last one is Seria. This offers all the essentials you could need and more. Seria is a great choice if you want to add a bit more personality to your home as they offer more decorative items such as cushions and curtains, as well as everything else. They also offer a range of styles too whether you like something a bit fancier or a more classic style, you can still do it on the cheap.
Not quite a standard 100 yen shop compared to the others, but none the less still worth a mention, is Lawson 100. You may already be familiar with the konbini, Lawson. Well, this is the 100 yen version, offering most of the standard stock of a conventional konbini but at the 100 yen price tag.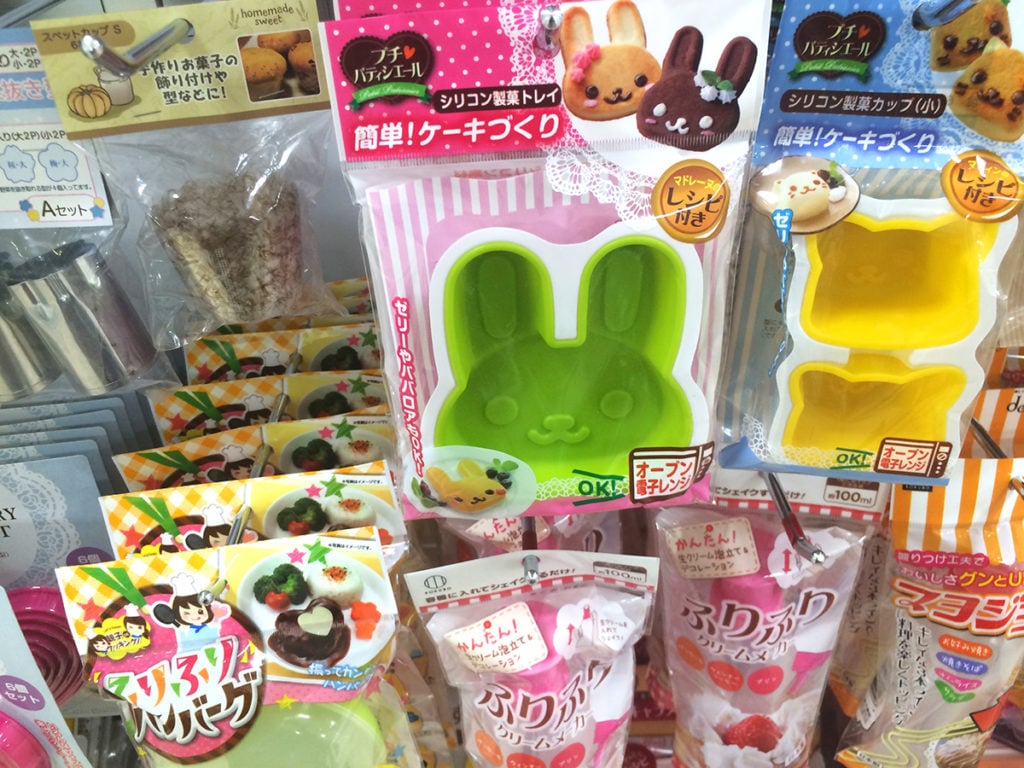 What to buy?
You'll be spoilt for choice, whichever 100 yen shop you decide to visit. We've got a list of favourites to help you navigate your way through so you don't miss out on some awesome essentials.
Banana holder – Fruit is expensive in Japan so you want to make sure yours is protected. The banana keeper is a hard plastic case with air holes that holds a single banana and stops it from getting squashed and bruised when you're out an about.
Onigiri moulds and boxes – Have you ever seen all those adorable and delicious looking bento lunches on instagram with onigiri shaped like pandas and rabbits? Well, now you can make them too.
Nori cutter – It goes hand in hand with the onigiri moulds. The nori cutters help you cut out the wide eyes and smiling faces to go on your panda.
Sheet masks – A popular item around the world at the moment, but did you know you can get different designs? Whether you fancy being a Geisha, a sumo wrestler or in a kabuki production as you relax and unwind, there are plenty of Japanese themed ones. Alternatively, maybe you fancy being one of the popular mascots such as Hello Kitty or Gudetama.
Pet accessories – As with all pet owners, we're sure you'll want to spoil yours rotten, or maybe you've got a loved one back home and want to let them know how much you miss them. How about a hood for when they're out prowling, all cats need a hood right?
So some of these might be a bit unusual but trust us, you need them. Alongside these there are a lot of very useful kitchen gadgets, such as egg timers, moulds and fruit cutters. As we mentioned before, they're also great for souvenirs that you might want to get. Ranging from the traditional; chopsticks, fans, bowls, and mascot themed treats, to some that you may not have thought of such as furoshiki (clothes for decorative wrapping), tenugui (light cotton towels), maneki neko, and furin (wind chimes).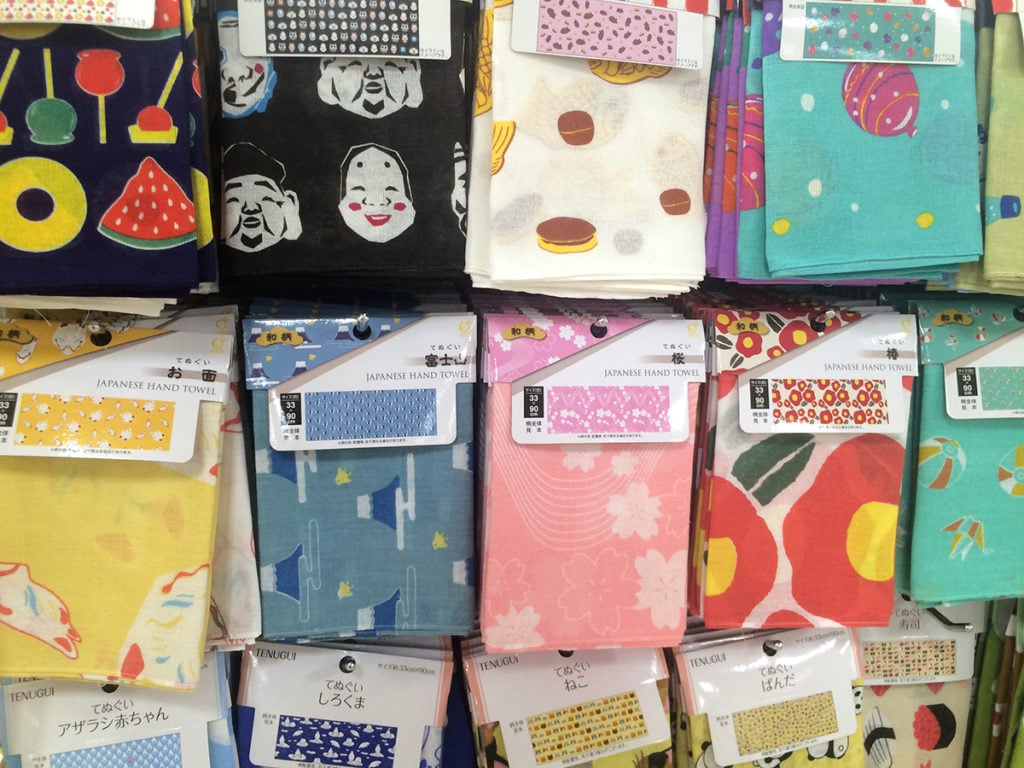 Want to spend a bit extra?
There are a lot of items on offer in all 100 yen shops, but sometimes you may want some bigger household items or slightly higher quality. Well, there's no need to worry as 300 yen shops also exist. The concept is the same but this time most items are 300 yen.
There are a couple of popular ones to look out for. Firstly, there's 3Coins. A great choice for fashion accessories so your personal style can match that of your home, your purchases will likely be a good complement to your items from Seria.
Secondly, there's CouCou, specializing in the Kawaii and drawing on influences from northern Europe. Its style is grown-up and twee, so think lots of pink and flowers.
Whatever your interior design preferences you'll be able to find everything you need from the practical to the kawaii to help you settle into your new life in Japan without spending all your money in the first week. Why not explore them all and treat yourself to that new bento box you've been wanting for ages.
For more tips about life in Japan, keep following our Go! Go! Nihon blog.