This article is no longer updated. As of October 11, 2022, Japan has fully reopened its borders. For the latest information, read our article on entry requirements for students, or check the website of the Ministry of Foreign Affairs.
Article first published on March 3, 2020 updated on April 7, 2020.
We know you're probably wondering about the coronavirus (COVID-19) situation in Japan, so we wanted to give you the latest update from inside the country.
While the Japanese government has not declared a state of emergency in Japan, the number of new infections continues to rise every day. The government has asked people to help stop the spread by staying indoors, working from home where possible and not visiting bars, restaurants and nightclubs.
Our Tokyo office of 40 staff members is currently working from home.
As of April 1, the total number of people in Japan confirmed with the virus is 3205, including those from the Diamond Princess cruise ship.
Worldwide statistics
As of April 5, the total number of cases worldwide is 1.3 million.
Japan's response to Coronavirus
The Japanese government has imposed bans and visa suspensions on a number of countries. Please see our article on immigration information for more.
Public parks and theme parks are temporarily closed. Popular parks for cherry blossom viewing have been cordoned off.
All public junior high and high schools in Tokyo will be closed until May 6.
The government also announced that it would distribute cloth face masks to about 50 million households in Japan due to stocks of disposable masks running out.
Partner language school precautions
All our partner schools have, and are continuing to put in place, measures and precautions in light of the coronavirus situation in Japan.
In general, students' attendance rates will not be affected even if they cannot make it in time for the start of their term. Schools will also provide compensation classes or materials to students and may also offer online lessons during this period.
For more details on your specific school's plans and policies, please contact us directly.

Daily personal precautions 
The World Health Organisation's daily precautions for avoiding infection have not changed and include:
Social distancing of at least one metre
Washing your hands regularly with soap and water for at least 20 seconds
Using an alcohol-based hand sanitiser that contains at least 60% alcohol, if soap and water are not available
Avoiding touching your eyes, nose, and mouth with unwashed hands
Avoiding contact with people who are sick
We recommend everyone to incorporate these precautions into their daily lives, wherever they are based.
Many countries are also imposing lockdown and self-isolation requirements. We urge you to follow your government's orders to keep safe and help keep infection numbers at a manageable level.
Student Visa timings
The Ministry of Justice has stated that instead of the usual three months you have to convert your Certificate of Eligibility to a visa, you will now have six months.
This will allow you to either start the April term later or move to the next term if there is space with your chosen school.  In order to get this extension you just need to get a letter from your school to take to your local embassy/consulate.
For example for a COE that originally had an expiration date of the 20th of May, this date can be extended until the 20th of August.
For example for a COE that originally had an expiration date of the 20th of May, this date can be extended until the 20th of August.
If you have already converted your visa, you are entitled to request an additional three months on your COE and request a new visa even if your visa entry date has expired. Again all you need to do is get a letter from your school to take to your local embassy/consulate.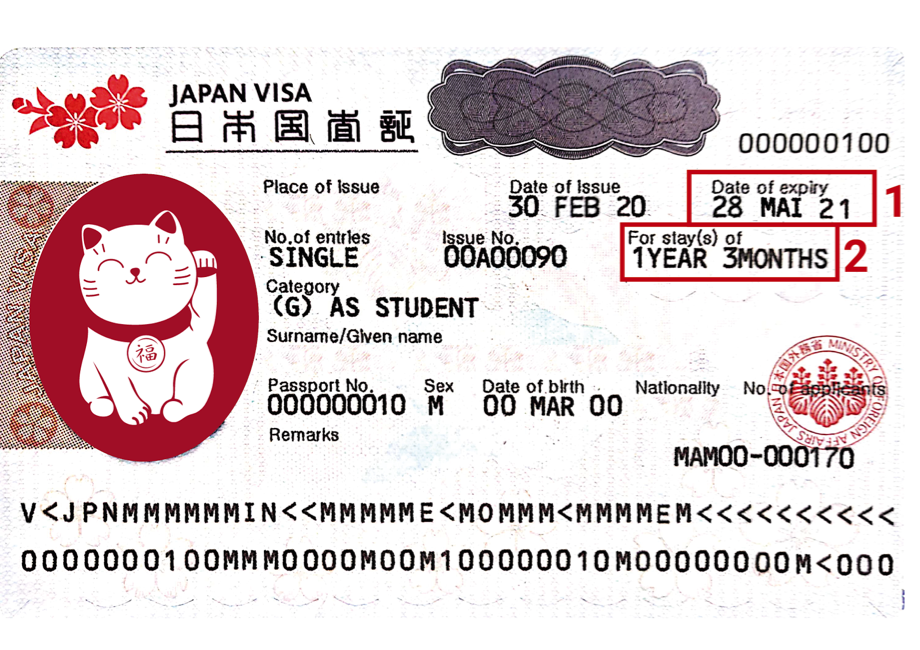 For all visas: your last date to enter Japan is based on the timeframe of your COE, not your visa date of expiry that is on your student visa sticker in your passport (listed as number 1 above), or related to your For stays(s) time, (listed as 2 above).
If students would like to arrive after the extended COE date, students will need to reapply to get a brand new COE. Extra steps are being taken to ensure reapplication will be as easier than it normally would be, however, the full details of all the steps and measures are still being finalised.
For more information on this, please contact us.
Health insurance 
Tests for the new coronavirus will be covered under the national health insurance system from now on, the health ministry said, as Japan steps up efforts to stem the spread of the pneumonia-causing virus.
If you contract the coronavirus while you're a student in Japan, your healthcare is already partially covered under Japan's National Health Insurance, which is mandatory for all visa holders in Japan.  Japan's National Health insurance covers 70% of medical expenses. Some schools cover the remaining 30% (within their school fee).
Keeping updated
We hope with this information you now feel more informed about the realities of the current situation.
To keep updated on the latest news about the coronavirus we recommend checking credible news sources such as the World Health Organisation, which you can find here. For official information about the situation in Japan, we recommend you checking the Japan travel website.
Meanwhile, if you have any questions or concerns about the ongoing coronavirus situation and how this affects learning Japanese in Japan, please don't hesitate to contact us.