The 2020 Tokyo Olympics will have a big impact on Japan and technology will almost certainly play a huge role in how it copes with this. With a lot of new visitors from all over the world, it's going to need to adapt to cope a bit better with this influx. For a nation that is known around the world for being high tech, it's actually pretty low tech with cash still the main form of payment for things (including rent sometimes) and things are still done by fax (yes, we know), it's probably going to need to up its game more than you think. We're going to explore some of the innovation at the Tokyo Olympics, how it's using technology to prepare and we'll consider a few things that may or may not happen with tech.
Sustainability and tech
Sustainability is a big word and Japan as a whole are trying to make use of technology as part of the process towards becoming a sustainable country.
For example, all the medals for the games are being made out of recycled metals. Given the cost of these materials and the prevalence of usage in existing tech, it seems like an obvious choice to recycle what they can out of old tech. There have been initiatives to do this sort of thing at past Olympics but the Tokyo initiative is unique in involving the public throughout the process. They're on track to reach their goals too, and will end the scheme at the end of March 2019. Leaving plenty of time to turn those materials into medals. For full information on this particular project see the Olympic site here.
It's not just the medals that are taking a sustainable turn. There are aims to power buses and even jets with algae. You may have read about this before as it's been something in the works across the globe for some time. However, the Japanese government and researchers are looking to use the Olympics in 2020 to push forward the development of this technology. This algae biofuel could cut emissions by up to 70% in theory. There have been test flights with the fuel on Japanese airlines as far back as 2009 and things have come a long way since then. The plan is to have the first commercial biofuel flights for Tokyo 2020 before wider commercial rollout following the Olympics.

Language!
Clearly a big one for us! Given the variety of different nationalities attending and the notoriety of Japan having its signs mostly available only in Japanese, this is going to be one of the biggest tests.
As some of you may already know, it's sensible to learn a few key phrases before you head out to Japan but it can take a lot longer before you can navigate the street signs and eat out in places that aren't chains with English menus. So this is a big step up for companies in Japan to make the city more accessible and tech is going to be one of the easier ways to do it.
There are several real-time translation apps available and development on these has meant they've improved significantly for actual use when trying to navigate the city. What's more, some Japanese companies such as Panasonic have been developing a wearable device that translates for you.
Don't get too comfortable though, you should still be studying hard!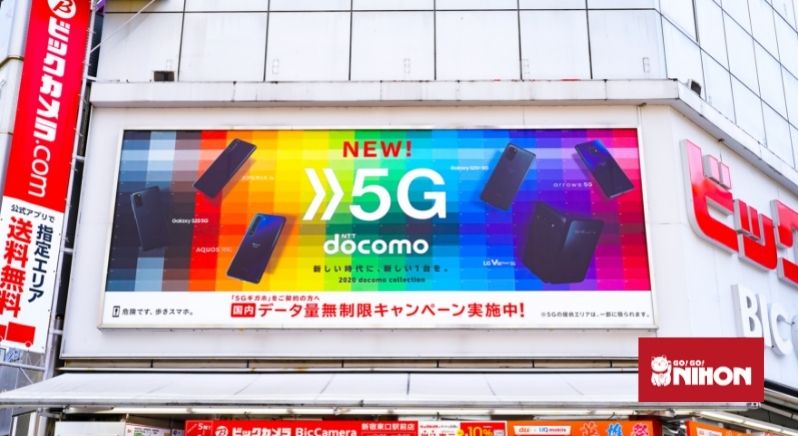 Staying connected
To make sure that you can access those language apps you'll probably need a decent internet connection. Well, the Tokyo government are on it. They're working with Intel and DoCoMo amongst others to cover the city with a 5G network. There was a lot of talk around this about a year ago and things have been a little quieter lately, but it's our understanding that it's still happening.
There have already been various tests across all the companies involved and with the success of 5G at the recent PyeongChang Winter Olympics in Korea, it's still looking on track. There are also a large proportion of operators rolling out 5G services by 2020 specifically for the Olympics.
With data transmission of over 2Gbps, you won't need to worry if you haven't got tickets, you can just stream the live feed with no problems.
If you're not sure about how to get connected in Japan for the Olympics we'll guide you through.

Robots!
So I may have done Japan a disservice earlier suggesting that it's not as high tech as you might hope. While this is true in some instances, they did bring us Pepper, your friendly neighbourhood robot. For the Olympics, Tokyo is bringing together a whole village of robots. Based at the actual Olympic village, they'll be there to help and support athletes and tourists around the sites and some may even help you with your bags. There's not much more to say about this as it's pretty much what you'd expect, lots of helpful Japanese robots!
Don't forget the drones
They seem to be everywhere at the moment and we expect they'll play a role in innovation at the Olympics. Covering everything from security to filming, they could potentially have got a big job in 2020.
Firstly, when linked into this new 5g network, they'll be transmitting footage of the games in 8k real-time video. Okay, so this isn't certain but there's certainly a big scope to have some exciting footage from the Tokyo 2020 games. Two big Japanese companies have been investing a lot in their R&D when it comes to the potential of drones, broadcasting and VR opportunities so it will be interesting to see what DoCoMo and NHK do in the next year.
Secondly, security is obviously a major issue at a large global event such as this. Drones will have the potential to add an extra layer of security surveillance to the large network of individuals on the ground.
With many technological changes being made for Tokyo 2020, Japan is evolving. This new tech should make it more accessible and more sustainable, hopefully bringing it back to being one of the technological leaders of the world. Whatever happens, you'll hopefully be better connected and have your own robot (don't hold us to that).
For more information about Japan keep following our Go! Go! Nihon blog.