UPDATE March 2022: Please note that due to the constantly changing nature of the pandemic response, this article is now no longer being updated. Since 1 March 2022, Japan has reopened its borders to all new foreign arrivals except for tourists. This includes international students. Read our article here for information or for the most up-to-date news, please check with your local Japanese embassy. 
As of August 2020, the Japanese government continues to enforce an entry ban on foreigners who travel from more than 140 countries to Japan due to COVID-19.
However, it is lifting the re-entry ban on foreign residents from the start of September, meaning permanent residents, business people, students and their families can leave and return to Japan. This is conditional upon them taking a PCR test within 72 hours of their departure for Japan and a two-week self-isolation period.
For the latest information about the travel ban and re-entry, please check the Ministry of Foreign Affairs Japan website and the Japan National Tourism Organisation website.
You might be planning to enter Japan after the ban is lifted. So what can you expect at the airport if you travel to Japan during the COVID-19 pandemic?
Note: the following information is based on one resident's experience at Haneda Airport during August 2020. He was able to re-enter due to an exemption on humanitarian grounds. The process may be different at other airports and/or change in the future.
Required paperwork
The following is a list of the paperwork handed to passengers before arriving at border security at Haneda Airport.
A questionnaire about where you have come from, your flight information and your contact information. You must also supply a phone number. If you do not have a Japanese number, then your international one is acceptable as long as you can be reached on it.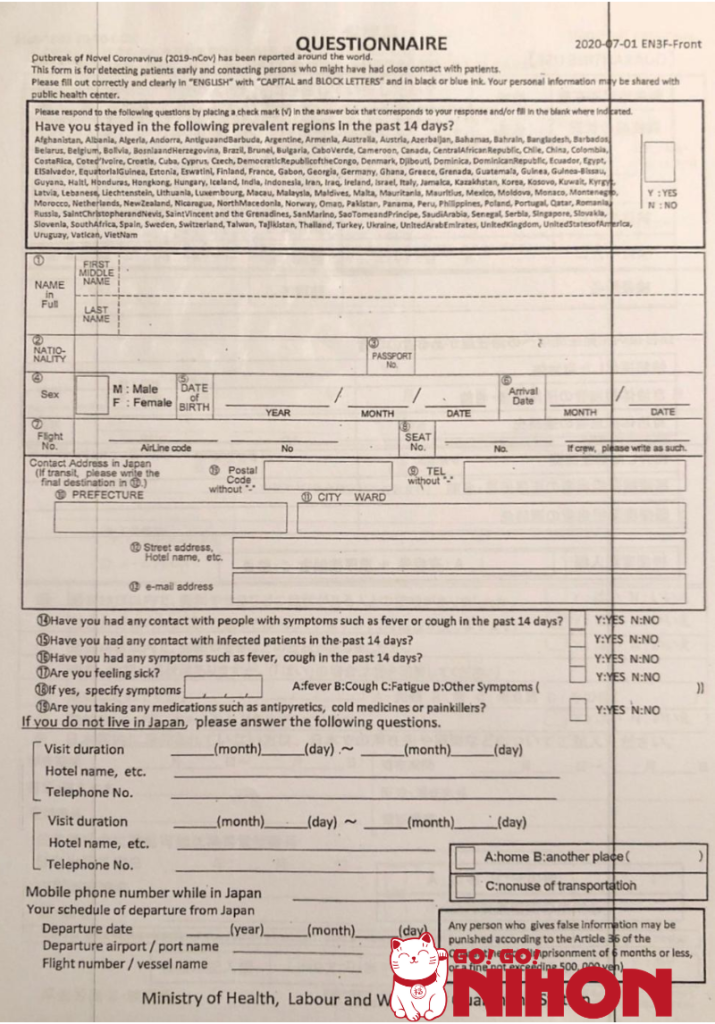 A form you fill in with the address you will be quarantining at.
A declaration form that you have to fill in and sign confirming that you will not use public transport and that you are not lying on your form.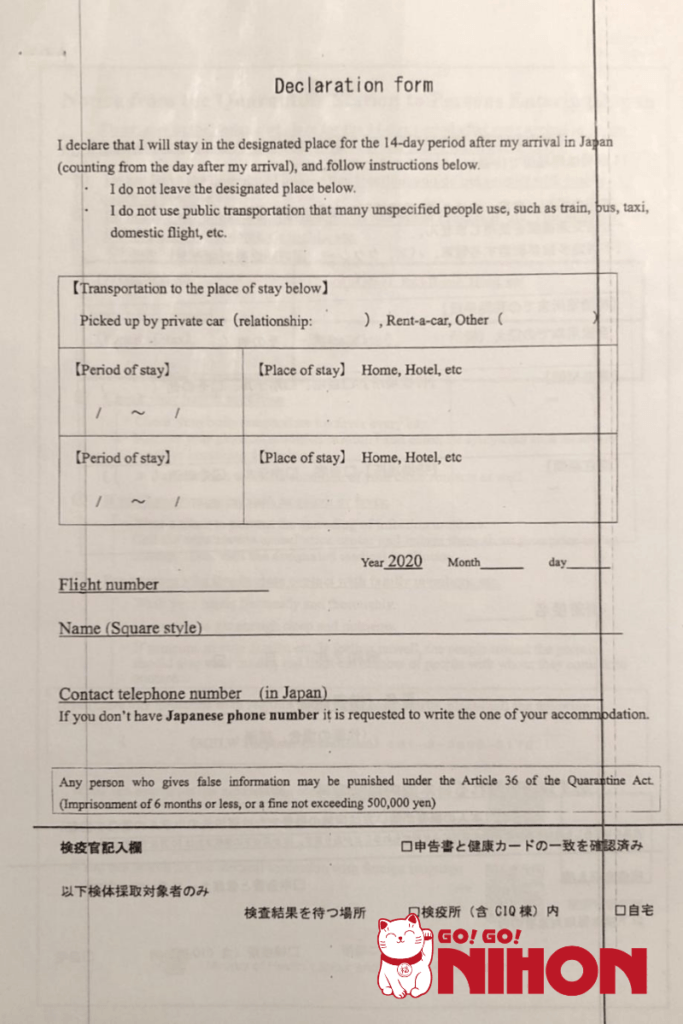 A piece of pink paper that says you have stayed in a country that has the coronavirus. If you're arriving from a country that doesn't have the virus, then your paper will be blue.
Notices from the Ministry of Health requesting you add them on the Line app (or they will add you on Line to contact you). They will send you a message on Line to make sure the phone number you gave them is the one you're using.
Testing
After providing the paperwork, you will be asked to do a saliva test and you may also be randomly selected for a PCR test. The results of this test can take a couple of hours to process. In the meantime, you will be guided to an area to wait for your results.
If your test comes back negative, you'll move on to the usual immigration procedures. If you test positive, you will be sent to the nearest hospital facility. Saliva tests were put in place at both Haneda and Narita Airports at the end of July.
Transportation from the airport
Since you cannot use public transport, you'll need to arrange private transport from the airport. You can hire a car if you have a Japanese license or an International Drivers Permit. Or you can organise a private driver ahead of time.
14-day quarantine
Everyone arriving into Japan from overseas must complete a 14-day quarantine at the address on the form you filled in. You are advised to stay indoors during that time and minimise your contact with other people. You should only be going outside when essential, such as going grocery shopping. When you do go outside, you should maintain a safe distance of around 2 metres from others.
You must also not use any public transport and you're advised to practise all the usual hygiene measures such as wearing a mask, using disinfectant, washing your hands thoroughly and monitoring your health.
Once your quarantine period has ended and you do not have any symptoms, you can return to a normal routine. If you do have symptoms and think you might have contracted COVID-19, you need to call your nearest public health centre and follow their guidelines for the next steps. If you are concerned about your health, or unsure about the situation or what to do, please don't hesitate to reach out to us. We will do what we can to help.
Again, this was only one person's experience at one airport during August 2020, but we hope it gives you some insight into what it's like to travel to Japan during a time of COVID-19. If you have any questions or concerns, please don't hesitate to contact us.