Summer might be known as one of the worst seasons to go to Japan. It's suffocating humidity and lack of iconic attractions (think: blooming cherry blossoms in spring or colourful foliage in autumn) may make you think it's the least interesting time of year to visit. But nothing is further from the truth. Summer in Japan, and especially summer in Tokyo, is one of the best times to come to the Land of the Rising Sun, thanks to its countless outdoor activities and its lively atmosphere.
Let's find out what the best things are to do in Tokyo over summer.
Attend summer festivals
Summer is the season of traditional festivals, called matsuri (祭り) in Japanese. Festival season starts in July, with a lot of events held across the country. Tokyo gets the lion's share, with loads of events and festivals happening every weekend from Tanabata 七夕 in Jul to the annual Kōenji Awa Odori 高円寺阿波おどり. The Awa Odori attracts more than 1 million visitors each year and is one of the biggest events over the summer months.
At these festivals you'll also get to try lots of Japanese street food. Countless yatai 屋台, or traditional food stalls, serve and sell many delicacies like takoyaki たこ焼き  (fried battered balls filled with little pieces of octopus, ginger and onion), yakisoba 焼きそば (fried noodles with pork, cabbage and other toppings) or the cute taiyaki たい焼き (a fish-shaped cake filled with custard cream, red bean paste or chocolate). Yatai also sell cold drinks and kakigōri かき氷 (shaved ice that comes in many different flavours.
Matsuri are the perfect occasion to enjoy summer in Tokyo, while learning about Japan's traditions and customs.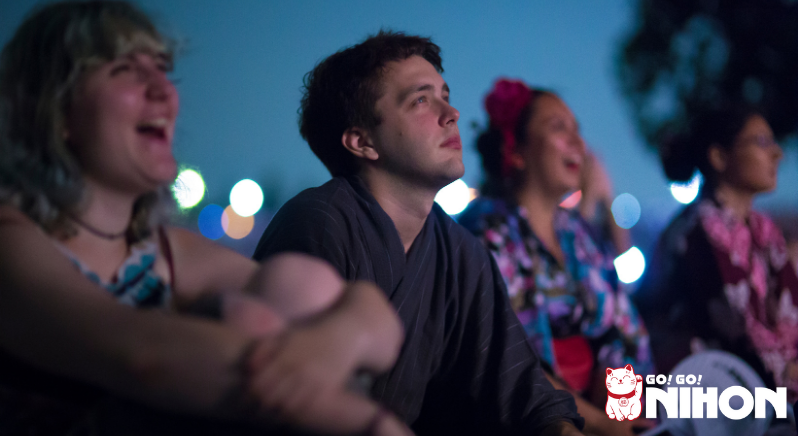 Watch fireworks shows
Fireworks in Japan are a big deal and summer is filled with colourful, loud and pyrotechnical fireworks festivals.
Compared to fireworks shows in other countries, Japan's ones are very impressive. They usually last for at least 1 hour, with over 10,000 fireworks being set off on average.
Called hanabi taikai 花火大会, these festivals are some of the most popular summer events in Japan. Thousands of people gather together to watch the show, often wearing traditional garments.
If you spend your summer in Tokyo you will have the chance to attend some of the most impressive hanabi taikai in the world, like the Sumida River Fireworks Festival. This event boasts more than 22,000 fireworks, with an attendance of around 1,000,000 people! There is fierce competition to get good observation spots around the Sumida River. More often than not, people show up hours in advance to take the best spots for them and their friends.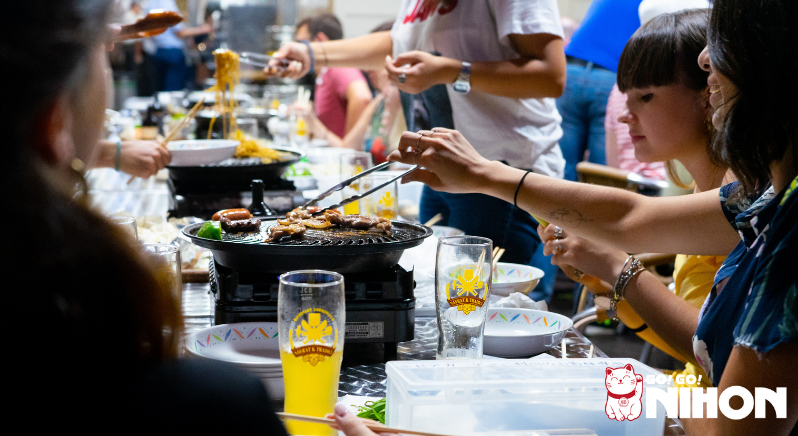 Drink and dine at a beer garden
Originally a German concept, beer gardens are a pretty popular event in Japan as well.
The basic definition of a beer garden is an outdoor area where food, usually Japanese BBQ style, is served with beer. Unfortunately, especially in a crowded megalopolis like Tokyo and Osaka, the "garden" part is not always present. Many beer gardens are in fact located on the roof of hotels and department stores.
Going to a beer garden in summer is a must do activity. Great atmosphere, tasty food, all-you-can-drink…what else do you need? They are also some of the best places to meet locals and make new friends. The shared tables make it easy to start a conversation with your neighbours and the fun and relaxed environment are key to having a great night with old and new friends!
Your summer in Tokyo
These are just a few examples of the the best things you can do in Tokyo. Visiting the city during summer will allow you to experience a truly festive and vibrant part of Japan.
All of the above and many more exciting activities are included in our Summer Course in Tokyo Study Trip! You'll be able to immerse yourself in the local language, mingling with like-minded travellers and experiencing a fun-filled, amazing adventure!