Tokyo is known to have some of the highest living costs in the world and the cost to live in Tokyo as a student might seem impossibly expensive. But, it is actually totally possible to live in Tokyo while studying full-time – so long as you are prepared.
To get an understanding of the cost to live in Tokyo as a student, we asked one of our part-time staff, Elin, to give us some insight. Elin is from Sweden and is studying at a Japanese language school full-time.
We broke down the costs into different categories based on what students usually tend to spend money on. Note that the costs in this article are based on only one student's experience. The cost of living will vary from person-to-person and will heavily depend on lifestyle and where you live in Tokyo.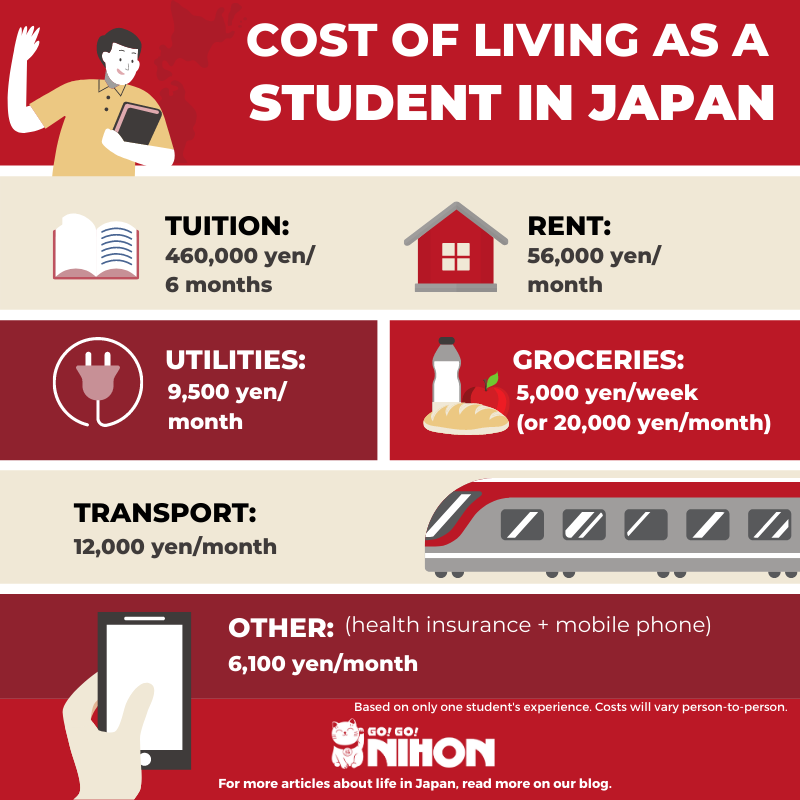 Tuition
Elin is studying in Tokyo for just under two years and her school costs 460,000 yen for every six months of tuition. Textbooks are included, so additional spending is minimal and consists of buying pens and notebooks, which cost a couple of hundred yen each time.
Accommodation
Elin lives in an apartment that is located about 10 minutes' walk away from the nearest train station and two minutes from the closest supermarket. The area of Tokyo she lives in is suburban and popular with families. It has good transport links to popular areas like Ikebukuro, Shinjuku and Shibuya.
On average, her costs per month are:
Rent – 56,000 yen
Water – 2500 yen
Electricity – 2000 yen
Gas – 1500 yen
Internet – 3500 yen
In total this comes to around 65,500 yen a month.
For context, it's normal to see monthly apartment rent prices start from around 100,000 yen a month for the more popular areas of Tokyo. Rent will come down the farther away you live from central Tokyo and from train stations.
Share houses are a good option for students who want to save a bit of money on rent. Prices and quality of rooms can vary greatly, but you can expect to pay anywhere between 40,000 yen and 90,000 yen a month for a room at a share house in Tokyo.
For more insight about the types of accommodation options you have, read our article here.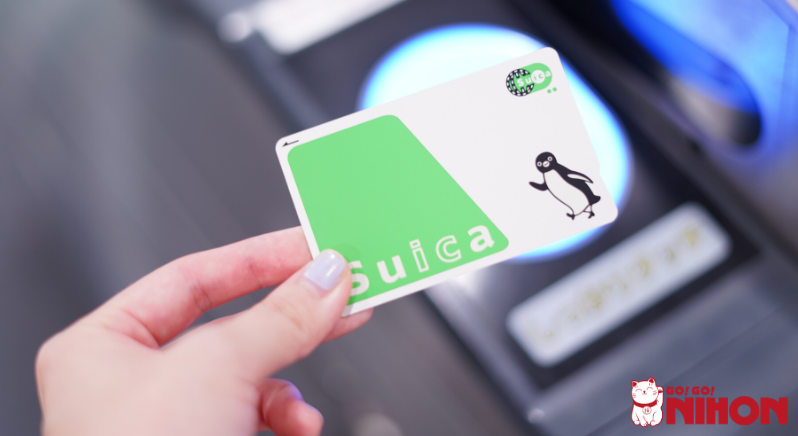 Transportation
Monthly transport fees come to around 12,000 yen per month for Elin. This mostly consists of travel to and from school and work, plus a couple of trains on the weekends when she goes out.
A great tip for students to save some money on train fares is to buy a monthly commuter pass – read more about how to do that here.
Groceries
On a weekly basis, Elin spends around 5000 yen per week on groceries. Some of the items she buys regularly include:
Soy milk – 160 yen
Eggs (10 pack) – 250 yen
Lettuce – 100 yen
Avocado – 100-200 yen
Rice (2 kilogram bag) – 1000 yen
Coffee (filter, pack of 10) – 300 yen
Tomatoes – 250 yen for two large tomatoes
Bananas (a bunch of four) – 100 yen
Cereal (700 grams) – 550 yen
Read more about supermarkets in Japan and some tips on how to save money while grocery shopping.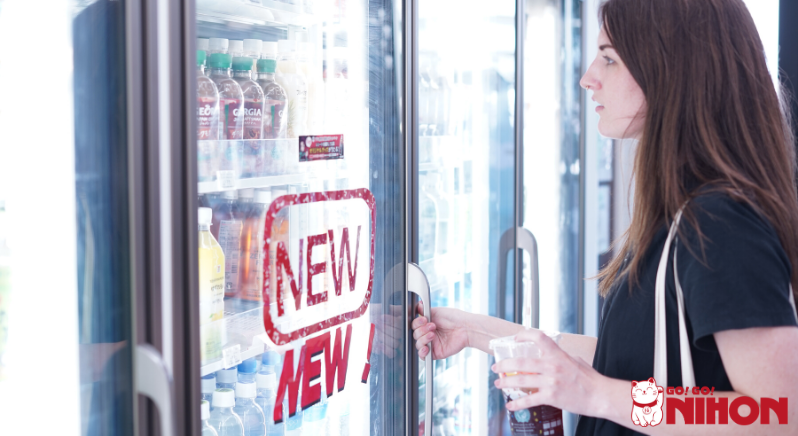 Food, drinks & going out
In addition to weekly groceries, there are also times when Elin might eat out or buy meals:
Breakfast – mega coffee and onigiri from Lawson, 450 yen
Lunch – salad from the convenience store and a tea, 500 yen
She also spends around 300 yen per day on snacks like chocolate, energy bars or fruit.
Under normal circumstances, she would visit bars, izakaya and/or restaurants two or three times a week, spending around 6000 yen a week.
Some expenses might include a bowl of ramen for 800 yen and a standard alcoholic drink for 500 yen. If she went out for brunch, that would cost around 2000 yen, a sushi lunch might cost between 900 to 2000 yen, or a coffee would cost 500 yen.
Other expenses
Elin's other monthly expenses  include:
Health insurance (compulsory for all long-term residents of Japan): 1600 yen
Mobile phone plan: 4500 yen
Shopping: 25,000 yen
Income
In total, Elin's monthly income comes to around 240,000 yen, which includes student finance from the Swedish government. Prior to arriving in Japan, she also worked and saved up in order to contribute towards her tuition costs and expenses.
Do you want to share your experience of life in Japan as a student? Contact us or leave us a comment below. 
For more articles about life in Japan, read more on our blog.