By now you may have heard the news that the Japanese government is going to offer a one-time 100,000 yen subsidy to every citizen and resident of Japan as a way to try and soften the economic impact of the coronavirus.
The Japanese government announced a national state of emergency that will last at least until May 31.
The cash subsidy is available to all citizens and residents, including foreigners, which means you can apply for it if you are a student visa-holder. Read on to learn more.
Eligibility details for the subsidy
Every citizen and resident in Japan can apply for the 100,000 yen coronavirus subsidy. This applies to all foreigners living in Japan, so long as they have a valid residence card. As a student visa-holder with residence cards, Japanese language school students are also able to apply for this.
There are no income restrictions, so you can still receive this subsidy even if you do not currently have a job. There is also no age restriction.
Note that originally the government announced it would pay out 300,000 yen to every household experiencing a significant income reduction. This 100,000 yen subsidy replaces this, except for households with two parents and a single child experiencing reduced income, which will still receive 300,000 yen.
Applying for the subsidy
A form will be mailed to the head of every household in Japan, which you can fill out to apply for the subsidy. You can also apply through a website, as long as you have a My Number and will be able to digitally verify your identity.
When will the subsidy be paid out?
This hasn't been confirmed yet, however, the government announced on April 17 that it would like to start sending out the subsidy in May. However, it is unclear whether the government will be able to actually do that come May. It will also depend on how quickly local governments can distribute the money.
Note that you ideally should have a Japanese bank account as you will not be able to pick up the 100,000 yen in cash from your municipal government office.
While the government is currently considering allowing those without a bank account to pick up the amount in cash, it's still a good idea to open a bank account if you're staying in Japan long-term. It'll make finding employment and renting an apartment a lot easier!
Read our blog article for more information on how to open a bank account in Japan (it's really easy!).
Information on the coronavirus situation in Japan
Stay updated on the latest coronavirus situation in Japan through our blog, you can also check reliable news sources like The Japan Times and Kyodo News.
If you have questions about the situation in Japan or you suspect you may have developed symptoms, here are some numbers you can call: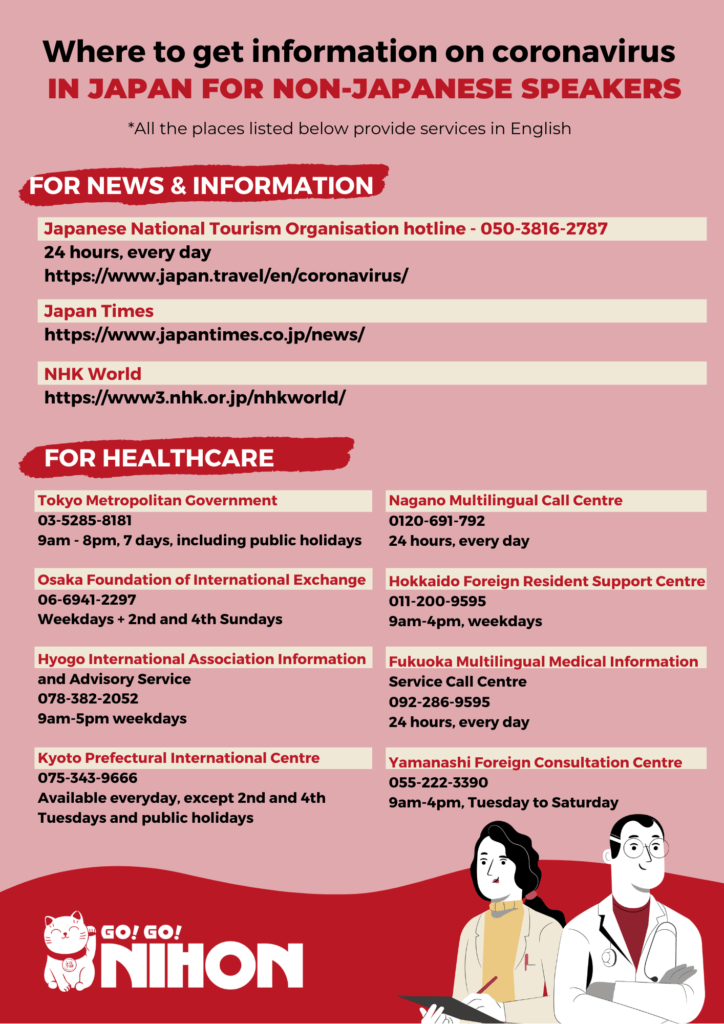 You might also find our article about what to do if you think you have coronavirus in Japan useful.
Don't hesitate to contact us if you are unsure about your situation or have any questions!