During this year we offered you the most interesting and up-to-date information about Japan life and culture. This is a look at the 10 most popular articles of 2019 published on the Go! Go! Nihon blog.
1. Why Japanese people wear masks
The common usage of face masks by Japanese people is something many foreigners comment on when they visit Japan. We looked at five reasons why it is so common and whether they actually help or not.
2. Japanese characters
Japanese has a fairly complicated writing system, all of which Japanese learners must know in order to master the language. We look in detail at each part that makes up the Japanese language – hiragana, katakana, kanji and romaji – and provide context around why and how they are used.
3. The Japanese education system
Education is hugely important in Japan and the Japanese education system is seen as one of the best in the world. Our article looked at what the key similarities and differences are between the Japanese system and Western systems, giving readers insight into what student life is like in Japan.
4. How to write a resume in Japanese
Japanese resumes can be quite different to what people might be used to in other countries and have strict rules in terms of how they are presented. For those wanting to work in Japan, it is crucial to know how to put together a Japanese resume and our article goes over everything you need to.
5. Moving to Japan
Moving to a new country can be exciting, but also confronting and confusing, especially when you're unsure of what steps you need to take once you arrive in your new home. We looked at two essential basics – visa and living expenses – that all new residents of Japan need to get the hang of.
6. How to prepare for a job interview in Japan
Mastering a job interview in Japan is an art in and of itself, with a complexity of rules and customs that interviewees need to adhere to and display if they are to even have a chance of succeeding. Our article covered the essentials any job seeker in Japan needs to know in order to prepare for a job interview.
7. The art of bow in Japan
Bowing is an important cultural norm that is widely used in many situations to show respect to other people. Understanding why a bow is used in any given context is important for foreigners and helps to shape a deeper understanding of Japanese culture.
8. Why study Japanese
To live and work in Japan, to better understand the culture, because you love the pop culture, plus many more – there are so many reasons for people to study Japanese. We picked just eight reasons to look at in more detail in this blog article.
9. What to wear for a Japanese job interview
Just like knowing the rules and customs for a job interview in Japan, what you wear to an interview can also mean the difference between success and disaster. We outlined the norms for job seekers, whether you are looking for full or part-time work, in terms of how to dress to impress.
10. How to get a driving license in Japan
The public transport system in Japan is extensive and reliable, but there are many parts of the country you cannot fully appreciate without being able to drive a car. It is possible to get a driver's license in Japan if you already have one from your home country, but it can be quite a process. Our article explained the steps of how you can legally get behind the wheel in Japan.

Japan news you may have missed in 2019
Reiwa
This year was a momentous one for Japan as a new Emperor ascended the throne. With every new Emperor comes a new era and with every new era comes a much-anticipated new name. On April 1, 2019 the Japanese government announced the name of the new era through a live televised press conference, officially moving from the Heisei to the Reiwa era. The name Reiwa, 令和, has been described as meaning "beautiful harmony". 
Rugby World Cup
The Rugby World Cup is held every four years and for the first time, Japan hosted it from September to November this year. It was also the first time the tournament was held in Asia and games were played in stadiums dotted all over the country. Japan reached the quarter finals, where they were knocked out by South Africa, the eventual winners of the tournament.
Tokyo Olympics 2020
For two weeks in summer next year, the world's greatest athletes will converge on Tokyo as they put years of hard work and sacrifice to the test for their chance at Olympic glory. This will be the second time Tokyo will host the Summer Olympics, with the first Tokyo games held in 1964. The city has been modernising, internationalising and reshaping itself in preparation for the games and the international visitors it will bring.
Toyosu fish market
The Toyosu fish market opened in October 2018 and is one of the largest fish markets in the world. It took over the famous Tsukiji inner market, which had a long history and was known for its tuna auctions, and allows tourists a chance to see the market in action as well as try out various restaurants. Toyosu market features observation areas with large windows so people can watch without disrupting the usual business of the market.
This year has also been a big one for Go! Go! Nihon – take a look at just some of the things we have achieved in 2019!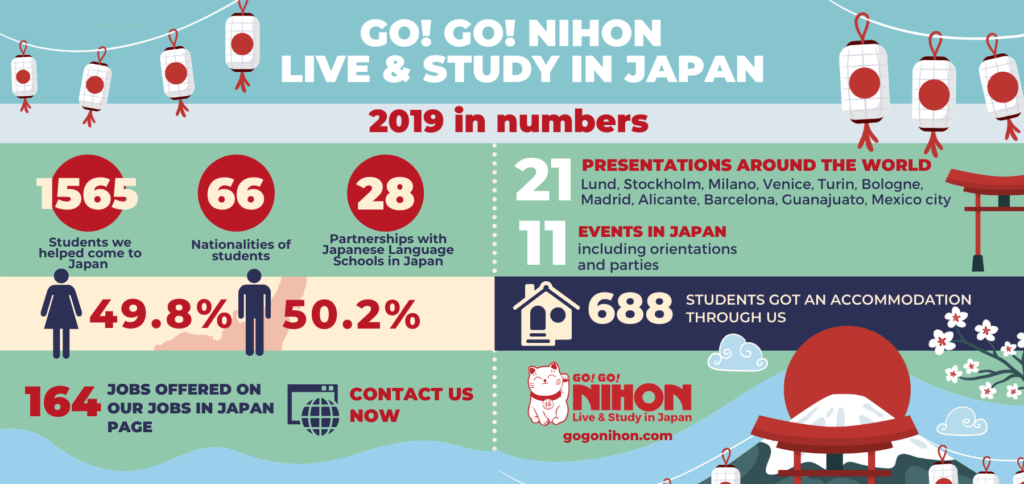 From understanding parts of Japanese culture to how to prepare for a job interview in Japan, those were your favourite articles from us in 2019. We will continue to give you, our readers, the very best insight into Japanese culture, society, language and life next year and we can't wait to see what you love reading. Until then!
If you like to read more about Japanese culture, make sure to follow our blog where we cover everything you need to know about Japan!